Work underway at Outremont station
Outremont station closure :
The station is closed from January 10 to August 19, 2022, inclusive. All related information is available in the tab Station closure.
Project summary
Work is underway at Outremont station to make it universally accessible. We will also undertake a major refurbishment of the station, including adding a natural ventilation shaft and a new staircase.
---
Duration of the work: January 4, 2021 to December 2023
Description of the work: Installation of three elevators and major refurbishment of the station.
Métro impacts: Complete station closure from January 10 to August 19, 2022.
Bus impacts: Yes, there is detour for lines 160 and 161.
Impacts on customer trips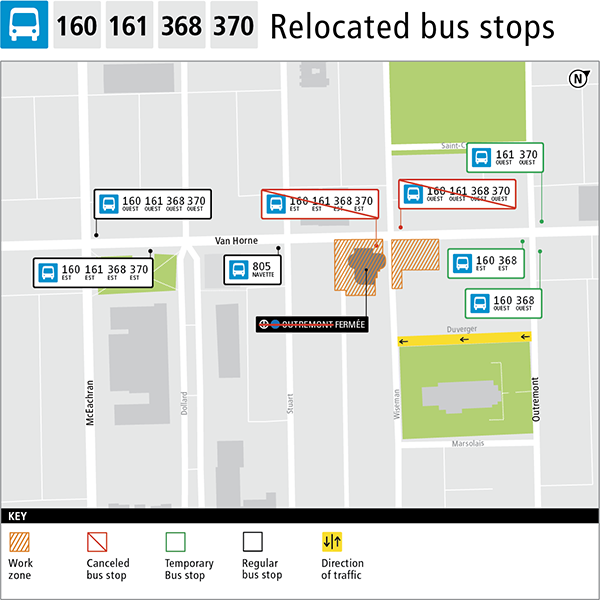 Impacts on local residents
Changes to worksite setup
At the end of May 2022, changes will be made to the worksite setup around Outremont station.
Access to Wiseman Avenue via Van Horne Avenue will remain closed to road traffic, but the fenced-off area located east of Wiseman, near the Shell station, will be reduced. Pedestrian traffic will be diverted to the east side of Wiseman. The pedestrian walkway that was located in front of the station entrance on Wiseman will be moved slightly to the east of the Van Horne intersection, and a traffic light will be installed there to make crossing safer and easier.
Vehicles coming down Wiseman will no longer be able to turn left onto Van Horne, for the safety of pedestrians using the new crosswalk east of the intersection.
The part of the worksite located west of the station will stay the same, so that we can continue the work, including renovating the station's outer envelope, renovating the underground membrane over the station's roof, and applying concrete to the elevator shaft.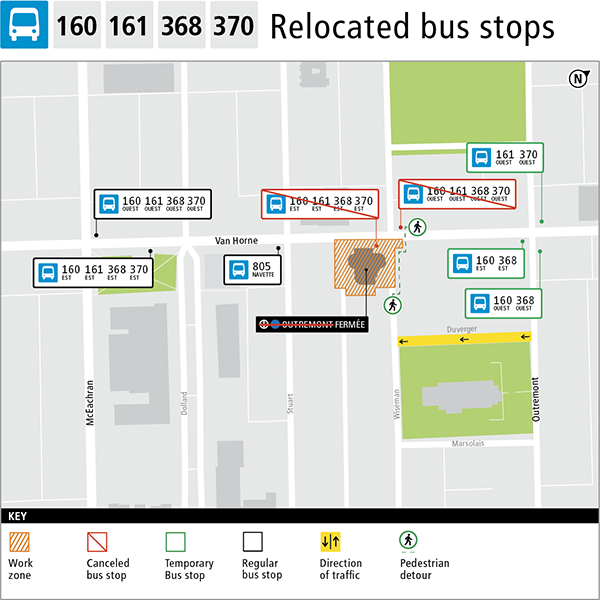 Businesses adjacent to the station will remain accessible for the duration of the work.
Complete closure of the métro station
Shuttle bus service between Outremont and Acadie métro stations
Maintenance of a lane in each direction on Van Horne Avenue
Complete closure of Wiseman Avenue
Access to the alleyway via Van Horne Avenue closed
Detour of the bike path on Wiseman, south of Duverger Avenue
Outremont station open and métro service operational
Access to the station via Wiseman Avenue
Complete reopening of Van Horne Avenue
Closure of Wiseman Avenue at Van Horne Avenue except for bike path
Access to the alleyway via Van Horne Avenue closed; the alleyway will remain accessible by Lajoie Avenue
A virtual public information session was held on October 26 at 7 p.m.  If you missed this event and would like to find out more about the work involved in the project and how it may affect you, you can consult the document (in french) presented that evening or view the video of the public information session.
A second virtual public information session will take place on May 31 at 7 p.m. This session will provide information on worksite progress as well as information about a liaison committee that will be set up to foster healthy, dynamic relations between the STM and local residents. Participate to this session.
A virtual information session was held on December 8, 2021.You can view the recording by clicking here (in French only) or view the questions and answers PDF document of the session.
Good neighbourhood committee
The first meeting of the good neighbourhood committee took place on June 16. 2021. Representatives of the STM and the borough of Outremont came together with five local residents and business owners to define the issues that they will discuss as a committee to improve the worksite's impact on the neighbourhood.
In addition to installing three elevators to make the métro station universally accessible, we will be undertaking a major refurbishment of the station. More specifically, we will be performing the following work:
Replacing the waterproof membrane of the station's underground roof
Refurbishing the structural slab
Adding a natural ventilation shaft on the entrance building roof
Upgrading the electrical equipment
Replacing the station's roof
Replacing the exterior covering, windows, floor finishes and lighting
Installing new signage
Restoring the work of art.
Part of the alleyway adjacent to the station will encroach on the work area and be subject to excavation work to build an elevator shaft. The alleyway will become a dead end since it will lead to the work area. It will be accessible only from Lajoie Avenue.
Garbage, recycling and organic waste collection will be maintained for the duration of the work, but, since the alleyway will be closed at the north end, collection will take place on Wiseman Avenue and Stuart Avenue. You will need to bring the bins in front of your residence. Please identify your bins and put them at the curbside on collect day.
Circulation: Traffic reversed on Duverger Avenue to provide access to Wiseman Avenue from Outremont Avenue.
On-street parking: Parking restrictions will be in place around and inside the work area. Read the signage carefully.
Sidewalks and access: Pedestrian access to buildings will be maintained at all times. Sidewalks may be blocked occasionally. In this event, pedestrian detours will be implemented.
Buses: Service will be maintained, with some relocated stops. Read bus stop signs carefully.
Water shut-offs: Water may be shut off during certain work. Notices will be distributed to affected homes 48 hours before any shut-off. We ask that you pay close attention to these notices so that you can prepare accordingly.
Bike path: Depending on the configuration of the worksite, the bike path on Wiseman Avenue could be relocated during the work. Read road signs on site for the recommended detour.
If you have any other questions regarding this project, please contact STM customer service at 514-786-4636.
The work will be done in compliance with all municipal by-laws.
Work schedule
Any construction work likely to generate noise will generally be scheduled between 7:30 a.m. and 7 p.m. Some work may continue over weekends, in accordance with municipal by-laws, to keep the construction on schedule. Also, some work must absolutely be done outside of métro service hours and may be carried out at night.
Excavation
Rock bed excavation will be performed using mechanical equipment.
The required excavation work will generate vibrations that may be felt by residents near the worksite. We have hired an independent consulting firm to survey (particularly photograph) all buildings around the worksite. These inspections will document the condition of the buildings before and after construction. In the unlikely event that any damage is reported, an expert opinion could help to determine whether the damage is the result of the vibrations produced by the work site. Property owners affected by this measure will be notified accordingly.
Anti-dust sheets will be installed on all the worksite partitions to limit dust dispersal.
We care about the quality of life of residents living close to our facilities. Rest assured that we will take all measures necessary to keep the impact on residents, businesses and customers to a minimum.
Learn more about the project
Improving this station's accessibility is part of phase 1 of our Accessibility program. For more information, visit our web page.
Station closure - January 10, 2022
Outremont station is closed from January 10 to August 19, 2022, inclusive. It is scheduled to reopen on August 20, 2022.
Note that all other Blue Line stations remain open. Only Outremont station is closed. Trains continue to run on the Blue Line, but don't not stop at Outremont station.
Bus line 805 provides shuttle service between Acadie and Outremont stations (no other stops in between).
Schedule: In service during Blue line hours of operation
Frequency: Every 6 minutes on weekdays, every 7 to 10 minutes on weekends, traffic dependent
A valid transit fare is required to board the shuttle.
Where to get on the shuttle
At Acadie station: On Beaumont Avenue, in front of the station's de l'Acadie entrance (departure and arrival)
At Outremont station: On Van Horne Avenue, at the corner of Stuart Avenue (departure and arrival)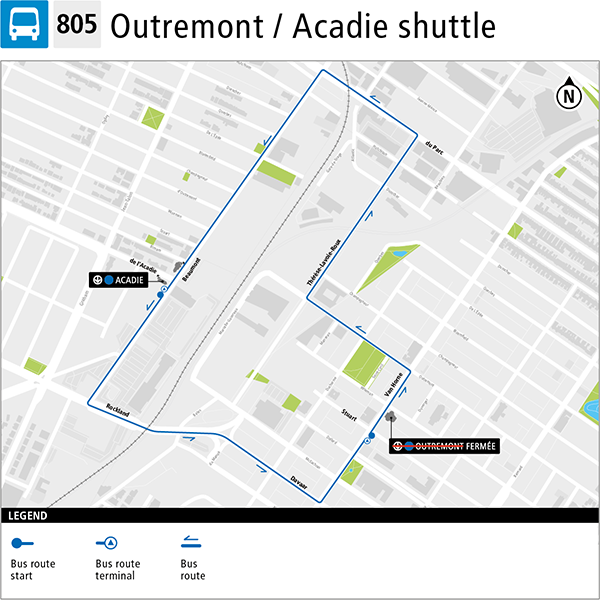 51 Édouard-Montpetit
This bus stops at several Blue line stations—Snowdon, Côte-des-Neiges (a few minutes' walk), Université-de-Montréal and Édouard-Montpetit.There is a stop near Outremont station, at the corner of Chemin de la Côte-Sainte Catherine and Stuart Avenue, in both directions. The stop for the 51 is about 850 metres from Outremont station on foot.
Click here for line 51 schedule and stops (east)
Click here for line 51 schedule and stops (west)
119 Rockland
This bus stops at Côte-des-Neiges, Université-de-Montréal and Édouard-Montpetit stations and is within walking distance of Outremont station. The northbound stop is located at the corner of McEachran Avenue and Van Horne Avenue. The southbound stop is located at the corner of Rockland and Van Horne Avenue.
Click here for line 119 schedule and stops (north)
Click here for line 119 schedule and stops (south)
160 Barclay and 161 Van Horne :
These bus follow their normal route on Van Horne Avenue, near Outremont station.
When we close a station, we examine all possible options to provide alternative solutions for our customers. We found that a shuttle to Acadie station would be the best choice due to the relatively short travel times in both directions and because alternate routes would be possible in the event of unexpected street closures during the closure. There is not enough room for multiple buses at Édouard-Montpetit station due to ongoing Universal Accessibility work and street closures related to the REM construction. The travel time between Édouard-Montpetit and Outremont would also be twice as long as the one between Acadie and Outremont.Lines 51 Édouard-Montpetit and 119 Rockland are also good alternatives, as they stop within walking distance of Outremont, for customers at that station.
Outremont métro station is within walking distance of Acadie station. There is a walkway that passes over the train tracks on the Université de Montréal campus. You can take it from in front of Acadie station to Wiseman Avenue.
No, the work will continue until December 2023, when the elevators are slated for commissioning.
To carry out such extensive work, we are obliged to close the station. Outremont station has only one entrance building, and it would have been impossible, for example, to demolish and rebuild the entrance building slab and demolish the escalator support beams while continuing to accommodate customers safely. Moreover, the closure will allow us to complete some of the work more quickly. Replacing floor finishes and building a new fare booth, for example, would have extended the duration of the work if it had been done while the station was still in operation.
The project in images
The work of art that adorns the station wall will be entirely restored.
Curve lines are thematic of the unique architecture of Outremont station
---
The Accessibility program is made possible thanks to the additional funding announced by the federal and provincial governments to speed up universal accessibility work with the goal of having 30 accessible métro stations by 2025.
Top of page