Breaking news
STM announces extension of reserved lane on Sherbrooke Street West in Côte-des-Neiges–Notre-Dame-de-Grâce borough
As of December 4, between Marcil Street and Décarie Boulevard
The STM wins four awards at the Canadian Urban Transit Association annual conference
The Canadian Urban Transit Association presented the Young Leaders Award to Étienne Le Pironnec and recognized the STM with awards in the categories of Environmental Sustainability, Equity, Diversity and Inclusion and Marketing and Communications.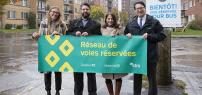 New reserved lane on Côte-Saint-Luc
It will operate in both eastbound and westbound directions on Côte-Saint-Luc: in the eastbound direction, the new bus lane will be open to traffic between Coronation Avenue and Fielding Avenue and the westbound lane, which will run between Alpine Avenue and Coronation Avenue
Bus 747 between the airport and downtown: A digital transit fare to improve traffic flow at the airport
Starting November 1, 2023, the Autorité régionale de transport métropolitain (ARTM) and the Société de transport de Montréal (STM) will offer an additional option to facilitate the purchase of fares for bus line 747 between Montréal-Trudeau airport and downtown Montréal using the Chrono or Transit mobile apps and a credit card. This temporary measure aims to improve the customer experience during peak periods and the flow of public transit between the airport and downtown.