Real-time vehicle tracking
You can now track your vehicle in real time on your computer, tablet or smartphone.
Real-time information is available for the full duration of your trip. It's a helpful tool for both Transport adapté customers and anyone helping them use the service.
The new feature is compatible with screen readers.
---
The login page.
---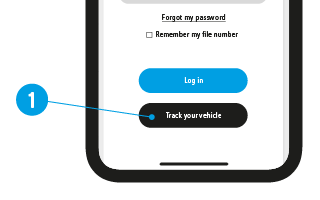 You can access the new real-time vehicle tracking feature from the SIRTA login page, or while logged in, by choosing Track your vehicle.
---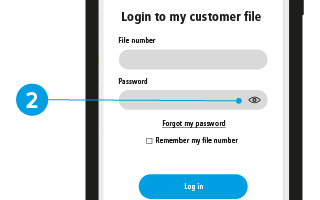 The eye symbol allows you to hide or show your password as you enter it.

Real-time vehicle tracking
---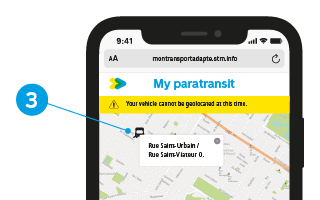 The vehicle picking you up will show up on the map 10 minutes before the start of your pick-up window and remain visible until drop-off.
The icon will show whether the vehicle is a minibus or a taxi.
Vehicle location is updated every 15 seconds.
---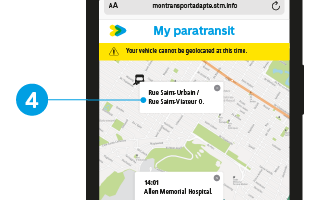 Tap the vehicle icon to display the vehicle's location and nearest intersection.
If you use a screen reader, vehicle-tracking information will be provided every 15 seconds while the vehicle is en route.
---
You may receive alert messages in certain situations:
Your vehicle cannot be geolocated at this time.
Your trip information is not yet available.
---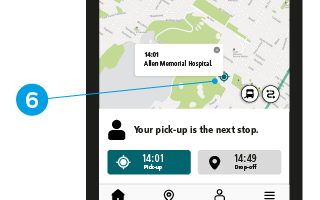 These icons show your trip's start and end points :

Pick-up


Drop-off
Tap either icon to display the address and estimated time of arrival.
If you use a screen reader, estimated pick-up and drop-off times will be updated automatically as needed.
---
Tap these icons to change the map frame :

Centre on vehicle

Show vehicle and destination
This section shows real-time updates on your trip, such as whether you are the next customer in line for pick-up or drop-off and whether your vehicle has arrived.
---
This section shows the estimated pick-up and drop-off times for your trip.
These times will show up starting 30 minutes before your pick-up window.
Note: Certain factors may cause these estimated times to vary, such as road conditions or a new vehicle being assigned to your trip.
---
Tap here for details on your pick-up and drop-off addresses, confirmed pick-up window and vehicle type.
---
Top of page