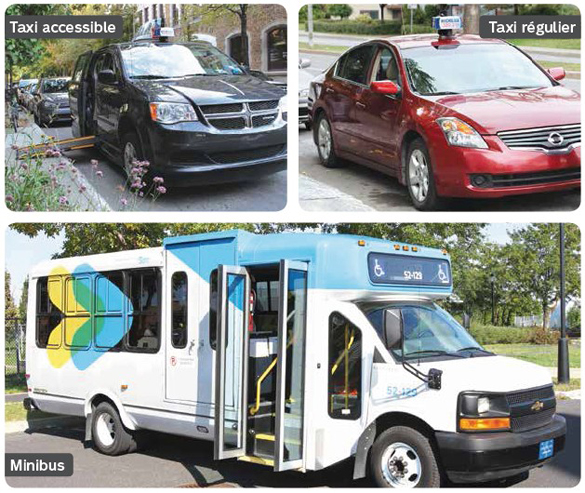 The STM determines the mode of transport to be used during the trip, depending on client constraints and available resources.
The choice of places in the vehicle is determined by client constraints or boarding order.
 
Minibus platform:
Size: 137 cm (54 in) long – 84 cm (33 in) wide.
Maximum weight: 364 kg (800 lb)
Trips provided by the taxi industry
At Transport adapté, 89% of trips are provided by the taxi industry, while 11% are carried out by STM drivers in minibuses.
The service offered by the taxi industry is governed by an agreement between the STM and nine intermediaries per taxi.
Since February 2019, a new agreement has been in effect. The most significant change to the agreement involves driver remuneration. Drivers will now be paid an hourly rate instead of using taxi meters. So don't be surprised if the taximeter isn't on during your trip.
No, there is no impact on customers.
Our commitment is to support taxi drivers so they can accompany us in our growth.
Taxi intermediaries are present every day to provide paratransit services. Hourly wages mean better retention of the 1,500 drivers who provide paratransit services on a full-time basis or a few hours per week.
Top of page