How does the service work?
The 291 Norman shared taxi service was designed to provide a connection between Lachine's residential neighborhoods and the industrial sector north of Highway 20 following the closing of the 14th Avenue pedestrian overpass.
How to use the service?
You must reserve your trip prior to each use by calling 514 636-6666 or online(in French).
From April 1 to November 30, you must reserve at least 40 minutes prior to your trip.
From December 1 to March 31, you must reserve at least 60 minutes prior to your trip.
If you use a mobility aid requesting the use of an accessible taxi, mention this when making your reservation by phone. Note that an online reservation does not allow to consider this need.
How much does the service cost?
You must show a valid transit fare that is one of the accepted Transport adapté and taxi fares when you board a taxi.
When boarding, you are required to present a valid STM transit pass.

  OPUS card charged with a monthly or weekly pass
  Disposable magnetic card loaded with one or two trips
Monthly, weekly and four-month passes on OPUS cards, as well as 1-trip fares on magnetic fare cards are accepted. Monthly TRAM passes for the right fare zone are also allowed.
For customers transferring to STM bus or métro networks:
You must pay your fare by validating it or making a cash payment when you board a bus or enter the métro station. Bus and métro fares apply.
For customers transferring to the exo commuter train network:
You must validate your fare at the train station. Cash or TRAIN fares (monthly, 1-trip or tickets) cannot be used to pay for a trip made in a taxibus.
Cash payments and exo TRAIN fares are not accepted onboard taxis.
Schedule
This shared taxi service is provided Monday to Friday (except on holidays) from 5:45 a.m. to 9 a.m., from 2:00 p.m. to 6 p.m. and from 9 p.m. to 12 a.m.
Shared taxibus stops
Provost / 24e (NRM-100)
Provost / 10e (NRM-101)
Provost / 1e (NRM-102)
14e / Autoroute 20 (NRM-103)
Croissant Claire Est / Norman (NRM-104)
Croissant Claire Ouest / Norman (NRM-105)
Area covered by shared taxibus service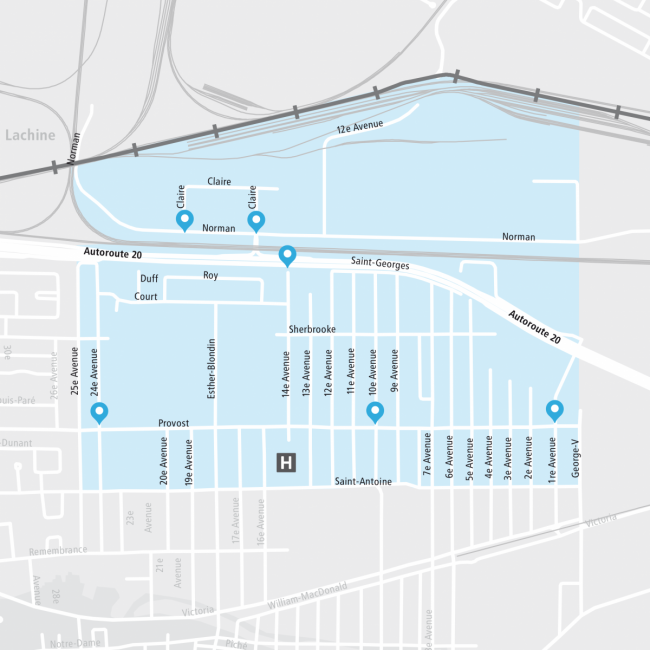 Top of page