How does the service work?
Shared Taxi service for seniors
The Navette Or by taxi transportation service features a 40-stop route within the municipality. This service is offered from one taxi stop to the next, Monday to Friday, from 8:30 a.m. to 4:30 p.m., except on legal holidays. You must reserve your ride at least 40 minutes ahead of time that day by calling 514 280-9055.
A single call enables you to reserve your two-way trip.
How to proceed to use the service?
You must register three days prior to your first reservation by calling from Monday to Friday
514 633-4100 (City of Dorval Community Aid Division)
or 514 280-9055 (STM reservation service from 7:30 a.m. to 5 p.m.)
Have an ID card 65+ on hand as proof of age.
If you are using a mobility aid that requires you to use an accessible taxi, mention this when you book a taxi by phone.
We recommend that you be at the taxi stop at least three minutes ahead of the requested time.
How much does it cost?
Fares for Shared taxibus apply.
Accepted fares:
  65+ OPUS photo ID card : 
Monthly, All modes A.
Weekly, All modes A.
Free 65+ All Modes A (Residents of the agglomeration of Montréal).
  Magnetic card:
Exact change as per current fare schedule
Taxis stops
Bouchard / Galland (DRV-100)
Racine / Bouchard (DRV-101)
Caledonia / Kingsley (DRV-102)
Campbell / Neptune (DRV-103)
Javelin / Cardinal (DRV-104)
Maison Herron (DRV-105)
Haus Der Heimat (DRV-106)
Maison Donalda-Boyer (DRV-107)
Résidence La Source (DRV-108)
Centre Aquatique et Communautaire Surrey (DRV-109)
Complexe aquatique et sportif de Dorval (DRV-110)
Bibliothèque et Centre culturel Peter B. Yeomans (DRV-111)
Centre communautaire Sarto-Desnoyers (DRV-112)
Centre commercial Rond-Point Dorval (DRV-113)
Centre commercial Les jardins Dorval (DRV-114)
Bord-du-Lac / De la Présentation (DRV-115)
Deslauriers / Chanteclerc (DRV-116)
St-Louis / Torrence (DRV-117)
Surrey / Pine Beach (DRV-118)
Cardinal / Strathmore (DRV-119)
Pine Beach / Place Kirkland (DRV-120)
Brookhaven / Carson (DRV-121)
Fénélon / Carson (DRV-122)
Elmridge / Herron (DRV-123)
Bord-du-Lac / St-Charles (DRV-124)
George V / De l'Église (DRV-125)
De la Présentation / De l'Église (DRV-126)
Pheasant / Oriole (DRV-127)
Strathmore / Robin (DRV-128)
Surrey / St-Louis (DRV-129)
Cardinal / Pine Beach (DRV-130)
St-Louis / Dawson (DRV-131)
Dawson / Lepage (DRV-132)
60 av. Martin (Hôtel-de-Ville) (DRV-133)
Les Jardins de Dorval (SAQ) (DRV-134)
Résidence Jules-Daigle (DRV-135)
Place Sims / Brunet (DRV-136)
Fénélon / Dumont (DRV-137)
Arena Westwood et Jardins Communautaires (DRV-138)
Centre aquatique Walters (DRV-139)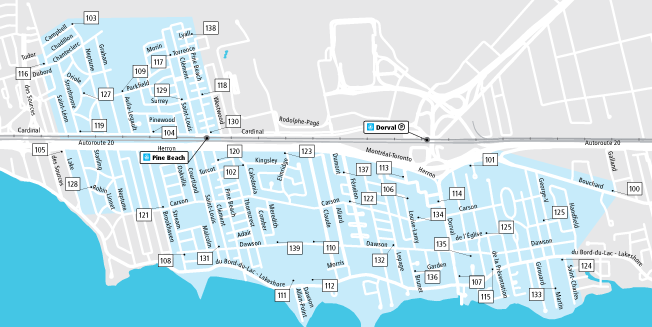 Top of page