How does the service work?
Shared Taxi service for seniors
The Navette Or by taxi transportation service features 64 stops on the island. This service is offered from the departure stops to destination stops (or vice-versa) and is available from Monday to Friday, from 8:30 a.m. to 4:30 p.m., except on legal holidays. You must reserve your ride at least 40 minutes ahead of time that day by calling 514 280-9055.
 
How to proceed to use the service?
You must register three days prior to your first reservation by calling from Monday to Friday
To register, call: 514 280-9055 (Monday to Friday between 7:30 a.m. to 5 p.m.)
Proof of age required (65 years +).
If you are using a mobility aid that requires you to use an accessible taxi, mention this when you book a taxi by phone.
How much does it cost?
Fares for Shared taxibus apply.
Accepted fares:
  65+ OPUS photo ID card :
Monthly, All modes A.
Weekly, All modes A.
Free 65+ All Modes A (Residents of the agglomeration of Montréal).
  Magnetic card:
Exact change as per current fare schedule
Taxis stops
Nautilus Plus / 500, chemin du Golf (LDS-100)
Structures Métropolitaine / 500, Abélard (LDS-101)
Sommet sur le fleuve 1 / 100, avenue des Sommets (LDS-102)
Sommet sur le fleuve 2 / 200, avenue des Sommets (LDS-103)
Sommet sur le fleuve 3 et 4 / 300, avenue des Som (LDS-104)
Les Jardins de l'archipel / 30, Berlioz (LDS-105)
Les Verrières sur le fleuve / 50, Berlioz (LDS-106)
Les Verrières sur le fleuve / 60, Berlioz (LDS-107)
Les Verrières sur le fleuve / 80, Berlioz (LDS-108)
Les Verrières sur le fleuve / 90, Berlioz (LDS-109)
Les Verrières sur le fleuve / 100, Berlioz (LDS-110)
Condominiums La Pyramide / 150, Berlioz (LDS-111)
Le 200 Berlioz / 200, Berlioz (LDS-112)
Structures Métropolitaine / 202, Berlioz (LDS-113)
Structures Métropolitaine / 254, Berlioz (LDS-114)
Le Vistal / 150, chemin de la Pointe-Sud     (LDS-115)
Le Verre sur Vert / 201, chemin de la Pointe-Sud (LDS-116)
Club marin II / 201, chemin du Club-Marin (LDS-117)
Club marin III / 301, chemin du Club-Marin (LDS-118)
Ambiance - Île des Soeurs / 50, place du Commerce (LDS-119)
Panorama sur l'Île / 201, chemin du Golf (LDS-120)
Sax / 210, chemin du Golf (LDS-121)
Sax / 220, chemin du Golf (LDS-122)
Sax / 230, chemin du Golf (LDS-123)
Club marin 1 / 1200, chemin du Golf (LDS-124)
Barritz / 700, chemin Marie-Le Ber (LDS-125)
Les Lofts de la GR AL / 760, chemin Marie-Le Ber (LDS-126)
Structures Métropolitaines / 200, Corot     (LDS-127)
Structures Métropolitaines / 201, Corot     (LDS-128)
Château Corot / 248, Corot (LDS-129)
Structures Métropolitaines / 228, Darwin (LDS-130)
Structures Métropolitaines / 100, De Gaspé (LDS-131)
Structures Métropolitaines / 200, De Gaspé (LDS-132)
Structures Métropolitaines / 500, De Gaspé (LDS-133)
Condominiums Le Champlain / 120, Ferland (LDS-134)
Structures Métropolitaines / 519, De Gaspé (LDS-135)
Structures Métropolitaines / 520, De Gaspé (LDS-136)
Structures Métropolitaines / 668, De Gaspé (LDS-137)
Structures Métropolitaines / 669, De Gaspé (LDS-138)
Structures Métropolitaines / 670, De Gaspé (LDS-139)
Structures Métropolitaines / 700, De Gaspé (LDS-140)
Structures Métropolitaines / 755, De La Noue (LDS-141)
Structures Métropolitaines / 777, De La Noue (LDS-142)
Structures Métropolitaines / 200, Elgar (LDS-143)
Structures Métropolitaines / 248, Elgar (LDS-144)
Structures Métropolitaines / 290, Elgar (LDS-145)
Structures Métropolitaines / 300, Elgar (LDS-146)
Structures Métropolitaines / 100, François (LDS-147)
Structures Métropolitaines / 515, François (LDS-148)
Structures Métropolitaines / 500, François (LDS-149)
Structures Métropolitaines / 146, François (LDS-150)
Val-de-l'Anse / 100, Hall (LDS-151)
Val-de-l'Anse / 200, Hall (LDS-152)
Les Verrières sur le fleuve / 11, O'reilly (LDS-153)
Place des Vosges / 2, place des Jardins-des-Vos (LDS-154)
Place des Vosges / 4, place des Jardins-des-Vos (LDS-155)
Loggia sur le lac / 60, William-Paul (LDS-156)
Loggia II / 175, William-Paul (LDS-157)
Le Masterpiece / 325, chemin de la Pointe-Sud (LDS-158)
Le Vistal / 250, chemin de la Pointe-Sud     (LDS-159)
Destinations
Centre Le Village / 40, Place du Commerce (LDS-160)
Centre commercial / 38, Place du Commerce (LDS-161)
IGA / 30, Place du Commerce (LDS-162)
Centre communautaire Elga / 260, Elgar (LDS-163)
La Station, maison intergénérationnelle / 201, Berlioz (LDS-164)
CLSC of Verdun at Nun's Island1, Place du commerce (LDS-165)
Click on image to obtain a larger map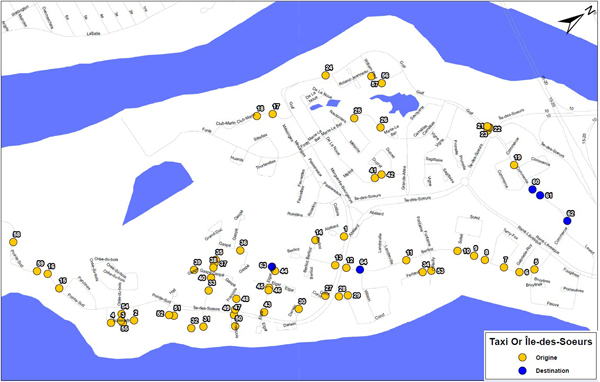 Top of page