How does the service work?
Coronavirus (COVID-19) Info
Wearing a face covering is mandatory in our Taxibus service. A maximum of two passengers per vehicle can be paired. This maximum number of clients per vehicle complies with the recommendations issued by the public health authorities.
The Senneville shared taxi service operates Monday to Sunday, except on legal holidays. 
From any designated taxibus stop, customers can travel to:
the Macdonald terminus (for the 200, 211 and 212 bus lines, and the 405 and 411 Express lines);
the Senneville's City Hall (Senneville / Morningside);
the commuter train station in Sainte-Anne-de Bellevue;
the terminus stop for the 68-Pierrefonds terminus stop at the corner of Cap-Saint-Jacques / Gouin.
They can also travel back from these locations to their local taxibus stops.
How to use the service?
You must reserve your trip prior to each use by calling 514 636-6666 or online(in French).
From April 1 to November 30, you must reserve at least 40 minutes prior to your trip.
From December 1 to March 31, you must reserve at least 60 minutes prior to your trip.
If you use a mobility aid requesting the use of an accessible taxi, mention this when making your reservation by phone. Note that an online reservation does not allow to consider this need.
How much does the service cost?
You must show a valid transit fare that is one of the accepted Transport adapté and taxi fares when you board a taxi.
Monthly, weekly and four-month passes on OPUS cards, as well as 1-trip fares on magnetic fare cards are accepted. Monthly TRAM passes for the right fare zone are also allowed.
For customers transferring to STM bus or métro networks:
You must pay your fare by validating it or making a cash payment when you board a bus or enter the métro station. Bus and métro fares apply.
For customers transferring to the exo commuter train network:
You must validate your fare at the train station. Cash or TRAIN fares (monthly, 1-trip or tickets) cannot be used to pay for a trip made in a taxibus.
Cash payments and exo TRAIN fares are not accepted onboard taxis.
Schedule
Consult the complete schedule for reservation in PDF format by clicking here.
Weekly schedule
Taxibus stops
05:32
05:52
06:12
06:27
06:43
06:56
07:16
07:31
07:44
07:56
08:15
08:35
09:05
09:35
10:16
11:01

 
11:31
12:11
12:51
13:16
13:41
14:21
15:01
15:33
15:48
16:06
16:24
16:36
16:43
17:03
17:23
17:44
18:06
18:26
18:51
19:16
19:41
20:36
05:35
05:55
06:15
06:30
06:46
06:59
07:19
07:34
07:47
07:59
08:18
08:38
09:08
09:38
10:19
11:04
11:34
12:14
12:54
13:19
13:44
14:24
15:04
15:36
15:51
16:09
16:27
16:39
16:46
17:06
17:26
17:47
18:09
18:29
18:54
19:19
19:44
20:39
05:37
05:57
06:17
06:32
06:48
07:01
07:21
07:36
07:49
08:01
08:20
08:40
09:10
09:40

 
10:21
11:06
11:36
12:16
12:56
13:21
13:46
14:26
15:06
15:38
15:53
16:11
16:29
16:41
16:48
17:08
17:28
17:49
18:11
18:31
18:56
19:21
19:46
20:41
05:38
05:58
06:18
06:33
06:49
07:02
07:22
07:37
07:50
08:02
08:21
08:41
09:11
09:41
10:22
11:07
11:37
12:17
12:57
13:22
13:47
14:27
15:07
15:39
15:54
16:12
16:30
16:42
16:49
17:09
17:29
17:50
18:12
18:32
18:57
19:22
19:47
20:42
05:39
05:59
06:19
06:34
06:50
07:03
07:23
07:38
07:51
08:03
08:22
08:42
09:12
09:42
10:23
11:08
11:38
12:18
12:58
13:23
13:48
14:28
15:08
15:40
15:55
16:13
16:31
16:43
16:50
17:10
17:30
17:51
18:13
18:33
18:58
19:23
19:48
20:43
05:40
06:00
06:20
06:35
06:51
07:04
07:24
07:39
07:52
08:04
08:23
08:43
09:13
09:43
10:24
11:09
11:39
12:19
12:59
13:24
13:49
14:29
15:09
15:41
15:56
16:14
16:32
16:44
16:51
17:11
17:31
17:52
18:14
18:34
18:59
19:24
19:49
20:44
05:41
06:01
06:21
06:36
06:52
07:05
07:25
07:40
07:53
08:05
08:24
08:44

 
09:14
09:44
10:25
11:10
11:40
12:20
13:00
13:25
13:50
14:30
15:10
15:42
15:57
16:15
16:33
16:45
16:52
17:12
17:32
17:53
18:15
18:35
19:00
19:25
19:50
20:45
05:42
06:02
06:22
06:37
06:53
07:06
07:26
07:41
07:54
08:06
08:25
08:45
09:15
09:45

 
10:26
11:11
11:41
12:21
13:01
13:26
13:51
14:31
15:11
15:43
15:58
16:16
16:34
16:46
16:53
17:13
17:33
17:54
18:16
18:36
19:01
19:26
19:51
20:46
05:43
06:03
06:23
06:38
06:54
07:07
07:27
07:42
07:55
08:07
08:26
08:46
09:16
09:46
10:27
11:12
11:42
12:22
13:02
13:27
13:52
14:32
15:12
15:44
15:59
16:17
16:35
16:47
16:54
17:14
17:34
17:55
18:17
18:37
19:02
19:27
19:52
20:47
05:44
06:04
06:24
06:39
06:55
07:08
07:28
07:43
07:56
08:08
08:27
08:47
09:17
09:47

 
10:28
11:13
11:43
12:23
13:03
13:28
13:53
14:33
15:13
15:45
16:00
16:18
16:36
16:48
16:55
17:15
17:35
17:56
18:18
18:38
19:03
19:28
19:53
20:48
05:44
06:04
06:24
06:39
06:55
07:08
07:28
07:43
07:56
08:08
08:27
08:47
09:17
09:47
10:28
11:13
11:43
12:23
13:03
13:28
13:53
14:33
15:13
15:45
16:00
16:18
16:36
16:48
16:55
17:15
17:35
17:56
18:18
18:38
19:03
19:28
19:53
20:48
05:45
06:05
06:25
06:40
06:56
07:09
07:29
07:44
07:57
08:09
08:28
08:48
09:18
09:48

 
10:29
11:14
11:44
12:24
13:04
13:29
13:54
14:34
15:14
15:46
16:01
16:19
16:37
16:49
16:56
17:16
17:36
17:57
18:19
18:39
19:04
19:29
19:54
20:49
05:46
06:06
06:26
06:41
06:57
07:10
07:30
07:45
07:58
08:10
08:29
08:49
09:19
09:49
10:30
11:15
11:45
12:25
13:05
13:30
13:55
14:35
15:15
15:47
16:02
16:15
 
16:20
16:30
16:38
16:45
16:50
16:55
16:57
17:17
17:37
17:58
18:20
18:30
18:40
19:05
19:30
19:55
20:50
05:47
06:07
06:27
06:42
06:58
07:11
07:31
07:46
07:59
08:11
08:30
08:50
09:20
09:50

 
10:31
11:16
11:46
12:26
13:06
13:31
13:56
14:36
15:16
15:48
16:03
16:21
16:39
16:51
16:58
17:18
17:38
17:59
18:21
18:41
19:06
19:31
19:56
20:51
05:48
06:08
06:28
06:43
06:59
07:12
07:32
07:47
08:00
08:12
08:31
08:51
09:21
09:51

 
10:32
11:17
11:47
12:27
13:07
13:32
13:57
14:37
15:17
15:49
16:04
16:22
16:40
16:52
16:59
17:19
17:39
18:00
18:22
18:42
19:07
19:32
19:57
20:52
05:49
06:09
06:29
06:44
07:00
07:13
07:33
07:48
08:01
08:13
08:32
08:52
09:22
09:52

 
10:33
11:18
11:48
12:28
13:08
13:33
13:58
14:38
15:18
15:50
16:05
16:23
16:41
16:53
17:00
17:20
17:40
18:01
18:23
18:43
19:08
19:33
19:58
20:53
05:49
06:09
06:29
06:44
07:00
07:13
07:33
07:48
08:01
08:13
08:32
08:52
09:22
09:52
10:33
11:18
11:48
12:28
13:08
13:33
13:58
14:38
15:18
15:50
16:05
16:23
16:41
16:53
17:00
17:20
17:40
18:01
18:23
18:43
19:08
19:33
19:58
20:53
05:50
06:10
06:30
06:45
07:01
07:14
07:34
07:49
08:02
08:14
08:33
08:53
09:23
09:53
10:34
11:19
11:49
12:29
13:09
13:34
13:59
14:39
15:19
15:51
16:06
16:24
16:42
16:54
17:01
17:21
17:41
18:02
18:24
18:44
19:09
19:34
19:59
20:54
05:51
06:11
06:31
06:46
07:02
07:15
07:35
07:50
08:03
08:15
08:34
08:54
09:24
09:54
10:35
11:20
11:50
12:30
13:10
13:35
14:00
14:40
15:20
15:52
16:07
16:25
16:43
16:55
17:02
17:22
17:42
18:03
18:25
18:45
19:10
19:35
20:00
20:55
05:54
06:14
06:34
06:49
07:05
07:18
07:38
07:53
08:06
08:18
08:37
08:57
09:27
09:57

 
10:38
11:23
11:53
12:33
13:13
13:38
14:03
14:43
15:23
15:55
16:10
16:28
16:46
16:58
17:03
17:05
17:25
17:45
18:06
18:28
18:48
19:13
19:38
20:03
20:58
06:01
06:21
06:41
06:56
07:12
07:25
07:45
08:00
08:13
08:25
08:44
09:04
09:34
10:04
10:45
11:30
12:00
12:40
13:20
13:45
14:10
14:50
15:30
16:02
16:17
16:30
16:35
16:45
16:53
17:00
17:05
17:12
17:32
17:52
18:13
18:35
18:45
18:55
19:20
19:45
20:10
21:05
Taxibus stops
05:55
06:19
06:25
06:35
06:40
06:49
07:06
07:19
07:25
07:35
07:39
07:59
08:19
08:39
09:18
 
09:58
10:39
11:24
12:01
12:38
13:14
13:39
14:04
14:46
15:28
15:56
16:12
16:29
16:48
17:06
17:26
17:46
18:07
18:28
18:49
19:14
19:38
20:04
20:36
21:09
21:59
06:02
06:26
06:42
06:56
07:13
07:26
07:46
07:50
08:06
08:26
08:46
09:25

 
10:05
10:46
11:31
12:08
12:45
13:21
13:46
14:11
14:53
15:35
16:03
16:19
16:36
16:55
17:13
17:33
17:53
18:14
18:35
18:56
19:21
19:45
20:11
20:43
21:16
22:06
06:03
06:27
06:43
06:57
07:14
07:27
07:47
08:07
08:27
08:47
 
09:26
10:06
10:47
11:32
12:09
12:46
13:22
13:47
14:12
14:54
15:36
16:04
 
16:20
16:37
16:56
17:14
17:34
17:54
18:15
18:36
18:57
19:22
19:46
20:12
20:44
21:17
22:07
06:06
06:30
06:46
07:00
07:17
07:30
07:50
08:10
08:30
08:50
09:29
10:09

 
10:50
11:35
12:12
12:49
13:25
13:50
14:15
14:57
15:39
16:07
16:23
16:40
16:59
17:17
17:37
17:57
18:18
18:39
19:00
19:25
19:49
20:15
20:47
21:20
22:10
06:07
06:31
06:47
07:01
07:18
07:31
07:51
08:11
08:31
08:51
09:30

 
10:10
10:51
11:36
12:13
12:50
13:26
13:51
14:16
14:58
15:40
16:08
16:24
16:41
17:00
17:18
17:38
17:58
18:19
18:40
19:01
19:26
19:50
20:16
20:48
21:21
22:11
06:07
06:31
06:47
07:01
07:18
07:31
07:51
08:11
08:31
08:51
09:30

 
10:10
10:51
11:36
12:13
12:50
13:26
13:51
14:16
14:58
15:40
16:08
16:24
16:41
17:00
17:18
17:38
17:58
18:19
18:40
19:01
19:26
19:50
20:16
20:48
21:21
22:11
06:08
06:32
06:48
07:02
07:19
07:32
07:52
08:12
08:32
08:52
09:31
10:11
 
10:52
11:37
12:14
12:51
13:27
13:52
14:17
14:59
15:41
16:09
16:25
16:42
 
17:01
17:19
17:39
17:59
18:20
18:41
19:02
19:27
19:51
20:17
20:49
21:22
22:12
06:09
06:33
06:49
07:03
07:20
07:33
07:53
08:13
08:33
08:53
09:32
 
10:12
10:53
11:38
12:15
12:52
13:28
13:53
14:18
15:00
15:42
 
16:10
16:26
16:43
17:02
17:20
17:40
18:00
18:21
18:42
19:03
19:28
19:52
20:18
20:50
21:23
22:13
06:10
06:34
06:40
06:50
06:55
07:04
07:21
07:34
07:40
07:50
07:54
07:58
08:14
08:34
08:54
09:33

 
10:13
10:54
11:39
12:16
12:53
13:29
13:54
14:19
15:01
15:43
16:11
16:27
16:44
17:03
17:21
17:41
18:01
18:22
18:43
19:04
19:29
19:53
20:19
20:51
21:24
22:14
06:11
06:35
06:51
07:05
07:22
07:35
07:55
08:15
08:35
08:55
09:34
10:14
10:55

 
11:40
12:17
12:54
13:30
13:55
14:20
15:02
15:44
16:12
16:28
16:45
17:04
17:22
17:42
18:02
18:23
18:44
19:05
19:30
19:54
20:20
20:52
21:25
22:15
06:12
06:36
06:52
07:06
07:23
07:36
07:56
08:16
08:36
08:56
09:35
10:15
10:56

 
11:41
12:18
12:55
13:31
13:56
14:21
15:03
15:45
16:13
16:29
16:46
17:05
17:23
17:43
18:03
18:24
18:45
19:06
19:31
19:55
20:21
20:53
21:26
22:16
06:12
06:36
06:52
07:06
07:23
07:36
07:56
08:16
08:36
08:56
09:35
10:15

 
10:56
11:41
12:18
12:55
13:31
13:56
14:21
15:03
15:45
16:13
16:29
16:46
17:05
17:23
17:43
18:03
18:24
18:45
19:06
19:31
19:55
20:21
20:53
21:26
22:16
06:13
06:37
06:53
07:07
07:24
07:37
07:57
08:17
08:37
08:57
09:36
10:16
10:57

 
11:42
12:19
12:56
13:32
13:57
14:22
15:04
15:46
16:14
16:30
16:47
17:06
17:24
17:44
18:04
18:25
18:46
19:07
19:32
19:56
20:22
20:54
21:27
22:17
06:13
06:37
06:53
07:07
07:24
07:37
07:57
08:17
08:37
08:57
09:36
 
10:16
10:57
11:42
12:19
12:56
13:32
13:57
14:22
15:04
15:46
16:14
16:30
16:47
17:06
17:24
 
17:44
18:04
18:25
18:46
19:07
19:32
19:56
20:22
20:54
21:27
22:17
06:15
06:39
06:55
07:09
07:26
07:39
07:59
08:19
08:39
08:59
09:38
10:18

 
10:59
11:44
12:21
12:58
13:34
13:59
14:24
15:06
15:48
16:16
16:32
16:49
17:08
17:26
17:46
18:06
18:27
18:48
19:09
19:34
19:58
20:24
20:56
21:29
22:19
06:16
06:40
06:56
07:10
07:27
07:40
08:00
08:20
08:40
09:00
09:39
10:19
11:00
11:45

 
12:22
12:59
13:35
14:00
14:25
15:07
15:49
16:17
16:33
16:50
17:09
17:27
17:47
18:07
18:28
18:49
19:10
19:35
19:59
20:25
20:57
21:30
22:20
06:17
06:41
06:57
07:11
07:28
07:41
08:01
08:21
08:41
09:01
09:40
10:20
11:01
11:46

 
12:23
13:00
13:36
14:01
14:26
15:08
15:50
16:18
16:34
16:51
17:10
17:28
17:48
18:08
18:29
18:50
19:11
19:36
20:00
20:26
20:58
21:31
22:21
06:18
06:42
06:58
07:12
07:29
07:42
08:02
08:22
08:42
09:02
09:41
10:21
11:02

 
11:47
12:24
13:01
13:37
14:02
14:27
15:09
15:51
16:19
16:35
16:52
17:11
17:29
17:49
18:09
18:30
18:51
19:12
19:37
20:01
20:27
20:59
21:32
22:22
06:19
06:43
06:59
07:13
07:30
07:43
08:03
08:23
08:43
09:03
09:42
10:22
11:03
11:48
12:25

 
13:02
13:38
14:03
14:28
15:10
15:52
16:20
16:36
16:53
17:12
17:30
17:50
18:10
18:31
18:52
19:13
19:38
20:02
20:28
21:00
21:33
22:23
06:21
06:45
07:01
07:15
07:32
07:45
08:05
08:25
08:45
09:05
09:44
10:24

 
11:05
11:50
12:27
13:04
13:40
14:05
14:30
15:12
15:54
16:22
16:38
16:55
17:14
17:32
17:52
18:12
18:33
18:54
19:15
19:40
20:04
20:30
21:02
21:35
22:25
06:24
06:48
07:04
07:18
07:35
07:48
08:08
08:28
08:48
09:08
09:47
10:27
11:08
11:53

 
12:30
13:07
13:43
14:08
14:33
15:15
15:57
16:25
16:41
16:58
17:17
17:35
17:55
18:15
18:36
18:57
19:18
19:43
20:07
20:33
21:05
21:38
22:28
Saturday schedule
Taxibus stops
05:50
06:20
06:50
07:10
07:30
07:47
08:10
08:30
08:49
09:20
09:46
10:20
10:47

 
11:20
11:50
12:20
12:50
13:20
13:46
14:20
14:50
15:20
15:47
16:10
16:30
16:50
17:10
17:30
17:46
18:20
18:47
19:20
19:50
20:20
05:53
06:23
06:53
07:13
07:33
07:50
08:13
08:33
08:52
09:23
09:49

 
10:23
10:50
11:23
11:53
12:23
12:53
13:23
13:49
14:23
14:53
15:23
15:50
16:13
16:33
16:53
17:13
17:33
17:49
18:23
18:50
19:23
19:53
20:23
05:55
06:25
06:55
07:15
07:35
07:52
08:15
08:35
08:54
09:25
09:51
10:25
10:52
11:25
11:55

 
12:25
12:55
13:25
13:51
14:25
14:55
15:25
15:52
16:15
16:35
16:55
17:15
17:35
17:51
18:25
18:52
19:25
19:55
20:25
05:56
06:26
06:56
07:16
07:36
07:53
08:16
08:36
08:55
09:26
09:52
10:26
10:53

 
11:26
11:56
12:26
12:56
13:26
13:52
14:26
14:56
15:26
15:53
16:16
16:36
16:56
17:16
17:36
17:52
18:26
18:53
19:26
19:56
20:26
05:57
06:27
06:57
07:17
07:37
07:54
08:17
08:37
08:56
09:27
09:53
10:27
10:54

 
11:27
11:57
12:27
12:57
13:27
13:53
14:27
14:57
15:27
15:54
16:17
16:37
16:57
17:17
17:37
17:53
18:27
18:54
19:27
19:57
20:27
05:58
06:28
06:58
07:18
07:38
07:55
08:18
08:38
08:57
09:28
09:54
10:28
10:55
11:28
11:58

 
12:28
12:58
13:28
13:54
14:28
14:58
15:28
15:55
16:18
16:38
16:58
17:18
17:38
17:54
18:28
18:55
19:28
19:58
20:28
05:59
06:29
06:59
07:19
07:39
07:56
08:19
08:39
08:58
09:29
09:55
10:29

 
10:56
11:29
11:59
12:29
12:59
13:29
13:55
14:29
14:59
15:29
15:56
16:19
16:39
16:59
17:19
17:39
17:55
18:29
18:56
19:29
19:59
20:29
06:00
06:30
07:00
07:20
07:40
07:57
08:20
08:40
08:59
09:30
09:56
10:30
10:57
11:30

 
12:00
12:30
13:00
13:30
13:56
14:30
15:00
15:30
15:57
16:20
16:40
17:00
17:20
17:40
17:56
18:30
18:57
19:30
20:00
20:30
06:01
06:31
07:01
07:21
07:41
07:58
08:21
08:41
09:00
09:31
09:57
10:31

 
10:58
11:31
12:01
12:31
13:01
13:31
13:57
14:31
15:01
15:31
15:58
16:21
16:41
17:01
17:21
17:41
17:57
18:31
18:58
19:31
20:01
20:31
06:02
06:32
07:02
07:22
07:42
07:59
08:22
08:42
09:01
09:32
09:58
10:32
10:59

 
11:32
12:02
12:32
13:02
13:32
13:58
14:32
15:02
15:32
15:59
16:22
16:42
17:02
17:22
17:42
17:58
18:32
18:59
19:32
20:02
20:32
06:02
06:32
07:02
07:22
07:42
07:59
08:22
08:42
09:01
09:32
09:58

 
10:32
10:59
11:32
12:02
12:32
13:02
13:32
13:58
14:32
15:02
15:32
15:59
16:22
16:42
17:02
17:22
17:42
17:58
18:32
18:59
19:32
20:02
20:32
06:03
06:33
07:03
07:23
07:43
08:00
08:23
08:43
09:02
09:33
09:59
10:33
11:00
11:33
12:03
12:33

 
13:03
13:33
13:59
14:33
15:03
15:33
16:00
16:23
16:43
17:03
17:23
17:43
17:59
18:33
19:00
19:33
20:03
20:33
06:04
06:34
07:04
07:24
07:44
08:01
08:24
08:44
09:03
09:34
10:00
10:34
11:01
11:34

 
12:04
12:34
13:04
13:34
14:00
14:34
15:04
15:34
16:00
16:01
16:15
16:24
16:40
16:44
16:55
17:04
17:24
17:44
18:00
18:34
19:01
19:34
20:04
20:34
06:05
06:35
07:05
07:25
07:45
08:02
08:25
08:45
09:04
09:35
10:01
10:35

 
11:02
11:35
12:05
12:35
13:05
13:35
14:01
14:35
15:05
15:35
16:02
16:25
16:45
17:05
17:25
17:45
18:01
18:35
19:02
19:35
20:05
20:35
06:06
06:36
07:06
07:26
07:46
08:03
08:26
08:46
09:05
09:36
10:02
10:36
11:03

 
11:36
12:06
12:36
13:06
13:36
14:02
14:36
15:06
15:36
16:03
16:26
16:46
17:06
17:26
17:46
18:02
18:36
19:03
19:36
20:06
20:36
06:07
06:37
07:07
07:27
07:47
08:04
08:27
08:47
09:06
09:37
10:03
10:37

 
11:04
11:37
12:07
12:37
13:07
13:37
14:03
14:37
15:07
15:37
16:04
16:27
16:47
17:07
17:27
17:47
18:03
18:37
19:04
19:37
20:07
20:37
06:07
06:37
07:07
07:27
07:47
08:04
08:27
08:47
09:06
09:37
10:03

 
10:37
11:04
11:37
12:07
12:37
13:07
13:37
14:03
14:37
15:07
15:37
16:04
16:27
16:47
17:07
17:27
17:47
18:03
18:37
19:04
19:37
20:07
20:37
06:08
06:38
07:08
07:28
07:48
08:05
08:28
08:48
09:07
09:38
10:04
10:38
11:05

 
11:38
12:08
12:38
13:08
13:38
14:04
14:38
15:08
15:38
16:05
16:28
16:48
17:08
17:28
17:48
18:04
18:38
19:05
19:38
20:08
20:38
06:09
06:39
07:09
07:29
07:49
08:06
08:29
08:49
09:08
09:39
10:05
10:39

 
11:06
11:39
12:09
12:39
13:09
13:39
14:05
14:39
15:09
15:39
16:06
16:29
16:49
17:09
17:29
17:49
18:05
18:39
19:06
19:39
20:09
20:39
06:12
06:42
07:12
07:32
07:52
08:09
08:32
08:52
09:11
09:42
10:08
10:42
11:09
11:42
 
12:12
12:42
13:12
13:42
14:08
14:42
15:12
15:42
16:08
16:09
 
16:32
16:52
17:12
17:32
17:52
18:08
18:42
19:09
19:42
20:12
20:42
06:19
06:49
07:19
07:39
07:59
08:16
08:39
08:59
09:18
09:49
10:15
10:49
11:16
11:49

 
12:19
12:49
13:19
13:49
14:15
14:49
15:19
15:49
16:16
16:30
16:39
16:55
16:59
17:10
17:19
17:39
17:59
18:15
18:49
19:16
19:49
20:19
20:49
Taxibus stops
06:20
06:40
06:50
07:10
07:20
07:40
07:45
08:00
08:10
08:20
08:40
09:00
09:20
09:50
10:10
10:40
11:10

 
11:50
12:20
12:50
13:20
13:50
14:10
14:50
15:20
15:50
16:10
16:20
16:40
17:00
17:20
17:40
18:10
18:40
19:10
19:50
20:50
23:10
06:27
06:57
07:27
07:47
08:07
08:17
08:27
08:47
09:07
09:27
09:57
10:17
10:47

 
11:17
11:57
12:27
12:57
13:27
13:57
14:17
14:57
15:27
15:57
16:17
16:27
16:47
17:07
17:27
17:47
18:17
18:47
19:17
19:57
20:57
23:17
06:28
06:58
07:28
07:48
08:08
08:18
08:28
08:48
09:08
09:28
09:58

 
10:18
10:48
11:18
11:58
12:28
12:58
13:28
13:58
14:18
14:58
15:28
15:58
16:18
16:28
16:48
17:08
17:28
17:48
18:18
18:48
19:18
19:58
20:58
23:18
06:31
07:01
07:31
07:51
08:11
08:21
08:31
08:51
09:11
09:31
10:01
10:21
10:51

 
11:21
12:01
12:31
13:01
13:31
14:01
14:21
15:01
15:31
16:01
16:21
16:31
16:51
17:11
17:31
17:51
18:21
18:51
19:21
20:01
21:01
23:21
06:32
07:02
07:32
07:52
08:12
08:22
08:32
08:52
09:12
09:32
10:02
10:22

 
10:52
11:22
12:02
12:32
13:02
13:32
14:02
14:22
15:02
15:32
16:02
16:22
16:32
16:52
17:12
17:32
17:52
18:22
18:52
19:22
20:02
21:02
23:22
06:32
07:02
07:32
07:52
08:12
08:22
08:32
08:52
09:12
09:32
10:02
10:22
10:52

 
11:22
12:02
12:32
13:02
13:32
14:02
14:22
15:02
15:32
16:02
16:22
16:32
16:52
17:12
17:32
17:52
18:22
18:52
19:22
20:02
21:02
23:22
06:33
07:03
07:33
07:53
08:13
08:23
08:33
08:53
09:13
09:33
10:03
10:23

 
10:53
11:23
12:03
12:33
13:03
13:33
14:03
14:23
15:03
15:33
16:03
16:23
16:33
16:53
17:13
17:33
17:53
18:23
18:53
19:23
20:03
21:03
23:23
06:34
07:04
07:34
07:54
08:14
08:24
08:34
08:54
09:14
09:34
10:04
10:24
10:54

 
11:24
12:04
12:34
13:04
13:34
14:04
14:24
15:04
15:34
16:04
16:24
16:34
16:54
17:14
17:34
17:54
18:24
18:54
19:24
20:04
21:04
23:24
06:35
06:55
07:05
07:25
07:35
07:55
08:00
08:15
08:25
08:35
08:55
09:15
09:35
10:05
10:25

 
10:55
11:25
12:05
12:35
13:05
13:35
14:05
14:25
15:05
15:35
16:05
16:25
16:35
16:55
17:15
17:35
17:55
18:25
18:55
19:25
20:05
21:05
23:25
06:36
07:06
07:36
07:56
08:16
08:26
08:36
08:56
09:16
09:36
10:06
10:26
10:56
11:26

 
12:06
12:36
13:06
13:36
14:06
14:26
15:06
15:36
16:06
16:26
16:36
16:56
17:16
17:36
17:56
18:26
18:56
19:26
20:06
21:06
23:26
06:37
07:07
07:37
07:57
08:17
08:27
08:37
08:57
09:17
09:37
10:07
10:27

 
10:57
11:27
12:07
12:37
13:07
13:37
14:07
14:27
15:07
15:37
16:07
16:27
16:37
16:57
17:17
17:37
17:57
18:27
18:57
19:27
20:07
21:07
23:27
06:37
07:07
07:37
07:57
08:17
08:27
08:37
08:57
09:17
09:37
10:07
10:27

 
10:57
11:27
12:07
12:37
13:07
13:37
14:07
14:27
15:07
15:37
16:07
16:27
16:37
16:57
17:17
17:37
17:57
18:27
18:57
19:27
20:07
21:07
23:27
06:38
07:08
07:38
07:58
08:18
08:28
08:38
08:58
09:18
09:38
10:08
10:28
10:58
11:28

 
12:08
12:38
13:08
13:38
14:08
14:28
15:08
15:38
16:08
16:28
16:38
16:58
17:18
17:38
17:58
18:28
18:58
19:28
20:08
21:08
23:28
06:39
07:09
07:39
07:59
08:19
08:29
08:39
08:59
09:19
09:39
10:09

 
10:29
10:59
11:29
12:09
12:39
13:09
13:39
14:09
14:29
15:09
15:39
16:09
16:29
16:39
16:59
17:19
17:39
17:59
18:29
18:59
19:29
20:09
21:09
23:29
06:40
07:10
07:40
08:00
08:20
08:30
08:40
09:00
09:20
09:40
10:10
10:30
11:00

 
11:30
12:10
12:40
13:10
13:40
14:10
14:30
15:10
15:40
16:10
16:30
16:40
17:00
17:20
17:40
18:00
18:30
19:00
19:30
20:10
21:10
23:30
06:41
07:11
07:41
08:01
08:21
08:31
08:41
09:01
09:21
09:41
10:11

 
10:31
11:01
11:31
12:11
12:41
13:11
13:41
14:11
14:31
15:11
15:41
16:11
16:31
16:41
17:01
17:21
17:41
18:01
18:31
19:01
19:31
20:11
21:11
23:31
06:42
07:12
07:42
08:02
08:22
08:32
08:42
09:02
09:22
09:42
10:12
10:32
11:02

 
11:32
12:12
12:42
13:12
13:42
14:12
14:32
15:12
15:42
16:12
16:32
16:42
17:02
17:22
17:42
18:02
18:32
19:02
19:32
20:12
21:12
23:32
06:43
07:13
07:43
08:03
08:23
08:33
08:43
09:03
09:23
09:43
10:13
10:33
 
11:03
11:33
12:13
12:43
13:13
13:43
14:13
14:33
15:13
15:43
16:13
 
16:33
16:43
17:03
17:23
17:43
18:03
18:33
19:03
19:33
20:13
21:13
23:33
06:44
07:14
07:44
08:04
08:24
08:34
08:44
09:04
09:24
09:44
10:14
10:34
11:04
11:34

 
12:14
12:44
13:14
13:44
14:14
14:34
15:14
15:44
16:14
16:34
16:44
17:04
17:24
17:44
18:04
18:34
19:04
19:34
20:14
21:14
23:34
06:46
07:16
07:46
08:06
08:26
08:36
08:46
09:06
09:26
09:46
10:16
10:36
11:06
11:36

 
12:16
12:46
13:16
13:46
14:16
14:36
15:16
15:46
16:16
16:36
16:46
17:06
17:26
17:46
18:06
18:36
19:06
19:36
20:16
21:16
23:36
06:49
07:19
07:49
08:09
08:29
08:39
08:49
09:09
09:29
09:49
10:19
10:39
11:09
11:39

 
12:19
12:49
13:19
13:49
14:19
14:39
15:19
15:49
16:19
16:39
16:49
17:09
17:29
17:49
18:09
18:39
19:09
19:39
20:19
21:19
23:39
Sunday schedule
Taxibus stops
05:50
06:20
06:50
07:10
07:30
07:50
08:10
08:30
08:50
09:20
09:50
10:20
10:50
11:17

 
11:50
12:20
12:50
13:20
13:46
14:20
14:50
15:17
15:50
16:10
16:30
16:50
17:10
17:30
17:46
18:32
18:50
19:20
19:50
20:16
05:53
06:23
06:53
07:13
07:33
07:53
08:13
08:33
08:53
09:23
09:53
10:23

 
10:53
11:20
11:53
12:23
12:53
13:23
13:49
14:23
14:53
15:20
15:53
16:13
16:33
16:53
17:13
17:33
17:49
18:35
18:53
19:23
19:53
20:19
05:55
06:25
06:55
07:15
07:35
07:55
08:15
08:35
08:55
09:25
09:55
10:25

 
16:15
16:35
16:55
17:15
17:35
17:51
18:37
18:55
19:25
19:55
20:21
10:55
11:22
11:55
12:25
12:55
13:25
13:51
14:25
14:55
15:22
15:55
05:56
06:26
06:56
07:16
07:36
07:56
08:16
08:36
08:56
09:26
09:56
10:26

 
10:56
11:23
11:56
12:26
12:56
13:26
13:52
14:26
14:56
15:23
15:56
16:16
16:36
16:56
17:16
17:36
17:52
18:38
18:56
19:26
19:56
20:22
05:57
06:27
06:57
07:17
07:37
07:57
08:17
08:37
08:57
09:27
09:57
10:27

 
10:57
11:24
11:57
12:27
12:57
13:27
13:53
14:27
14:57
15:24
15:57
16:17
16:37
16:57
17:17
17:37
17:53
18:39
18:57
19:27
19:57
20:23
05:58
06:28
06:58
07:18
07:38
07:58
08:18
08:38
08:58
09:28
09:58
10:28

 
10:58
11:25
11:58
12:28
12:58
13:28
13:54
14:28
14:58
15:25
15:58
16:18
16:38
16:58
17:18
17:38
17:54
18:40
18:58
19:28
19:58
20:24
05:59
06:29
06:59
07:19
07:39
07:59
08:19
08:39
08:59
09:29
09:59
10:29
10:59
11:26
 
11:59
12:29
12:59
13:29
13:55
14:29
14:59
15:26
15:59
 
16:19
16:39
16:59
17:19
17:39
17:55
18:41
18:59
19:29
19:59
20:25
06:00
06:30
07:00
07:20
07:40
08:00
08:20
08:40
09:00
09:30
10:00
10:30
11:00
11:27
 
12:00
12:30
13:00
13:30
13:56
14:30
15:00
15:27
16:00
 
16:20
16:40
17:00
17:20
17:40
17:56
18:42
19:00
19:30
20:00
20:26
06:01
06:31
07:01
07:21
07:41
08:01
08:21
08:41
09:01
09:31

 
10:01
10:31
11:01
11:28
12:01
12:31
13:01
13:31
13:57
14:31
15:01
15:28
16:01
16:21
16:41
17:01
17:21
17:41
17:57
18:43
19:01
19:31
20:01
20:27
06:02
06:32
07:02
07:22
07:42
08:02
08:22
08:42
09:02
09:32
10:02
 
10:32
11:02
11:29
12:02
12:32
13:02
13:32
13:58
14:32
15:02
15:29
16:02
 
16:22
16:42
17:02
17:22
17:42
17:58
18:44
19:02
19:32
20:02
20:28
06:02
06:32
07:02
07:22
07:42
08:02
08:22
08:42
09:02
09:32
10:02
10:32
11:02

 
11:29
12:02
12:32
13:02
13:32
13:58
14:32
15:02
15:29
16:02
16:22
16:42
17:02
17:22
17:42
17:58
18:44
19:02
19:32
20:02
20:28
06:03
06:33
07:03
07:23
07:43
08:03
08:23
08:43
09:03
09:33
10:03
10:33
11:03

 
11:30
12:03
12:33
13:03
13:33
13:59
14:33
15:03
15:30
16:03
16:23
16:43
17:03
17:23
17:43
17:59
18:45
19:03
19:33
20:03
20:29
06:04
06:34
07:04
07:24
07:44
08:04
08:24
08:44
09:04
09:34
10:04
10:34
11:04
11:31
12:04
12:34
13:04
13:34

 
14:00
14:34
15:04
15:30
15:31
15:50
16:04
16:10
16:24
16:30
16:44
17:04
17:10
17:24
17:44
18:00
18:46
19:04
19:34
20:04
20:30
06:05
06:35
07:05
07:25
07:45
08:05
08:25
08:45
09:05
09:35
10:05

 
10:35
11:05
11:32
12:05
12:35
13:05
13:35
14:01
14:35
15:05
15:32
16:05
16:25
16:45
17:05
17:25
17:45
18:01
18:47
19:05
19:35
20:05
20:31
06:06
06:36
07:06
07:26
07:46
08:06
08:26
08:46
09:06
09:36
10:06
10:36

 
11:06
11:33
12:06
12:36
13:06
13:36
14:02
14:36
15:06
15:33
16:06
16:26
16:46
17:06
17:26
17:46
18:02
18:48
19:06
19:36
20:06
20:32
06:07
06:37
07:07
07:27
07:47
08:07
08:27
08:47
09:07
09:37
10:07
10:37

 
11:07
11:34
12:07
12:37
13:07
13:37
14:03
14:37
15:07
15:34
16:07
16:27
16:47
17:07
17:27
17:47
18:03
18:49
19:07
19:37
20:07
20:33
06:07
06:37
07:07
07:27
07:47
08:07
08:27
08:47
09:07
09:37
10:07
10:37
11:07

 
11:34
12:07
12:37
13:07
13:37
14:03
14:37
15:07
15:34
16:07
16:27
16:47
17:07
17:27
17:47
18:03
18:49
19:07
19:37
20:07
20:33
06:08
06:38
07:08
07:28
07:48
08:08
08:28
08:48
09:08
09:38
10:08
10:38
11:08
11:35

 
12:08
12:38
13:08
13:38
14:04
14:38
15:08
15:35
16:08
16:28
16:48
17:08
17:28
17:48
18:04
18:50
19:08
19:38
20:08
20:34
06:09
06:39
07:09
07:29
07:49
08:09
08:29
08:49
09:09
09:39
10:09
10:39
11:09

 
11:36
12:09
12:39
13:09
13:39
14:05
14:39
15:09
15:36
16:09
16:29
16:49
17:09
17:29
17:49
18:05
18:51
19:09
19:39
20:09
20:35
06:12
06:42
07:12
07:32
07:52
08:12
08:32
08:52
09:12
09:42
10:12
10:42

 
11:12
11:39
12:12
12:42
13:12
13:42
14:08
14:42
15:12
15:38
15:39
16:12
16:32
16:52
17:12
17:32
17:52
18:08
18:54
19:12
19:42
20:12
20:38
06:19
06:49
07:19
07:39
07:59
08:19
08:39
08:59
09:19
09:49
10:19
10:49
11:19
11:46

 
12:19
12:49
13:19
13:49
14:15
14:49
15:19
15:46
16:05
16:19
16:25
16:39
16:45
16:59
17:19
17:25
17:39
17:59
18:15
19:01
19:19
19:49
20:19
20:45
Taxibus stops
06:20
06:45
06:50
07:20
07:30
07:40
07:50
08:00
08:20
08:40
09:00

 
09:20
09:50
10:20
10:50
11:20
11:40
12:20
12:50
13:20
13:50
14:09
14:50
15:20
15:40
16:09
16:20
16:40
17:00
17:20
17:40
18:09
18:20
18:55
19:20
20:39
06:27
06:57
07:27
07:47
08:07
08:27
08:47
09:07
09:27
09:57
10:27

 
10:57
11:27
11:47
12:27
12:57
13:27
13:57
14:16
14:57
15:27
15:47
16:16
16:27
16:47
17:07
17:27
17:47
18:16
18:27
19:02
19:27
20:46
06:28
06:58
07:28
07:48
08:08
08:28
08:48
09:08
09:28
09:58
10:28

 
10:58
11:28
11:48
12:28
12:58
13:28
13:58
14:17
14:58
15:28
15:48
16:17
16:28
16:48
17:08
17:28
17:48
18:17
18:28
19:03
19:28
20:47
06:31
07:01
07:31
07:51
08:11
08:31
08:51
09:11
09:31
10:01
10:31
11:01
11:31
11:51

 
12:31
13:01
13:31
14:01
14:20
15:01
15:31
15:51
16:20
16:31
16:51
17:11
17:31
17:51
18:20
18:31
19:06
19:31
20:50
06:32
07:02
07:32
07:52
08:12
08:32
08:52
09:12
09:32
10:02
10:32

 
11:02
11:32
11:52
12:32
13:02
13:32
14:02
14:21
15:02
15:32
15:52
16:21
16:32
16:52
17:12
17:32
17:52
18:21
18:32
19:07
19:32
20:51
06:32
07:02
07:32
07:52
08:12
08:32
08:52
09:12
09:32
10:02
10:32

 
11:02
11:32
11:52
12:32
13:02
13:32
14:02
14:21
15:02
15:32
15:52
16:21
16:32
16:52
17:12
17:32
17:52
18:21
18:32
19:07
19:32
20:51
06:33
07:03
07:33
07:53
08:13
08:33
08:53
09:13
09:33
10:03
10:33

 
11:03
11:33
11:53
12:33
13:03
13:33
14:03
14:22
15:03
15:33
15:53
16:22
16:33
16:53
17:13
17:33
17:53
18:22
18:33
19:08
19:33
20:52
06:34
07:04
07:34
07:54
08:14
08:34
08:54
09:14
09:34
10:04
10:34

 
11:04
11:34
11:54
12:34
13:04
13:34
14:04
14:23
15:04
15:34
15:54
16:23
16:34
16:54
17:14
17:34
17:54
18:23
18:34
19:09
19:34
20:53
06:35
07:00
07:05
07:35
07:45
07:55
08:05
08:15
08:35
08:55
09:15
09:35
10:05

 
10:35
11:05
11:35
11:55
12:35
13:05
13:35
14:05
14:24
15:05
15:35
15:55
16:24
16:35
16:55
17:15
17:35
17:55
18:24
18:35
19:10
19:35
20:54
06:36
07:06
07:36
07:56
08:16
08:36
08:56
09:16
09:36
10:06
10:36

 
11:06
11:36
11:56
12:36
13:06
13:36
14:06
14:25
15:06
15:36
15:56
16:25
16:36
16:56
17:16
17:36
17:56
18:25
18:36
19:11
19:36
20:55
06:37
07:07
07:37
07:57
08:17
08:37
08:57
09:17
09:37
10:07
10:37
11:07
11:37

 
11:57
12:37
13:07
13:37
14:07
14:26
15:07
15:37
15:57
16:26
16:37
16:57
17:17
17:37
17:57
18:26
18:37
19:12
19:37
20:56
06:37
07:07
07:37
07:57
08:17
08:37
08:57
09:17
09:37
10:07
10:37
11:07
11:37
11:57

 
12:37
13:07
13:37
14:07
14:26
15:07
15:37
15:57
16:26
16:37
16:57
17:17
17:37
17:57
18:26
18:37
19:12
19:37
20:56
06:38
07:08
07:38
07:58
08:18
08:38
08:58
09:18
09:38
10:08
10:38
11:08

 
11:38
11:58
12:38
13:08
13:38
14:08
14:27
15:08
15:38
15:58
16:27
16:38
16:58
17:18
17:38
17:58
18:27
18:38
19:13
19:38
20:57
06:39
07:09
07:39
07:59
08:19
08:39
08:59
09:19
09:39
10:09
10:39
11:09
11:39
 
11:59
12:39
13:09
13:39
14:09
14:28
15:09
15:39
15:59
16:28
 
16:39
16:59
17:19
17:39
17:59
18:28
18:39
19:14
19:39
20:58
06:40
07:10
07:40
08:00
08:20
08:40
09:00
09:20
09:40
10:10
10:40
11:10
11:40
12:00

 
12:40
13:10
13:40
14:10
14:29
15:10
15:40
16:00
16:29
16:40
17:00
17:20
17:40
18:00
18:29
18:40
19:15
19:40
20:59
06:41
07:11
07:41
08:01
08:21
08:41
09:01
09:21
09:41
10:11
10:41
11:11
11:41

 
12:01
12:41
13:11
13:41
14:11
14:30
15:11
15:41
16:01
16:30
16:41
17:01
17:21
17:41
18:01
18:30
18:41
19:16
19:41
21:00
06:42
07:12
07:42
08:02
08:22
08:42
09:02
09:22
09:42
10:12
10:42
11:12
11:42

 
12:02
12:42
13:12
13:42
14:12
14:31
15:12
15:42
16:02
16:31
16:42
17:02
17:22
17:42
18:02
18:31
18:42
19:17
19:42
21:01
06:43
07:13
07:43
08:03
08:23
08:43
09:03
09:23
09:43
10:13
10:43
11:13
11:43
 
12:03
12:43
13:13
13:43
14:13
14:32
15:13
15:43
16:03
 
16:32
16:43
17:03
17:23
17:43
18:03
18:32
18:43
19:18
19:43
21:02
06:44
07:14
07:44
08:04
08:24
08:44
09:04
09:24
09:44
10:14
10:44
11:14
11:44

 
12:04
12:44
13:14
13:44
14:14
14:33
15:14
15:44
16:04
16:33
16:44
17:04
17:24
17:44
18:04
18:33
18:44
19:19
19:44
21:03
06:46
07:16
07:46
08:06
08:26
08:46
09:06
09:26
09:46
10:16
10:46
11:16

 
11:46
12:06
12:46
13:16
13:46
14:16
14:35
15:16
15:46
16:06
16:35
16:46
17:06
17:26
17:46
18:06
18:35
18:46
19:21
19:46
21:05
06:49
07:19
07:49
08:09
08:29
08:49
09:09
09:29
09:49
10:19
10:49
11:19
11:49

 
12:09
12:49
13:19
13:49
14:19
14:38
15:19
15:49
16:09
16:38
16:49
17:09
17:29
17:49
18:09
18:38
18:49
19:24
19:49
21:08
Shared taxibus stops
S. Anne / Terminus Macdonald (SNV-100)
Gare S. Anne (SNV-101)
Senneville / Muir Park (SNV-102)
Senneville / Elmwood (SNV-103)
Senneville / Morningside (SNV-104)
Senneville / Sunset (SNV-105)
Laboratoires Charles River (SNV-106)
Senneville / No 149 (SNV-107)
Senneville / No 166 (SNV-108)
Senneville / Nord du No 190 (SNV-109)
Senneville / Angus (SNV-110)
Senneville / Sud du No 246 (SNV-111)
Senneville / No 265 (SNV-112)
Senneville / Phillips (SNV-113)
Senneville / No 296 (SNV-114)
Senneville / Lauzon (SNV-115)
Senneville / Lauzon (SNV-116)
Senneville / No 296 (SNV-117)
Senneville / Phillips (SNV-118)
Senneville / No 265 (SNV-119)
Senneville / Sud du No 246 (SNV-120)
Senneville / Angus (SNV-121)
Senneville / Nord du No 190 (SNV-122)
Senneville / No 166 (SNV-123)
Senneville / No 149 (SNV-124)
Senneville / No 88 (SNV-125)
Senneville / Sunset (SNV-126)
Senneville / Morningside (SNV-127)
Senneville / Elmwood (SNV-128)
Senneville / Muir Park (SNV-129)
Gare S. Anne (SNV-130)
Elmwood / Opp 25 (SNV-132)
Elmwood / No 25 (SNV-133)
Senneville / No 88 (SNV-134)
Cap-Saint-Jacques (SNV-135)
Tunstall / No 35 (SNV-136)
Tunstall / Opp 35 (SNV-137)
Senneville / A40 (SNV-138)
Senneville / A40 (SNV-139)
Area covered by shared taxibus service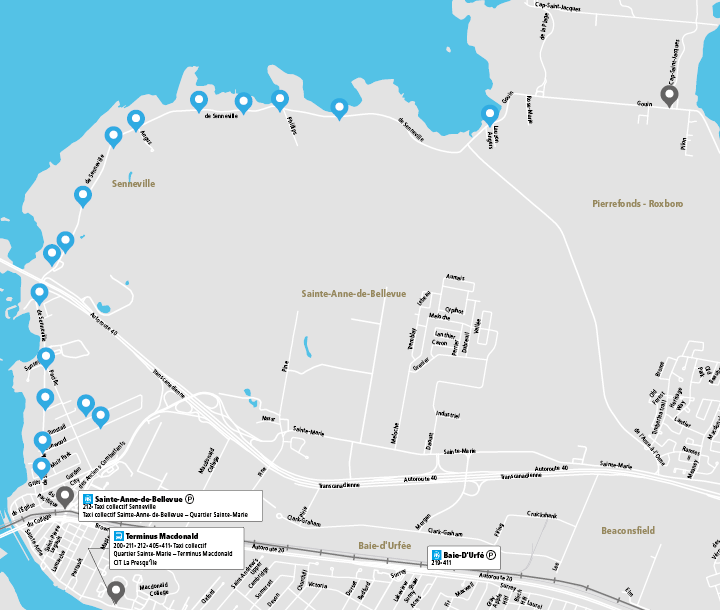 Top of page