BEHAVIOURS IN THE PROCESS OF DISAPPEARING
They are back!
You'll recognize them by their behaviour in buses and the métro. Their behaviour dates back to when they hunted mammoths and lived in caves. Just who are we talking about? The #prehistoriques of course!
Texte important
3 #PREHISTORIQUES were created from your suggestions
In 2019, you suggested behaviours to avoid in public transit…Here are 3 new ones for 2020!
#1 GIVE UP YOUR SEAT
In a bus or the métro, look around you and be courteous by offering your seat to a person who needs it.
#2 SHARE THE SPACE
When using public transit, leave seats clean and available for other passengers by not putting your feet, bags or other personal items on the seats.
#3 WAIT IN LINE
At a bus stop, the first to arrive is the first to board. Wait your turn to make riding public transit better.
#4 REMOVE YOUR BACKPACK
Remove your backpack to take up less space.
#5 SHARE THE TRIPOD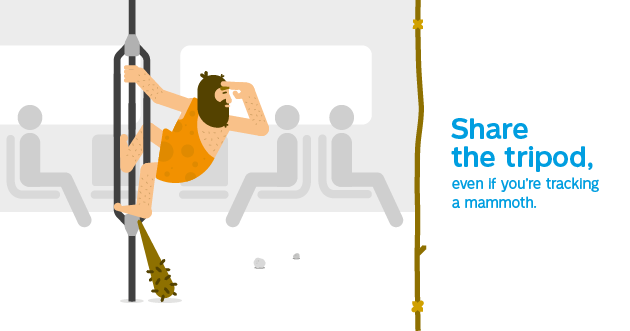 In the métro, improve your stability by holding the tripod with your hand only. This way, others can use it.
#6 LET OTHERS EXIT BEFORE YOU ENTER
In the bus and métro network, improve fluidity by letting others exit before you enter.
#7 TALK MORE QUIETLY
When using public transit, respect others by not talking too loudly on the phone.
#8 TURN DOWN THE VOLUME
When using public transit, respect others by keeping the sound on your electronic devices to yourself.
#9 KEEP YOUR TRANSIT FARE
Whether travelling by bus or métro, your validated transit fare serves as proof of payment for the duration of your trip. Keep it to avoid a fine of $150 (minimum) plus applicable fees.
#10 MOVE TOWARD THE BACK
On the bus, move toward the back to make room for customers who are boarding. Better boarding fluidity reduces time spent at bus stops during trips.
#11 PICK UP YOUR NEWSPAPER
Leaving newspapers on platform and train seating can cause service slowdowns. When newspapers blow around, they can block doors or end up on the tracks. Take them with you or recycle them when you leave the station.
#12 CLEAR THE RESERVED AREA
Clear the reserved area in a bus or the métro when a wheelchair user, a person travelling with a stroller or any other person requires this space.
#13 HAVE YOUR TRANSIT FARE READY
To speed up boarding times on buses, have your transit fare ready to validate as soon as you get on.
#14 HOLD ON TO YOUR BAGS
In a bus or the métro, make sure you hold on tightly to your bags. Keep the central aisle and doors clear at all times. This will allow other customers to move around safely.
#15 HOLD ON TIGHTLY TO YOUR PHONE
All objects that end up on the tracks, such as phones, cause service disruptions. Hold on tightly to your phone when on the platform and stay behind the yellow line.
#16 EXITING THROUGH THE BACK DOOR
Stand clear of the front door so that other passengers may board the bus.
Top of page