Starting March 2022, the Société de transport de Montréal (STM) will be carrying out major exterior work at Berri-UQAM station to refurbish the waterproofing membrane covering the station's underground roof.
During this project, the STM will install elevators that connect to the Yellow line and conduct renovations on facilities and equipment inside the station (refurbishing the fire protection system, private elevator and medical stations, replacing the fire alarm control panels, etc.).
The exterior work will have an impact on residents, since it will require the closure of certain sections of Berri Street and De Maisonneuve Boulevard at various times. The Sainte-Catherine entrance building will be closed from September 2022 to April 2023, and the Berri entrance building will also be closed from May to July 2023. The station, however, will remain open at all times.
The work will be separated into two phases:
Phase 1: 2022 to 2023
Phase 2: 2024 to 2025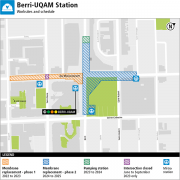 The STM will hold a virtual public information session on February 3rd to discuss the project. To register and learn more about the project and related closures: stm.info/en/berri-uqam
What is a waterproofing membrane?
A waterproofing membrane is a device that protects the station from water infiltrations. The membrane covers the station's underground roof and is therefore located underground. Berri-UQAM's waterproofing membrane dates back to the station's initial construction in 1966 and has reached the end of its useful life. This work is part of the refurbishing process that has been underway at Berri-UQAM station since 2012.
Berri-UQAM station in numbers
31,269 square metres of surface area (more than five football fields)
600+ STM employees working inside the station
28 escalators
6 elevators (5 public and 1 private)
625 steps (more than double the number of Saint-Joseph's Oratory)
6 levels (2 for mechanical rooms)
6 platforms plus connecting tracks
5 entrance buildings
28 metres deep, from lowest platform to exit (only Charlevoix station is deeper)
13 shops inside the station