Parc Jean-Drapeau
People visit Jean-Drapeau park to walk, run, dance, have picnics and watch the sun set over the city. Here, you can go to the Biosphère, La Ronde, Jean-Doré Beach, Casino de Montréal and see public works of art, including Alexander Calder's monumental stabile, L'Homme. The Espace 67 concourse also provides one of the most breathtaking views of downtown Montréal.
At its opening, Jean-Drapeau Park was known to all as the "Man and His World." Today, it's truly a world of its own!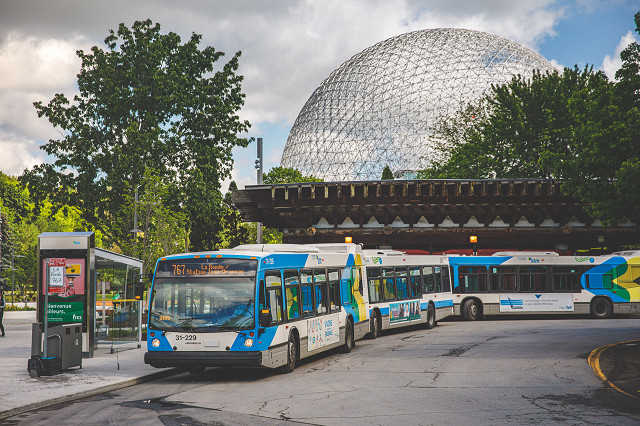 It's worth the trip!
With its métro station and shuttle buses connecting the main attractions, Jean-Drapeau Park is a Sooo Montréal spot!
How to get there?

  Jean-Drapeau
For La Ronde
  767 La Ronde / La Plage
For Jean-Doré beach
  767 La Ronde / La Plage
For the Casino
  777 Casino
Paratransit
Chemin circuit Gilles-Villeneuve, parking lot P 5 1
Offers Soooo entertaining
Discounts and privileges for your outings in the Jean-Drapeau park
Trip planning tools to get there easily
Pick-up and drop-off locations may be temporarily blocked by construction work or detours. Our Transport adapté customer service agents will let you know when you book your reservation if this is the case.
Top of page