Electrification underway... Toward a 100% electric network
In recent years, we have started making the shift towards hybrid technology by acquiring buses that emit up to 30% less greenhouse gases than diesel buses.
Starting in 2025, if the technology is available, we are committed to acquiring only fully electric vehicles.
Electrification brings benefits
Reduction of the GHG emissions
Support the growth for Québec industries
Reduced dependence on oil
Use of clean (non-polluting) energy produced in
Texte important
82,2 % of trips on our network used electricity in 2020.
Our electric buses
In addition to the seven fast-charging electric buses operating on line 36 Monk, new electric vehicles will be added to our bus fleet in the coming years:
One paratransit electric minibus
Thirty long-range electric buses
Four midibuses (30 feet), a mid-size vehicle bigger than a minibus yet smaller than a standard bus.
Our very first electric minibus made its debut at the St-Michel bus garage on April 28, 2021. As part of a two-years demonstration project, trials will be conducted to evaluate the impact of electrification on your customer experience, planning customer trips, bus garage infrastructure and maintenance operations.
Over the next few weeks, trials will be conducted without passengers to evaluate the vehicle's performance, and customers should begin taking their first trips on it by this fall.
About the minibus 
G5e model from supplier Girardin Blue Bird 
Long-range, high-floor electric minibus 
Seating capacity comparable to standard minibuses currently in use 
118-kWh lithium-ion NMC batteries 
200 km expected range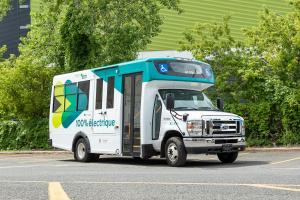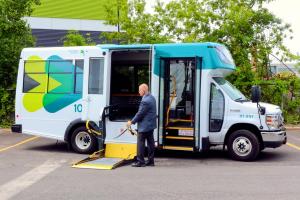 We have now received our 30 New Flyer buses. We are continuing tests on the buses and plan to gradually introduce them into service for our customers starting in winter 2022.
Vehicle characteristics
Air-conditioned
Two spaces for wheelchairs
440-kWh Li-NMC batteries for a range of approximately 250 km
Roof rails allowing for conductive charging (slow charging)
When the outside temperature is higher than five degrees Celsius, the heating is fully electric. When the temperature drops below five degrees, the buses use diesel-powered heating (the burner head uses diesel).

  36 Monk
Our first fully electric bus hit the road on May 24, 2017. Today, there are seven fast-charging electric buses connected to the LaSalle bus garage, enough to provide up to fully electric service on the 36-Monk.
You wonder how these buses can run all day long? It's because they charge in 5 minutes max, at the begining and end of the line using a quick-charging station! How does it work? Find out in this video.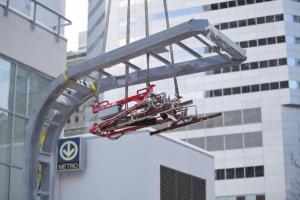 Prior to choosing this method, a number of studies were conducted. We had to take several criteria into consideration in order to test a technology that met every aspect of our operating environment, for example, the transit experience for customers and drivers, service planning and delivery, maintenance, and more. Quick-charging technology using a pantograph is a proven method in Europe and it matches well with our needs, in addition to having proven itself under winter conditions.
It's a simple manoeuvre: once the bus pulls up at its stop and into position below the recharging station, the pantograph extends and lowers itself next to the roof of the bus. Through conduction, the batteries of the bus are recharged. Once done, the arm retracts itself and the bus turns around for its next run. The bus will charge up its batteries again at the other end of the line, over and over again, throughout the day. At night, buses are plugged into slow recharging stations that allow the batteries to be fully recharged.
Our infrastructures
When we talk about surface system electrification, we're not just talking about the acquisition of fully electric vehicles. We're also talking about adapting our bus garages to the new technologies.
Good news!
On December 10, 2020, the City of Montréal authorized a $671.4 million loan by-law to continue bus garage electric adaptation work. This brings the STM one step closer to bus network electrification!
In January 2020, we started electrification work on the Stinson bus garage to get it ready for the new buses. We installed chargers, conduits, structural reinforcements, pantographs and control systems. Doing all this work in a fully operational bus garage requires a high degree of coordination and excellent cooperation from all teams involved.
New pantographs, now indoors
We have already installed two outdoor pantographs by Angrignon and Square-Victoria–OACI stations for charging the electric buses on line 36 Monk.
However, this time is different as the pantographs have to be installed indoors. And inside a bus garage, there's always something going on! Keeping the bus aisles clear and protecting the work areas without disrupting service is a challenge in itself. We are one of the first transit agencies to install pantographs inside a garage.

Over 50 kilometres of cabling were used during the work, including electric, fibre optic and network cables.
---

Pictured here, a worker measures and runs cables through conduits between the satellite units.
---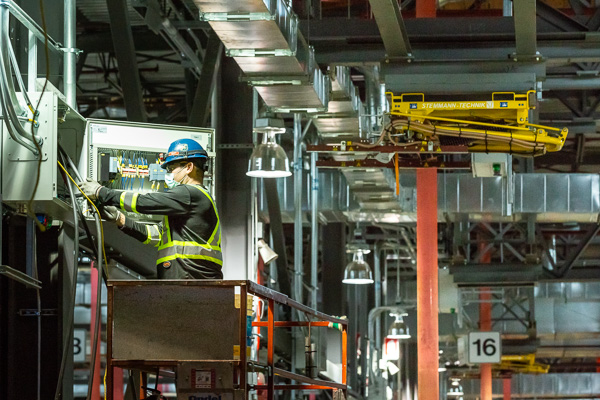 A worker measures and runs cables through conduits between the satellite units.
---

The cables have to be measured, cut and hooked up to the unit.
---

The satellite units connect the buses to the chargers. Connection cables run between the units and the buses.
---

There are two to three satellite units per charger for a total of 53.
---

To date, eight pantographs have been installed at the Stinson bus garage. There will be nine in total. We have already installed two outdoor pantographs by Angrignon and Square-Victoria–OACI métro stations. However, this time is different as the pantographs have to be installed indoors. And inside a bus garage, there's always something going on! We are one of the first transit agencies to install pantographs inside a garage.
---

Forty-four of these plugs have been installed, in addition to two mobile chargers for the maintenance area.
---

The worker pictured here is wearing some protective equipment, but don't worry—that's because of health and safety rules regarding the worksite, ongoing tests and, of course, COVID-19.
---

The charger plugs are very safe and can be handled without special gear.
---

Here, a charge indicator shows that the bus is less than 50% charged.
---
We are continuing tests on the New Flyer buses.
---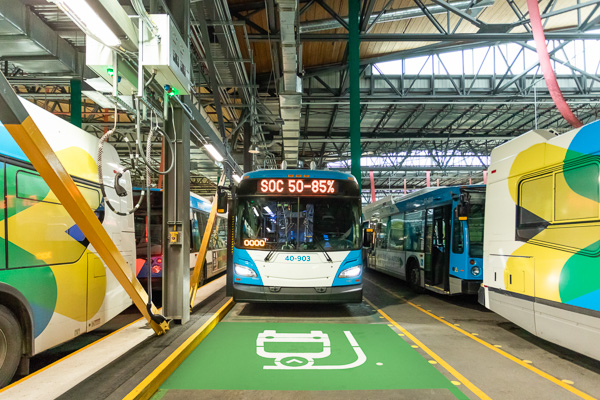 Bus garage electrification also requires reorganizing the space. At the Stinson bus garage, we have equipped four aisles and four spaces for immobilized buses with electrical equipment and made four spaces available in the maintenance area.
---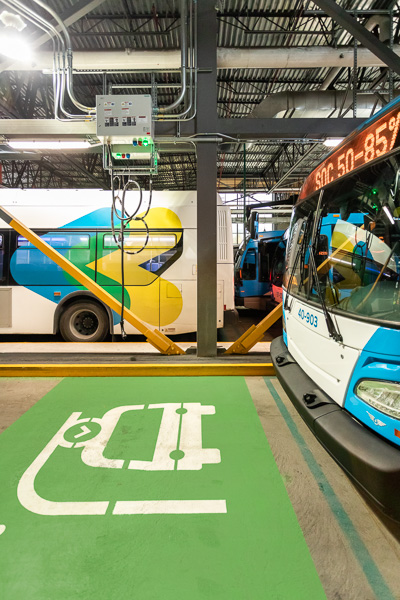 The four electrically equipped aisles are marked in green with a symbol indicating their main function: electric bus charging!
---

Using a supervisory control and data acquisition (SCADA) system, we can view and monitor the buses' charge statuses remotely and make sure that buses are recharged as needed.
---
---

For bus drivers and maintenance employees, the electric buses are a new kind of vehicle and a new work environment. They will receive training on both driving and recharging this new type of bus.
---

A new work environment.
---

The new dashboard display screens show a lot of information: battery charge status, low-voltage (24V) battery voltage, 12V circuit voltage, operational state of different battery groups and real-time consumption.
---

New Flyer bus
---

If you've been on a bus in the last few months, you'll have noticed COVID-19 signage telling you to get on at the front, keep the front of the bus clear and get off at the back. New buses usually meet different interior designs. We have adjusted the signage to ensure compliance with safety regulations in the new vehicles.
---

Here we have a signal concentrator, which collects information such as alarm data, electrical data and charge dates from the chargers and sends them to the SCADA system.
---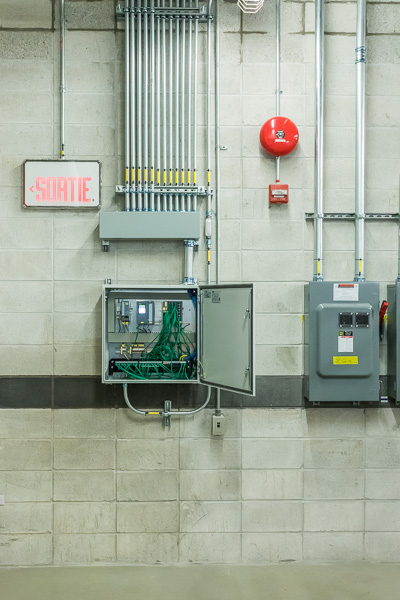 This equipment is maintained by our automation engineer.
---

Next to it, we have the 12 disconnectors, which are used to cut the power to the chargers when the infrastructure maintenance team needs to work on them. When conducting maintenance, a lockout procedure is carried out with this equipment to ensure employee safety.
---

Pictured here is the back of a charger, showing its internal components. The bus chargers convert alternating current (AC) to direct current (DC) and adjust the voltage. There are also electronic components that control the equipment.
---

These are the 12 chargers that recharge buses in the four main electrically equipped aisles. At the very back of the room, you can see the ventilation and air conditioning system. This is needed to control the room's temperature, as the chargers emit quite a bit of heat.
---

Each charger has a touch screen where you can view information on the equipment.
---

This is the electrical room.
---

Pictured are four 50-kW chargers (0041) that provide charges to one bus garage aisle and the maintenance area. At the back is the distribution cabinet that powers the chargers.
---

A charger, in the electrical room.
---

Over 50 kilometres of cabling and conduits run along the ceiling of the Stinson bus garage.
---

Over 50 kilometres of cabling and conduits run along the ceiling of the Stinson bus garage.
---

Here, a worker tests a satellite unit installed in the maintenance area.
A greener bus fleet
The arrival of hybrid buses since spring 2016 is paving the way for the electrification of the network by gradually replacing diesel buses. Based on projections that take into account, among other things, the lifespan of a bus, and depreciation and modernization of the fleet, our fleet should be diesel-free by 2029.
300 more hybrid buses are coming soon
In 2020 and 2021, we will receive 300 new hybrid buses. How did we find the space to store and maintain the new buses? Find out here.
The advantages of hybrid buses
Up to 30% in fuel savings and reduced CO2 emissions
More comfortable thanks to smoother handling on the road
Quieter ride
LED lighting
Depending on bus configuration:
Air conditioning set for 23°C
Improved visibility outside with flush-windows on buses
USB port
Second reserved area for clients in wheelchair
Reducing the GHG emissions
A recent study on avoided GHG emission by public transit shows that each ton of CO2 emitted by the STM helps to prevent 20 others in Montréal. Buying hybrid buses will help curtail STM's GHG emissions even more.
2016: Quite a challenge for Mont-Royal bus garage
The first hybrid bus discretely moved into the Mont-Royal bus garage on March 30, 2016, fresh off the assembly line at the Nova Bus plant in Saint-Eustache.
It was a decades-long leap forward for the old bus garage, as it had just celebrated 90 years of service. The arrival of the newest-generation vehicle, with its battery case on the roof, required specific installations, like increasing the height of air ducts and overhead lights, even the addition of two life lines, making it possible for employees to walk on the roof of the bus and perform maintenance duties safely.
Top of page