Beta feature to view bus detours
Context
In partnership with the Transit mobile app, and with funding from the Ministère de l'Économie, de l'Innovation et de l'Énergie, we are launching a tool to view the current detours on our bus network.
This beta feature is now available on our website's home page, our mobile site and the Transit mobile app.
How does it work?
Go to the home page and enter the bus line you would like to view in the "Schedules and Maps" tab. The bus line will appear in a solid blue line, and detours will be identified by a blue, dotted line. The red line indicates the cancelled section and stops. If you do not see a red line, the bus is running on its regular route.
With this tool, you can find which stops are not being served and where the temporary stops are located, if any.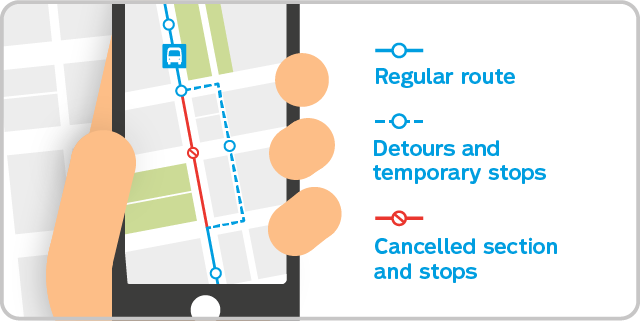 Comments
In a few weeks, you will be invited to give us your feedback through a survey on the My voice my STM platform. Don't miss your chance. Sign up now!
You will also be able to send us your comments on the Transit mobile app.
Top of page