From one heritage district to another
Let us suggest some districts full of history!
The district will surprise you with its impressive buildings. Educational institutions established in beautiful buildings that have passed through time, lovely old homes, narrow little streets. The area is well worth a nice walk. Du Collège station (Orange line) is right there.
Sainte-Geneviève
Visiting Sainte-Geneviève can be a getaway from the urban environment, which has never extended to that area. Access to the shores of Rivière des Prairies and the lovely site of what is now Cégep Gérald-Godin confer a heritage character rarely found on the Island of Montréal. And all accessible by bus! Line 68 – Pierrefonds takes you to Boulevard Pierrefonds, a few steps away.
Vieux-Pointe-aux-Trembles
Fort de Pointe-aux-Trembles was first inhabited in 1731. Since then, Pointe-aux-Trembles has changed a lot, but part of the borough still testifies to its distant past. A visit to Rue Notre-Dame, in the Boulevard Saint-Jean-Baptiste sector, is a pretext for beautiful discoveries, including Place du Village-de-la Pointe-aux-Trembles. You will even see an old mill! To get there, line 189 – Notre-Dame links this sector to Honoré-Beaugrand station (Green line).
Vieux-Lachine
If there is one place marked by history, it's the Lachine sector. From the fur trade era to the industrial boom when the Lachine Canal was built, the sector still testifies to all these things of the past. And that's without counting the fresh offshore breeze from Lac Saint-Louis and the pleasant Lachine public market. You'll spend a lovely afternoon! Lines 110 – Centrale and 195 - Sherbrooke/Notre-Dame link the sector to Angrignon station (Green line).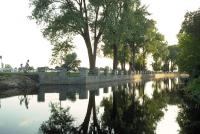 © Commission canadienne du tourisme, Pierre St-Jacques
Top of page