The Société de transport de Montréal (STM) today addressed the future of the MR-73 métro cars acquired between 1976 and 1980.
Montréal, October 29, 2014 – The Société de transport de Montréal (STM) today addressed the future of the MR-73 métro cars acquired between 1976 and 1980.
"The 2020 Strategic Plan called for the continual replacement of the métro car fleet consisting of 336 MR-63 and 423 MR-73 cars. The changing context and financial challenges all public bodies are now dealing with have led the corporation to rethink about how best to invest and ensure its assets are adequately maintained while continuing to deliver reliable service that meets the needs of increasing passenger traffic," said Philippe Schnobb, Chairman of the STM's Board of Directors.
The STM has therefore decided to extend the useful life of the MR-73 cars to 60 years. The discussions leading to this decision were based on a 2012 report by Imperial College London ("Rolling Stock Replacement vs Refurbishment"), which mentions the growing number of world-class public transit authorities choosing to refurbish their subway cars to extend their useful life. The report recommends giving serious consideration to this option for rolling stock with a solid track record for reliability, which is the case for the MR-73s.
Maintaining reliability and handling growing passenger traffic
The entire project was assessed at $587.7 million. Of that sum, $108.2 million would be allocated over 20 years to a major maintenance program to keep the MR-73 cars in service with a good reliability level. This maintenance program would focus first and foremost on the cars' various systems, such as traction and pneumatics, as well as car bodies. A further $479.5 million would be used to acquire eight AZUR trains (72 cars)—over and above the 468 cars covered by the current contract—as well as retrofitting the garages to accommodate the new trains. These investments would be needed to adequately handle growing passenger traffic until the MR-73s are replaced.
"This scenario would generate savings of nearly $500 million for Quebec taxpayers and enable the STM to reduce the need for investments over the coming years, reduce net debt service by $20 million a year for nearly 20 years," added Mr. Schnobb.
Reliability charts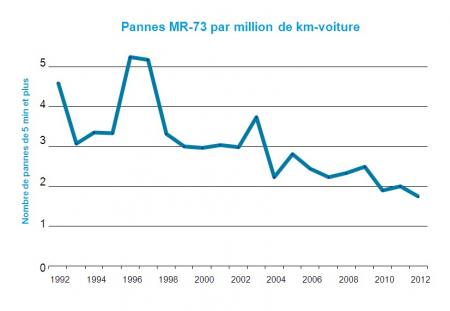 Texte important
Despite their age, the MR-73 métro cars are becoming even more reliable.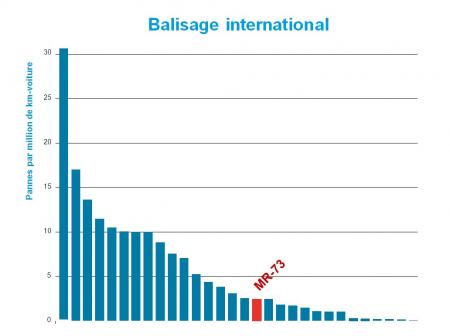 Texte important
The MR-73 métro car's reliability is beyond international standards, according to the international benchmarking conducted by the Imperial College of London. Among the studied metros : Montréal; New York; Toronto; Mexico; Rio de Janeiro; Moscou; Singapour; Sydney; Paris; London; Taipei; Barcelone; Berlin; Bruxelles; Shanghai.
MR-73 pictures
(Click on the image to view in high definition)
Briefing presentation (french only)
Follow this link
– 30 –
Isabelle A. Tremblay 
Direction principale – Affaires publiques 
Société de transport de Montréal (STM) 
Téléphone : (514) 280-4940 
isabelle.tremblay@stm.info