Bus lines to the water's edge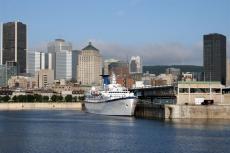 © Port de Montréal, Hélène Mailhot Living on an island gives you the benefit of some riverside landscapes. Our buses get you there. Take the opportunity for a lovely excursion a short distance from home.
Change of scenery in Sainte-Anne-de-Bellevue
Line 211— Bord-du-Lac is the longest route in our network. At its Sainte-Anne-de-Bellevue terminus, you will discover riverside promenades and locks that will take you out of your city-dwelling mindset.
There are lovely hours to spend on this trip, and the line's route, starting at Lionel-Groulx station, will give you a view of Lac Saint-Louis and Pointe-Claire to the terminus. A long getaway at a low price!
Rivière des Prairies to Parc de l'Île-de-la-Visitation
Leave one island for another! Even take a trip through history by surveying the Sault-au-Récollet heritage and historic site. Woods, museum, animation and marine air combine for a fine day away from traffic in Parc de l'Île-de-la Visitation. Line 45 – Papineau takes you there. Its northern terminus is nearby. From there, head north from Fabre station (Blue line) or Papineau station (Green line). Another option: take line 69 – Gouin east from Henri-Bourassa station (Orange line).
On the edge of the rapids
© Parcs Canada (N. Rajotte) 2002
Here you see the river and hear it! The atmosphere of the hurtling rapids is refreshing. Maybe you'll see great blue herons in Parc des Rapides or in the superb Migratory Bird Sanctuary by the river. Line 58 - Wellington also takes you along the riverside parks in Verdun. Board at the LaSalle or de l'Église station (Green line), going west.

 
Where the ships pass
With  Parc national des Îles-de-Boucherville on the horizon and the channel where cargo ships pass on their way to and from the Port of Montréal, Parc Bellerive, in Mercier–Hochelaga-Maisonneuve, offers a special view of the river. This lively, long and beautiful park is also far from traffic and offers several hiking trails. Line 185 – Sherbrooke has its terminus near the park. It stops at the Pie-IX, Cadillac, Radisson and Honoré-Beaugrand stations, all on the Green line. Line 22 – Notre-Dame also runs along the park on Rue Notre-Dame. Board it at Assomption station (Green line).
All along the islands, along the water
© Bateau-Mouche at the Old Port of Montréal Lines 69 – Gouin and 68 – Pierrefonds run along Rivière des Prairies. Following their routes lets you discover the other side of the island, with the river, its little islands, its pretty riverside parks and its heritage buildings. Let us suggest an east-west route.
Line 69 – Gouin covers the eastern portion of this discovery route. It crosses Boulevard Henri-Bourassa, a major artery of the Ahuntsic-Cartierville borough. At Rue de Saint-Firmin, you are a few steps from Parc nature de l'île-de-la-Visitation. The park is worth a detour in any season. The wetlands, the trails along the water and the calm take you away from it all. Take a trip into history at Centre historia, and discover the old village of Sault-au-Récollet near the impressive Église de la Visitation-de-la-Bienheureuse-Vierge-Marie, one of the island's oldest churches!
Our route with line 69 then continues westward to Henri-Bourassa station, the intersection of the Orange métro line and many bus lines. It then takes Boulevard Gouin through the Bordeaux and Cartierville sectors, which contains lovely residences and big trees testifying to the rich history of these neighbourhoods.
© Communauté urbaine de Montréal At Rue Grenet, change to line 68, which heads for the Pierrefonds-Roxboro borough. On Boulevard Gouin Ouest, you'd sometimes believe you are almost in the countryside as you pass Parc nature du Bois-de-Saraguay and Parc du Bois-de-Liesse.
Farther west, at the end of the line, after passing through Pierrefonds, you arrive at the great Parc nature du Cap Saint-Jacques, with its trails, its ecological farm and even its beach on Lake of Two Mountains. All this by bus for the price of a trip! Go ahead! Take a trip on the island!
Top of page