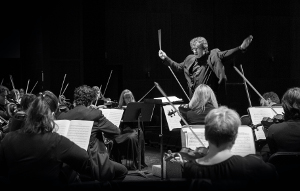 Salle André-Mathieu
475 Boulevard de l'Avenir, Laval
Phone : 450-978-3666

Montmorency 
Orchestre symphonique de Laval
25% discount + free metro ride home!
Conducted by Alain Trudel, the Orchestre symphonique de Laval invites you to a memorable season, rich in discoveries, featuring some of the symphonic repertoire's greatest hits.
Discover the new sound of Salle André-Mathieu! New acoustic, new comfortable seating: a thrilling new musical experience!
Take advantage of a 25% discount on single tickets using the promo code STM Merci, by phone at 450-978-3666.
Live in Montréal? Present your OPUS card at the table set up in the foyer and receive a FREE 1-trip STM metro fare valid starting in Laval to get you home.
Next Event:
Wednesday, November 7, 2018 - 7:30 P.M.
BERNSTEIN
with Martin Chalifour, Violin
Alain Trudel, Conductor
Credit: Sandrick Mathurin. Certain conditions apply. Quantities are limited.
The STM is in no way responsible for offers made by its partners, as it is only acting as a middle-man between its transit users and commercial partners for the purpose of promoting their products and services.

Top of page