Due to the major renovation project and accessibility updates at Outremont station, the Société de transport de Montréal (STM) will have to close the station from January 10 to August 19, 2022, inclusive.
The work began in January 2021 and consists of:
Installing three elevators in the station
Refurbishing the structural slab
Replacing the waterproofing membrane of the station's underground roof
Replacing the exterior covering, windows and floor finishes
Enhancing the lighting
Installing new signage
Adding motorized butterfly doors
Replacing the entrance building roof
Adding a natural ventilation shaft on the entrance building roof
As the STM established during planning, closing the station is necessary for this phase of the work. Outremont station has only one entrance building, and it would be impossible to safely conduct work such as replacing the entrance building slab while customers continue to use the station. Moreover, the closure will allow us to complete some of the work more quickly. For example, replacing the floor finishes would take longer if it were done with the station open.
The Outremont station renovation and accessibility project, which will cost $53 million, will continue until December 2023. 
Mitigation measures
As with any closure, the STM will ensure that adequate mitigation measures are implemented to better serve its customers. In this case, a shuttle bus to Acadie station (line 805) will run every 6 minutes on weekdays and every 7 to 10 minutes on weekends.
Between Outremont and Édouard-Montpetit stations, the existing lines (51-Édouard-Montpetit and 119 – Rockland) can also be taken.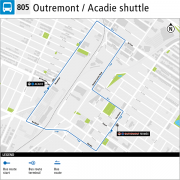 Outremont is the ninth station to be closed for major renovations after Côte-Vertu (2021), Beaudry (2018), Beaubien (2015), Jolicoeur (2013), Villa-Maria (2011), Côte-Sainte-Catherine (2010), Charlevoix (2009) and Georges-Vanier (2008).
Public information session
The STM will hold a virtual public information session on December 8, 2021, to discuss the closure of the Outremont station. To register or learn more about the project, visitstm.info/outremont
Outremont by the numbers
60th busiest station in the network out of 68
1,604,493 boardings in 2019
Commissioned on January 4, 1988