Philippe Schnobb, Chairman of the Board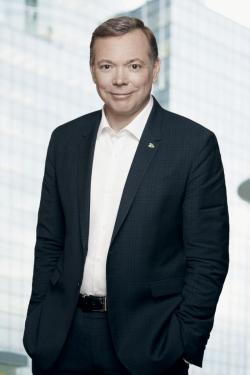 (Click on thumbnail to view full scale)
Philippe Schnobb holds the position of Chairman of the Board of Directors of the Société de transport de Montréal (STM) and represents public transit users on the Board. After his appointment in 2013, he introduced a change of strategic direction at the STM, focused on improvement of the user experience. A fervent user of public and active transportation, he is very familiar with the many combinations of integrated mobility.
Mr. Schnobb also serves as Chairman of the Board of Directors of the Association du transport urbain du Québec (ATUQ), which brings together Québec's nine public transit corporations, and serves as an observer member on the Board of Directors of BIXI.  
As a Radio-Canada journalist for 27 years, he was particularly responsible for municipal affairs and often covered issues related to public transit. He also authored a book entitled Faire-part pour mariages forcés, published by Lanctôt in 2001, around the time of the municipal mergers.
Mr. Schobb's professional life led him to work at several regional Radio-Canada regional stations. He also studied history and communications at the University of Ottawa, the Faculté Saint-Jean in Edmonton, and UQAM. He was Secretary-Treasurer and member of the Executive Committee of the Fédération professionnelle des journalistes du Québec (FPJQ) from December 2002 to November 2010.
Luc Tremblay, CPA, CA, Chief Executive Officer
(Click on thumbnail to view full scale)
Luc Tremblay has been Director General of the Société de transport de Montréal (STM) since 2014. Employed by the STM for nearly 25 years, Mr. Tremblay previously held various positions with the STM, particularly Treasurer and Director of Finance since 2007. He also chairs the STM's pension fund committees.
Holder of a Bachelor of Business Administration (B.B.A.) degree in Public Accounting from the École des hautes études commerciales (HEC), Luc Tremblay is a member of the Ordre des comptables professionnels agréés du Québec and the Canadian Institute of Chartered Accountants (CICA) since 1992.
Since his arrival as Director General of the STM, he has rallied the organization's various sectors around client-related concerns, such as satisfaction and service delivery.
His involvement at the national and international levels includes serving on the Management Committee of the Association des transporteurs urbains du Québec (ATUQ), on Board of Directors of the Canadian Urban Transit Association and on the CUTA's Audit Committee. He was a member of the Finance Committee of the International Association of Public Transport (UITP) and served as Permanent Observer on the UITP Executive Board from 2015 to 2017.
With the goal of implementing best practices in finance, Luc Tremblay instigated the implementation at the STM of the GFOA (Government Finance Officers Association) financial reporting standards.  He was a finalist in 2011 in "THE ACES OF FINANCE" competition, in the "Public and Government Corporation" category, held by the Québec Chapter of Financial Executives International Canada (FEI Canada).
Members of the STM Board
Top of page