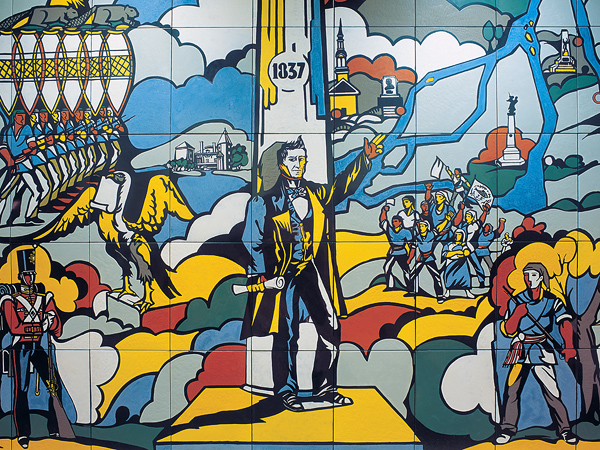 Jean Cartier and George Juhasz
Les Patriotes de 1837-1838 (1968)
Enamelled steel
Gift of the Société des Artisans life insurance cooperative
Location: transept
Texte important
Artwork partially unavailable due to work in the station.
The artwork on the two arches has been removed and is in secure storage awaiting reinstallation. A portion of the artwork is visible on the mezzanine of the station.
Three murals by illustrator George Juhasz and ceramist Jean Cartier tell the story of the Patriotes Revolt of 1837-1838. While the two arches over the station's vault portray the turbulent events of the period, the central panel is dedicated to Louis-Joseph Papineau, the leader of the rebellion.
Did you know?
The murals were produced in Stockholm, Sweden, using a process commonly used in Scandinavia at the time.
About the artists
Born in Saint-Jean-sur-Richelieu, Jean Cartier (1924-1996) had a brilliant career as a ceramist spanning nearly fifty years. Born in Hungary, George Juhasz (1933-2004) arrived in Canada in 1961; over his career as an illustrator, he has created numerous films, books, and artworks.
Top of page