Using the elevators on the Orange and Green lines only
All passengers may use the elevators, particularly those with limited mobility or in a wheelchair.
They are located in 15 metro stations along the Orange and Green lines.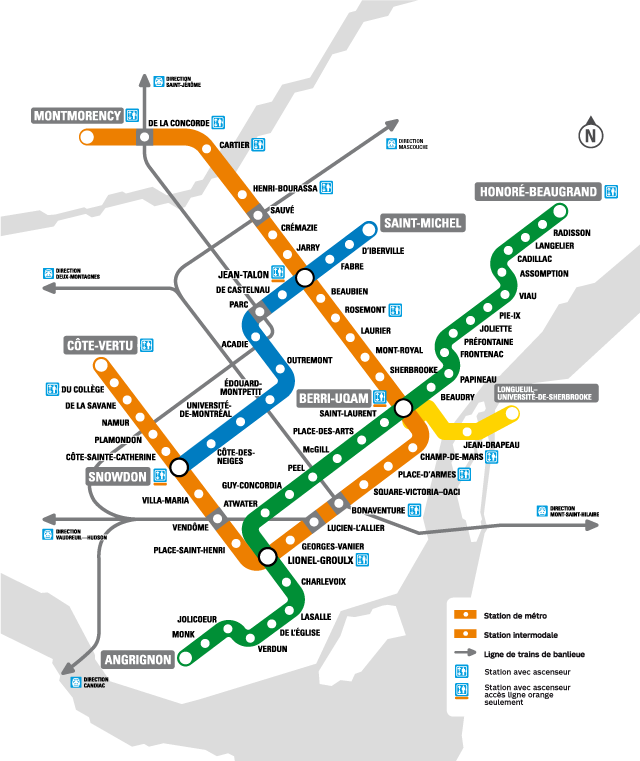 Texte important
Status of elevator service
You can check the status of elevator service at any time by going to elevator service updates. This information is also available in the banner under the map on our home page.
How to reach the elevators?
Important - Transfer point information
At Snowdon station, the elevators serve the Orange line only.
At Berri-UQAM and Jean-Talon stations, the elevators currently serve the Orange line only.
At Lionel-Groulx station, both the Orange and Green lines are now accessible.
---
Be advised there are no elevators on the Blue or Yellow line.
Getting around in a wheelchair
Stations with elevators that can be reached from street level. Click on the name of the station to know how to access the elevators of this station.
Click here to see the list of the next elevators expected in métro system
Criteria for prioritization
A number of criteria influence the order in which stations undergo accessibility work to maximize the allocated budget.
Stations with "low" technical complexity are prioritized. These are shorter-term construction sites and cost less. The result is an increase in accessible stations.
The geographic distribution of the stations in the system requires special attention to ensure equal service to the different Montréal neighbourhoods.
Transfer and terminus stations are also prioritized due to their strategic positions.
The proximity to schools, healthcare institutions and inter-city bus terminals is also taken into consideration.
The opportunity to pair an elevator installation project with another infrastructure project is also considered, if the station in question fulfils other criteria.
Adding elevators inside stations that were not designed for them to begin with poses quite a challenge. Sometimes we have to acquire new land, modify zoning, expand existing buildings, refit equipment, and more.
Top of page