[#JourdelaTerre] Le métro est vert depuis 1966, nos bus sont de plus en plus écologiques, mais sans clients à bord,… https://t.co/rtBM8KNrVs
EN RAPPEL - Projet Vendôme : la #STM annonce que les travaux franchissent une étape importante avec la poussée du t… https://t.co/tbmNMQwI9S
Press room
Breaking news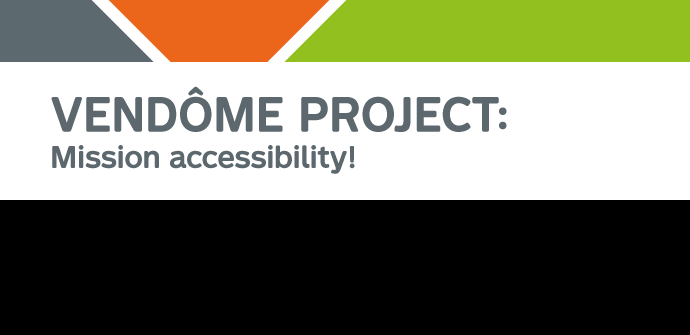 Vendôme project : The STM announces that work reaches an important milestone
Journalists are invited to attend the procedure.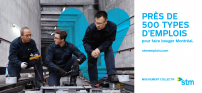 The STM continues its recruitment efforts this spring
The STM launches today a new phase of its recruitment campaign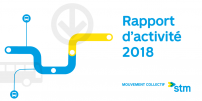 Rethinking tomorrow: the STM unveils its 2018 Annual Report
Titled Repenser demain : le mot d'ordre de 2018, the STM Annual Report provides a complete profile of the year 2018.
RÉNO-SYSTÈMES, RÉNO-INFRASTRUCTURES AND ACCESSIBILITY PROGRAMS: $1.633 BILLION INVESTED IN THE MÉTRO NETWORK
At its meeting on April 3, the Board of Directors of the Société de transport de Montréal (STM) approved major investments of $1.633 billion for its métro network. Budgets are allocated as follows: $805.5 million to replace métro stationary equipment as part of phase 5 of the Réno-Systèmes program, $504.0 million for the refurbishment of métro infrastructures as part of phase 3 of the Réno-Infrastructures program and $323.3 million for the addition of elevators in 12 stations for phase 2 of the métro Accessibility program. These investments will take place from 2020 to 2025.
News
STM launches a public artwork competition for Place-des-Arts métro station
The competition is part of this station expansion project for the installation of elevators.
The STM launches its "prehistorics" campaign: certain primitive behaviour no longer belongs in the métro and bus
The STM launches today a new humoristic campaign aiming to prevent clients from adopting "prehistoric" behaviours on the bus and métro.
Universal accessibility work to start at Place-des-Arts station
As of March 11, the Bleury North entrance building of Place-des-Arts station will be temporarily closed due to the start of work on a real estate project by a private developer. The STM will take advantage of the closure to make the station universally accessible by adding three elevators. The station's other accesses will remain open.
Generous active and retired employees: the STM hands over almost $700,000 to partner organizations
The STM is recognized for its citizen engagement, it is mainly thanks to its active and retired employees.
The STM supports Ville de Montréal's policy on children by offering transit fares
The STM is proud to support Ville de Montréal's Policy on children, by offering transit fares.