Breaking news
Testing new card readers on line 139 Pie-IX
New card readers will be activated and tested on some buses of the 139 Pie-IX bus line next week.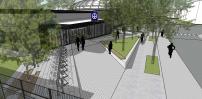 Universal accessibility : Pie-IX station worksite
On October 13, the Société de transport de Montréal will begin refurbishment and universal accessibility work at Pie-IX station.
Back-to-school with the STM: clients can board with confidence!
The STM launches a new campaign to remind its clients that everything is in place to allow them to "board with confidence".
STM announces implementation of priority measures for buses and taxis on Robert-Bourassa Boulevard
The lane will take effect as of September 7