Integrated PIE-IX BRT Project

Integrated PIE-IX BRT Project
The integrated Pie-IX BRT project will provide an efficient, reliable, comfortable and safe bus rapid transit (BRT) service along Pie-IX Boulevard in eastern Laval and Montréal.
The Autorité régionale de transport métropolitain (ARTM), the City of Montréal and their partners have joined forces to implement this new mode of transportation, upgrade the municipal infrastructure and redesign public property.
New Public Transport
The Pie-IX BRT will consist of 17 stations (15 in Montréal and 2 in Laval) spread out over 11 km of Pie-IX Boulevard, between Saint-Martin Boulevard in Laval and Pierre-De Coubertin Avenue in Montréal. In 2022, the Pie-IX BRT will supply 70,000 passenger rides per day.
Comfortable and Safe
Spacious and comfortable stations
Electronic display indicating upcoming bus schedules in real time
Safe pedestrian access
Rapid and Reliable
Frequency comparable to the metro during rush hours
Lanes reserved exclusively for buses
Purchase and validation of tickets in the station
Quick boarding through any bus door
Universal Accessibility
Wheelchair accessible
Tactile paving
Clearly identified strips on the ground
Pedestrian crossing lights with digital and audio countdown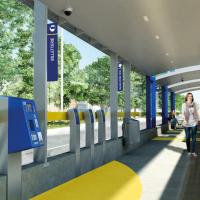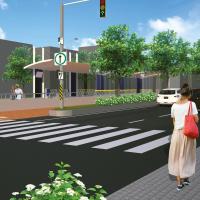 The route
Enlarge the map or click on a station for more détails.
Pie-IX Boulevard Reconstruction
The City of Montréal will take advantage of the BRT construction to upgrade its water and sewer systems that have reached the end of their useful lives, and to reconstruct the foundation, roadway, sidewalks and medians on Pie-IX Boulevard between Henri-Bourassa Boulevard and Pierre-De-Coubertin Avenue.
Public Property Redesign
This project will improve residents' surroundings by planting hundreds of trees, widening sidewalks and refurbishing medians. The road surface, street lamps and traffic lights will also be upgraded.
This beautification will create a multi-functional environment where public transit is an important part of residents' travel habits.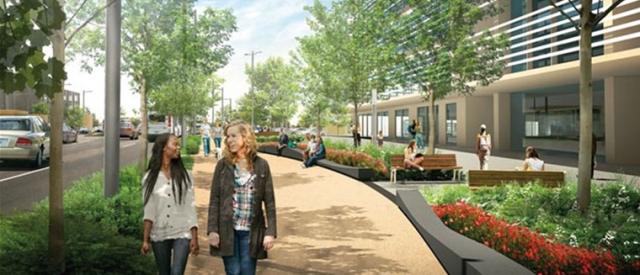 Timeline
Start of construction works: Fall of 2018
Commissioning: Fall of 2022
Partners
Pie-IX BRT is an integrated project developed jointly by the ARTM, the City of Montréal and the Ministère des Transports, de la Mobilité durable et de l'Électrification des transports (MTMDET). It is carried out in close collaboration with their partners: the City of Laval, the Société de transport de Montréal (STM), the Société de transport de Laval (STL), the Réseau de transport métropolitain (RTM) as well as the various boroughs served.
Let us know what you think!
To contact the Integrated Pie-IX BRT project office by telephone, call 514-287-8919 or write at info@srbpieix.ca
Top of page