Latest news
The first of 30 new long-range electric buses has arrived at the Stinson garage! The remaining 29 buses will be gradually delivered starting in June 2020. 
For the first phase of testing, the bus will be outfitted with equipment to allow us to perform real-time monitoring and analysis of certain parameters such as power consumption, battery level, traction and braking in snow. 
Vehicle characteristics
Air-conditioned

Two spaces for wheelchairs

440-kWh Li-NMC batteries for a range of approximately 250 km

Roof rails allowing for conductive charging (slow charging)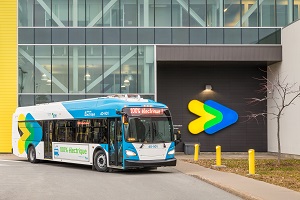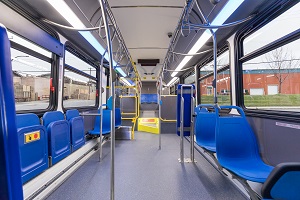 40 new electric buses
We are speeding up the electrification of the bus network. We recently announed the acquisition of:
30 slow-charging electric buses
4 fast-charging electric buses to make the 36 Monk bus route fully electric
2 paratransit electric minibuses
Discussions are underway to acquire midibuses
The mobility of tomorrow is electric
Public transit is not only an effective way for people to get around, it also helps them reduce greenhouse gas emissions. Here's how:
By expanding the offer of public transit service to encourage more motorists to use it.
By gradually electrifying our bus fleet.

From 2025 on, if technology allows, we are committed to acquiring only 100% electric vehicles to reach zero GHG emissions by 2040.

By replacing some of our service vehicles with hybrid or electric models.
Did you know? 
73.7% of trips on our network used electricity in 2018.
What's next ?
A few years ago, we started the transition toward hybrid buses, which emit 30% fewer GHGs than diesel buses. For the electric buses, we will need to do some testing to find the best configurations and charging technologies for our public transit needs.
Electric buses
A demonstration projet called City Mobility is currently on the road with two fast-charging stations and three fully electric buses on the 36 Monk line. And, soon, we will add more electric buses to our fleet.
More information about electric buses
Hybrid buses
Since the end of 2018, 266 hybrid buses have been travelling the city streets. We are getting greener!
Top of page