Hybrid buses

What's new?
We have something to celebrate !
Since the end of 2017, more than 158 hybrid, biodiesel-electric buses have been running in our city streets.  
Since the arrival of these new buses in 2016, our target of having a fleet of mostly hybrid buses has been officially launched, whereby also paving the way for electrification of the surface transit system. Recent announcements accelerate pace.
How does
it work?
 
Made in Québec by Nova Bus, these buses are equipped with a fully electric, hybrid drive system. The diesel engine powers a generator that, in turn, produces the energy needed to supply the electric drive motor and recharge the high-voltage battery. The latter also recover energy from braking and reuses it when additional power is required (departures and acceleration).
As a result, the energy from braking action usually released in the form of heat is recovered by a generator and stored in batteries on the bus rooftop. This also explains why the advantages of hybrid drive buses are multiplied on routes with frequent stops… such as bus lines operating downtown.
The first ones
in passenger service
 

Passengers riding the 11- Parc-du-Mont-Royal/ Ridgewood bus line were given the first opportunity to board the new generation hybrid buses to arrive in town, as the buses were first introduced into passenger service on that line.
A nice way to promote a visit to the celebrated park that marked its 140th anniversary in 2016.
 
The advantages
of hybrid buses
Up to 30% in fuel savings and reduced CO2 emissions




Quieter
ride

More comfortable thanks to
smoother handling on the road
 

LED
lighting
Depending on bus configuration:

Air conditioning
set for 23°C




USB port

Improved visibility outside with flush-windows on buses
 



Second reserved area for clients in wheelchair
Complete overhaul of indoor and outdoor signage, matching the métro's new signage.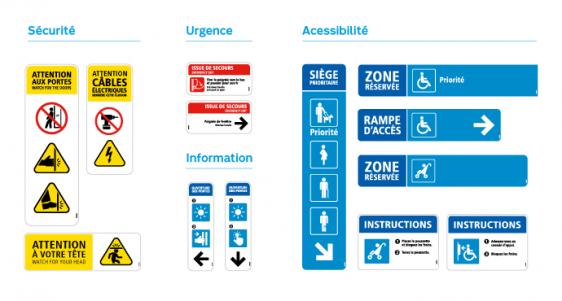 Changes in
the bus fleet
 

In 2016, we purchased 51 hybrid buses. In 2017, we took delivery of another 107 buses, followed by an additional 100 in 2018. At that point, their number should represent about 12% of the overall fleet.
According to projections that take into account the service life of buses, their amortization period and vehicle turnover, our fleet of city buses should be free of diesel buses by 2029.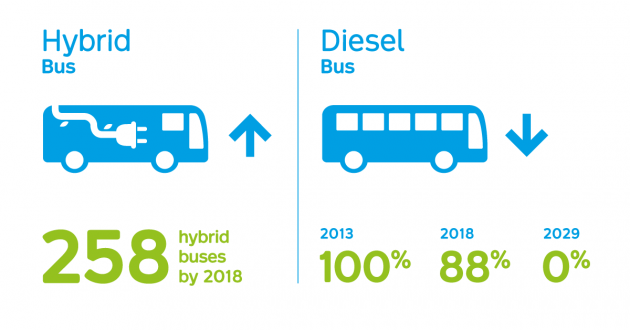 Note: The STM already had eight hybrid buses it had purchased in 2008, as part of a pilot project that aimed to assess the performance of these buses. The conclusions drawn from those early tests along with more testing in 2013 of a pre-series hybrid vehicle served to confirm and plan their acquisition in the following years.  
Always greener
thanks to hybrid buses

A recent study on avoided GHG emission by public transit shows that each ton of CO2 emitted by the STM helps to prevent 20 others in Montréal. Buying hybrid buses will help curtail STM's GHG emissions even more.
The ultimate target
of zero GHG emissions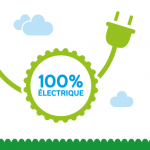 The City Mobility demonstration project for transit electrification will be launched in 2017 and help bring us closer to our goal of only purchasing 100% electric buses.



 
Quite a challenge
for Mont-Royal bus garage

The first hybrid bus discretely moved into the Mont-Royal bus garage on March 30, 2016, fresh off the assembly line at the Nova Bus plant in Saint-Eustache.
Now that's a decades-long leap forward for the old bus garage, as it just celebrated 90 years of service. The arrival of the newest-generation vehicle, with its battery case on the roof, required specific installations, like increasing the height of air ducts and overhead lights, even the addition of two life lines, making it possible for employees to walk on the roof of the bus and perform maintenance duties safely.
A leap forward, measured in decades, for the old bus garage that just marked 90 years of service.
Where can you
see them?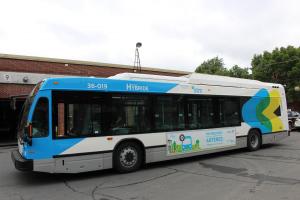 Look out for these new buses, easily recognized from their «Véhicule hybride» identification and the white battery case on the roof. These buses mostly run downtown, to optimize the full potential of their energy-saving features.
Top of page