Bus network electrification
TOMORROW'S MOBILITY COMPLETELY ELECTRIC
Did you know that, in Québec, transportation accounted for 43% of all greenhouse gas (GHG) emissions in 2013?
That finding led the City of Montréal and the Government of Québec to set targets to reduce GHGs by 30% by 2020 and 37.5% by 2030 respectively.  We all play a key role in reaching these objectives. But how?
By encouraging more people to use public transit
By gradually moving toward electrification. Starting in 2025, if the technology allows it, all new buses will run on electricity to reach zero GHG emissions as early as 2040. The métro, which delivers 50% of all public transportation rides in Québec, has been fully electric since it first opened in 1966.
Hybrid buses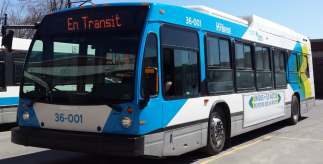 And we're off !
27 biodiesel-electric hybrid buses will travel the city streets in 2016.
With the arrival of these new buses in 2016, our goal of having a fleet made up mostly of hybrid buses is now official, paving the way for the bus network's electrification.
Texte important
Built in Québec by Nova Bus, these vehicles are equipped with a fully electric hybrid drive system. The diesel engine drives a generator that, in turn, produces the energy required to power the electric drive engine and recharge the high-voltage battery. The latter also recovers the energy produced by braking and reuses it when more power is needed (departure and acceleration).
Fuel savings of 20% and equivalent reduction in GHGs
More quiet
Smoother ride for greater comfort
LED lighting
Updated interior and exterior signage, in line with new metro signage
Note: The STM already has eight hybrid buses acquired in 2008 as part of a pilot project to test their performance. Conclusions drawn from these testes as well as the 2013 testing of a pre-series hybrid bus enabled us to confirm and plan for their acquisition in the next few years.
Quick-charging system for electric buses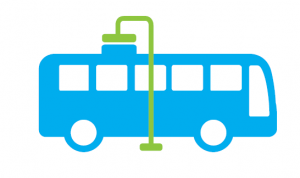 According to STM experts, the future of electric buses must include powerful, quick-charging batteries that will increase the vehicle's operating autonomy. Soon, we will be testing that technology, which is currently in the development stage. Indeed, several bus manufacturers in Europe, Asia and the United States are developing quick-charging electric buses, while various Union internationale des transports publics (UITP) member organizations have testing programs for prototype vehicles.
City Mobility Project, 100% electric buses tested soon
The STM and Nova Bus, Volvo Group's North American division, have entered into a partnership agreement to carry out an electrification project for public transit under the name City Mobility. The purpose of the program is to bring together the expertise of public and private stakeholders in a joint project to electrify public transportation. In tangible terms, for Montréal, it means the installation of two quick-charging stations along the 36 – Monk bus route to operate three fully electric Nova LFSe buses.   
The quick-charging stations will be built near Square Victoria and at the Angrignon bus terminus to provide buses with greater autonomy as they will only need to recharge for six minutes at the end of the line. We will begin by testing without passengers and follow up with passenger service. Stilll, testing will continue until December 2019.
Texte important
Zero emissions
Quiet
Air-conditioned
100% made in Québec
Keep in mind that:
These are not our first steps in the area of electrification. In 2014, an electric bus from Chinese firm BYD was used in passenger service for the purpose of showcasing the technology. The goal of the project was to assess the performance of its green energy and the vehicle's reliability under our climate and road conditions.
Compared to cars that are parked 95% of the time, buses are in operation more than 80% of the time. Given the heavy weight of buses, meeting the challenge of electrification will rely on industry's ability to develop highly efficient and reliable technologies.
Electrification brings even more benefits
Support the growth for Québec industries
Reduced dependence on oil
Use of clean (non-polluting) energy produced in Quebec
Check back often to follow the progress of this vast project.
Top of page