Transport Contact newsletter
Your Transport Contact newsletter is changing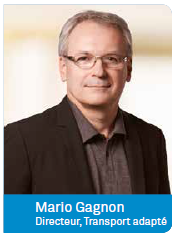 You are reading the first electronic edition of your Transport Contact newsletter.
We wanted to go digital so we could communicate more quickly and more often with you, while reducing the environmental footprint left by our communications. Indeed, from now on, Transport Contact will be published 4 to 6 times a year. This way, we can offer you current information about matters involving Transport adapté and answer any questions that are of concern to you in our regular editions and express newsletters.
We hope you will share our enthusiasm for this latest and newest change. On behalf of my team members and myself, let me take this opportunity to wish you all happy holidays and all the best for 2017.
Mario Gagnon
Director, Transport adapté
Your electronic edition of Transport Contact newsletter
Top of page