Families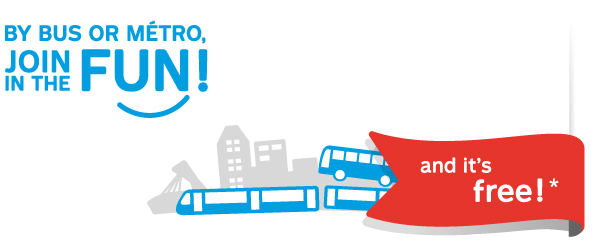 Reduced fares for children
* Free at all times for children under 6 accompanied by an adult with a valid transit fare
Travelling with young children
When travelling with young children, plan ahead to ensure a safe and pleasant trip.
In the métro
Don't cross the round, coloured tiles, the orange line, or the yellow textured edge tiles until the train comes to a full stop
Allow other passengers to exit the train before boarding
Have your children board the métro car one at a time, without shoving
Ask your children to hold on to a support pole if there are no available seats. Don't let them sit on the floor.
Prepare your children to disembark one stop ahead of time
On the bus
While waiting for the bus, stand away from the curb
For boarding and moving inside the bus more easily, we recommend that you use a stroller no wider than 56 cm as an alternative to umbrella strollers.
On the bus, ask your children to hold on to a support pole if there are no available seats. Don't let them sit on the floor
Remind them to NEVER put their head or limbs outside the windows
Texte important
Aboard the bus
The driver can lower the front of the bus to sidewalk level. Do not hesitate to make such a request. Boarding or exiting the bus will be so much easier for you!
Travelling with a stroller
Plan your trip ahead of time
On the bus or in the métro, use an umbrella stroller. Lightweight and practical, they take up little room and are easy to fold and unfold with one hand
You might also consider other options such as baby carriers
A small backpack used as a diaper bag can simplify your journey
Avoid rush hours by travelling between 9 a.m. and 3 p.m.
In the métro
At turnstyles, use the gates reserved for wheelchairs and strollers
Ten métro stations on the orange line are accessible by elevator
On the bus
Aboard low-floor buses, you have priority access to the reserved area if it is not already occupied by someone in a wheelchair
You must always board the bus via the front door, but we suggest you exit via the back door.
STM Family Outings
Enjoy discounts exclusive to STM customers!
Our partners offer substantial discounts on activities for the whole family.
Check ahead with STM partners for eligible dates and times.
Check out the STM's special Merci program promotions
Children 11 and under travel free
Up to five children 11 and under travel free when accompanied by an adult with a valid fare card.
The offer applies on weekends (from Friday 4 p.m. to closing time on Sunday night), all legal holidays, and during specified periods.
 747 bus
This offer is not valid aboard the 747 shuttle serving Montréal -Trudeau Airport.
Top of page