Musicians in the metro
Musicians in the metro
The STM makes 55 locations in its metro system available free of charge to musicians. These locations are identified by wall signs depicting a lyre. Musicians divide performance times among themselves by mutual consent. If you're interested in performing in a metro station, just go to one of the 55 locations at a time convenient to you.
Auditions and the Étoiles du métro
The Étoiles du métro program was created in 2012 to enhance the listening pleasure of metro passengers.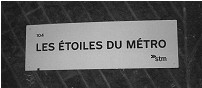 How it works
Seven locations are reserved exclusively for the use of musicians in the "Étoiles du métro" program. These specific locations are clearly marked with signs showing the name of the program.
Each musician in the Étoiles du métro program has a personalized banner showing their stage name, which they hang under the wall sign while they perform.
The seven locations reserved for Étoiles du métro performances are found in the following stations:
Berri-UQAM
Henri-Bourassa
Jean-Talon
Laurier
McGill,
Place-des-Arts (near the mural byFrédéric Back
Villa-Maria
How are the Étoiles du métro chosen?
The Regroupement des Musiciens du Métro de Montréal (RMMM or MusiMétroMontréal) is in charge of managing the Étoiles du métro program. In particular, it looks after signing up musicians for annual auditions and managing the calendar of events. Visit the RMMM website for details about the upcoming fall auditions (November).
The STM and the Regroupement des musiciens du métro de Montréal regularly promote this program and the musicians who participate in it – both in the metro stations and during several major Montréal events.
Visit the "Étoiles du metro" section under "Offers and outings" for further details.
N.B. None of the musicians who perform in metro stations, whether they are members of the Étoiles du métro program or not, are paid.
 
Top of page