Construction of the De la Villanelle auxiliary structure
Worksite summary
As part of the Blue line extension project, this worksite involves building a new operational infrastructure required to operate the métro.
---
Start of work: We plan to start excavation work in 2026.
Description of the work: New building construction.
Impact on customer trips
Details to come.
Impact on local residents
Details to come.
Learn more about the project
Preparatory work: First worksite done!
Work being done near the future Villanelle auxiliary structure mainly consists of relocating urban public utilities (underground cabling and a Hydro-Québec utility pole). We will then have free rein to begin the massive excavation that will be needed to build the new infrastructure.
Here are some photos of the work we've done: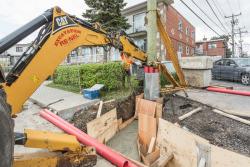 We relocated a Hydro-Québec utility pole, freeing up the space needed to build the new infrastructure on the southwest side of the intersection.
We also dug trenches to install cabling underneath the street that will be protected by red conduits. The cables will connect to the new electric utility pole.
We then poured concrete over the new conduits and ran the cabling through them, moving it from the other side of the street where it was in the way of building the new auxiliary structure.
let's chat
Public participation
Information sessions, talks, activities, good neighbour committees: our team wants to meet you!
An auxiliary structure is a service building, closed to the public and located between two métro stations, that houses a variety of mechanical and electrical equipment needed for métro operations. This includes ventilation equipment, power supply infrastructure and pumps to remove runoff water. There are currently hundreds of these buildings in the métro network.
More about the Blue line extension
The project in images
---
The blue line extension project follows in the wake of the Déclaration du gouvernement du Québec et de la Ville de Montréal to revitalize Montréal East. Many projects are underway to give a new impetus to this sector. Increased mobility, economic development, and improved living environments are at the heart of this ambitious project. For more information, see Québec.ca/RevitalisationEstMontreal (in French only).
Top of page