Atwater

Latest updates
Texte important
De Maisonneuve closure
Starting April 1, De Maisonneuve boulevard will be completly closed to traffic between Atwater and Wood Avenues.
Between now and spring 2021, Atwater station's waterproofing membrane will be completely refurbished. This major project will result in the closure of De Maisonneuve Boulevard, between Atwater and Wood Avenues.
De Maisonneuve Boulevard will be closed to traffic from this coming spring until December 2019. In 2020, it will be closed again between Atwater and Wood from March until December. All work related to this project, including the work inside the station, will be completed in spring 2021.
The ground above the station will be excavated, enabling us to carry out certain structural repairs that we will make inside the station.
Texte important
Access to the métro station and its surroundings will be maintained at all times. A pedestrian path and bike lane will also connect Atwater and Wood Avenues, via De Maisonneuve Boulevard.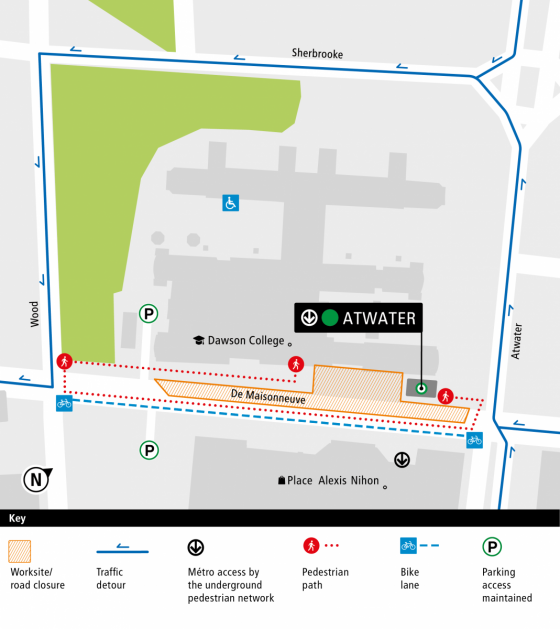 First the membrane and soon elevators!
In addition to replacing the waterproofing membrane, we will take advantage of the excavation work to construct the shafts of the future elevators, which will link the mezzanine to the platforms. This will avoid another road closure. We will install elevators in the shafts later.
Questions and answers
Replacing a waterproofing membrane requires excavating the ground above it. We will dig one to four metres deep, depending on the locations. The station occupies the entire width of the boulevard underground. That is why it is necessary to completely close it in 2019 and 2020 to carry out the work. Minimizing the number of work phases enables us to reduce the total duration and cost of the work and increase its efficiency.
It is a device that protects the station from water infiltrations. The membrane covers the station's underground roof and is therefore located underground. Atwater station's waterproofing membrane dates back to the station's initial construction in 1966, and the membrane has reached the end of its useful life.
You will notice some worksite fencing and scaffolding but they will not impact your trips. We will reconfigure the mezzanine and platform areas for the construction of the elevator shafts. One business and several mechanical rooms will be relocated. The De Maisonneuve entrance building will remain accessible at all times.
A fully renovated station
In recent years, the station's interior and the De Maisonneuve and Sainte-Catherine entrance buildings were fully renovated. This project will put the finishing touches on the station's major refurbishment before it becomes universally accessible.
 
Area resident?
---
This work is made possible through funding from the ministère des Transports du Québec.
Top of page