Atwater

Sainte-Catherine entrance open once again
The Sainte-Catherine entrance, located near Square Cabot, is once again open to transit users. Bus stops are also all back at their usual locations. 
Atwater station will soon be fully renovated

From early on in 2016 we've been busy completely refurbishing the station, from the track level, to the mezzanine to the De Maisonneuve entrance building.
Since January 2017, we have undertaken the second phase of work inside the station and the Sainte-Catherine entryway located near Cabot Square will be entirely redone.
By completely closing the entryway, we will be able to work day and night and carry out the following work:
Demolish the building's two triangular-shaped wings
Demolish a water drainage pan and foot grilles in the corridor
Rebuild the entryway building's outer shell (roof and exterior walls)
Install new, retractable grillwork at the top of the stairs and in the corridor
Install four new pivoting, butterfly-type doors, including two wider, motorized ones
Replace and upgrade lighting fixtures
Refurbish all floor finishes and stairs
Install new signage throughout station
Landscape exterior of station
Other structural and architectural work will be performed at the same time.
Yes, some bus stops were relocated around the Sainte-Catherine entryway.
The map below shows the temporary location of bus stops around the Cabot Square entryway.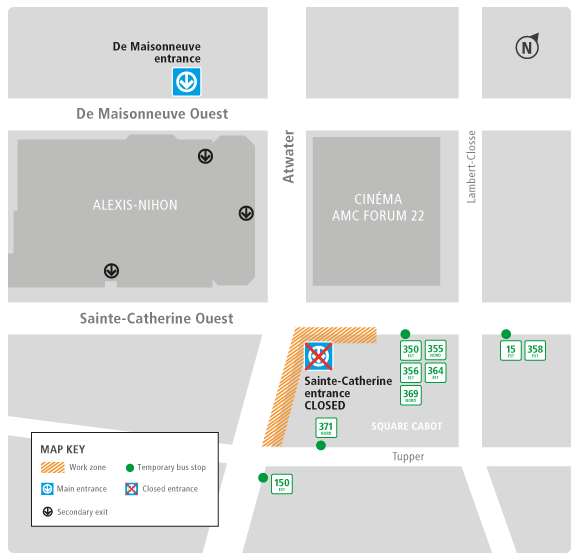 Type of work done :
Refurbishment of the structural slab
Replacement of three pivoting doors, addition of a motorized door to improve accessibility
Replacement of curtain walls   
Repairs to masonry work and roofing 
Re-grading of soil on north side of station
Addition of window shutters
Replacement of stairs and installation of waterproofing membrane
Refurbishment of staircases
Installation of new signage throughout station
Paint work
Improvement to ambient lighting
Replacement of floor finishes and ceramic tiles on walls
Refurbishment of entryway's structural slab
Modification to concrete structure supporting roof to allow for installation of pivoting doors
Replacement of granite finish and installation of waterproofing membran
Type of work done:
Replacement of floor finishes and ceramic tiles on walls
Installation of ceiling-high glass panels at the mezzanine level.
Refurbishment of stairs leading to train platforms, in order to install new granite finishes and new handrails.
Drilling and installation of a water drainage system
Improvement to lighting
Installation of new signage throughout station
Paint work
Yes, the station will remain open at all time.
---
This work is made possible through funding from the MInistry of Transport, Sustainable Mobility and Transportation Electrification.
Top of page