Encourage our Habs no matter where you are with your friends, but mostly when riding public transit!
Montreal Canadiens: Schedule
Avoid packed parking lots
Had enough of packed parking lots after the game? Well, métro service is increased on game nights, so just head over to Bonaventure or Lucien-L'Allier stations, jump on board and let us whisk you home! It's easy!
Map of Bell Centre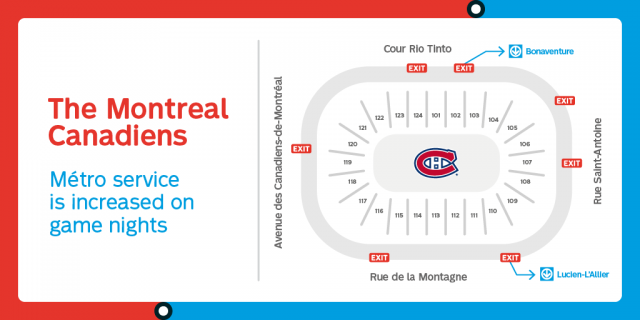 Refer to the map to find the métro station access nearest to your seats.
See the official Canadiens website for game times and dates.
Returning to the West Island?
Public transit takes you directly to Centre Bell et takes you home after the game.
Pick your own combo!
Special fares
With the Unlimited Evening pass, travel as much as you want between 6 p.m. and 5 a.m.
On weekends, get the Unlimited Weekend pass and travel as much as you want between 4 p.m. Friday and 5 a.m. Monday.
The Family Outings program allows up to five children aged 6 to 11 to ride public transit for free during certain periods when accompanied by an adult with a valid fare.
Tip:
Buy your transit fare ahead of time and avoid the line-ups!
Top of page