OPUS card - Reduced fare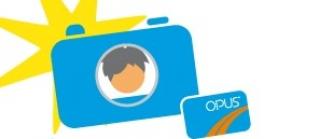 Registered photo OPUS card to pay the reduced fare.
The registered photo OPUS card is for students under the age of 26 and for persons 65 and over.
You need to renew your registered photo OPUS card or wish to obtain one for the first time? Our Photo studio staff can help you with that 7 days a week.
What you need to know about reduced fares
To pay the reduced fare, your transit fares must be loaded on a registered photo OPUS card.
A photo OPUS card is always registered. That is your guarantee in the event your card is lost, damaged or stolen.To have your card replaced and/or recover any valid fares that remained at the time you reported the problem, go to the STM photo studio, to the customer service centre or to a point of service. 
How do I know if I need to renew my card?
Look for the expiry date on your card. You are entitled to pay the student reduced fare until that date.

Students 6 to 25 years old
Visit OPUS Tour - Students section
For 65 and +
How to obtain your photo OPUS card or renew a card about to expire?
Fill out this form, include all requested documents and send to this address :
Studio de photo - Carte Tarif réduit
1717 rue Berri, Local Gc-r400, Montréal, QC H2L 4E9
Your OPUS will be valid for seven (7) years.
Persons 65 and over can purchase 1- or 2-trip fares from a fare booth attendant in a métro station upon presenting their registered photo OPUS card.
Smart tips:
During the back to school period, August 25 to November 7, crowds of students show up at the Photo studio to obtain their OPUS cards. Waiting times can be very long. Plan ahead and choose the right time to go there!
Top of page