iBUS - Real time

Your bus schedules and its position in real time
Get our most accurate estimate for your bus departure time and see it on the website and our mobile site.
You can also download Transit or Chrono, mobile apps that provide bus schedules and bus position in real time.
Real time schedules are also available:
By telephone, dial 514 288-6287 (A-U-T-O-B-U-S)
or
By SMS, enter your bus stop code at 52786
and
On information terminals
iBUS: benefits for all
iBUS will keep you updated with the latest information at all time. Adjustments to our bus schedules in real time will help you make the best decisions while you are on the road. Several information tools will also be at your disposal, from bus timetables on our mobile site, to our apps for smart phones, along with passenger information terminals.
You will be informed of any service disruptions and other events likely to impact you on your way. Riding the bus will become a much better experience.

Improved punctuality and regularity of bus service
 

More precise customer information before trip and while on the move
 

Better communication about transit system accessibility
 

Greater distribution of bus capacity

Greater safety aboard buses thanks to geolocation
 

Unified view of transit system
 



Integration of bus priority system at traffic lights
 

Another step toward improved universal access
iBUS: gradual deployment
Visual display screens and audio message devices aboard each bus
26 passenger information terminals at the busiest bus stops and in 64 métro station entryways.
Real-time information including schedules on all existing platforms: smart phone apps, SMS, Web and mobile Web and interactive voice response (IVR).
Information terminals
.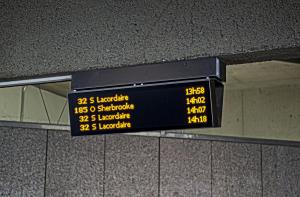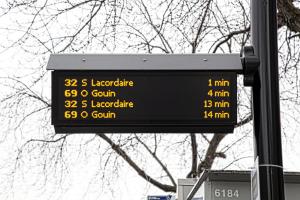 Honoré-Beaugrand
Radisson
Langelier
Cadillac
Assomption
Viau
Pie-iX
Joliette
Frontenac
Papineau
Guy-Concordia
Angrignon
Jolicoeur
Lasalle
De l'Église
Henri-Bourassa
Sauvé
Crémazie
Beaubien
Laurier
Rosemont
Mont-Royal
Sherbrooke
Square-Victoria-OACI
Lionel-Groulx
Charlevoix
Côte-Vertu
Snowdon
Villa-Maria
Vendôme
Place-Saint-Henri
Côte-Sainte-Catherine
Plamondon
Namur
Du Collège
Fabre
De Castelnau
Parc
Outremont
Saint-Michel
Côte-des-Neiges
Boul. Lacordaire at the corner of Henri-Bourassa
De Chateaubriand at the corner of Jean-Talon
Beaumont at the corner of L'Acadie
Chemin de la Côte-des-Neiges at the corner of Barclay
Chemin de la Côte-des-Neiges at the corner of Queen-Mary
Chemin de la Côte-des-Neiges at the corner of de la Peltrie
Chemin de la Côte-des-Neiges at the corner of Jean-Brillant
Chemin de la Côte-des-Neiges at the corner of Bedford
Lakeshore at Cegep/College John Abbott
Fairview bus terminal
Boul. Henri-Bourassa at the corner of Saint-Michel
Boul. Saint-Michel at the corner of Jarry
Boul. Saint-Michel at the corner of Beaubien
Boul. Saint-Michel at the corner of de Louvain
Boul. Saint-Michel at the corner of Émile-Journault
Bloomfield at the corner of Jarry Ouest
De Liège at the corner of De l'Épée
Dunkirk at the corner of Cornwall
Sherbrooke at the corner of Benny
Sherbrooke at the corner of Westmore
Deserres at the corner of Grenet
Boul. Henri-Bourassa at the corner of Saint-Denis
Président-Kennedy Avenue at the corner of Jeanne-Mance
Jarry at the corner of 22e avenue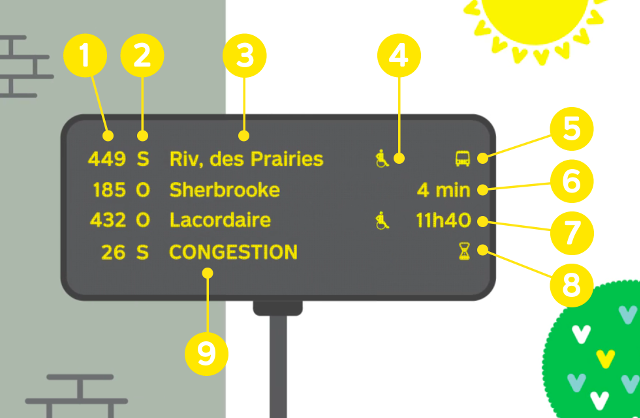 Bus line number

 

Direction (North, South, East, West)

 

Bus line name 

 

Accessible bus

 

Bus at stop. Flashing bus = imminent departure

Real time displayed in minutes: time left before next bus departure
 

Time of next planned bus

 

Hourglass indicating delay because of traffic congestion

 

Message CONGESTION displayed alternately with bus line name when vehicle is not moving
Information displayed on the terminals:
Arrival times of next buses
Display of departures in planned times (example: 14h22)
DIsplay of departures in real time (example: in 8 min.)
Status of traffic congestion of next buses

 

<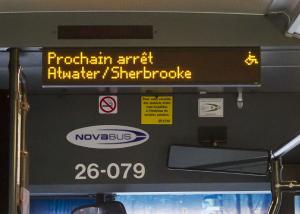 Display screen testing on a bus
You can hear and see the next stops announced inside all our buses since the end on January, 2017.
The installation and the activation of equipment
The installation of a new generation of digital radio-communication
The outfitting of a new operational centre for the entire bus network
The activation on Information terminals
Bus schedules in real time on the beta version of our web site
Testing was underway on the 32 Lacordaire and 144 Avenue des Pins bus lines in December 2015, during which upcoming stops were announced inside the bus. These tests served to verify the sound quality, accuracy of information and performance of the data transmission system. Transit users took part in these test by texting us their comments. Here are a few:
« The display screen is brillant: I never worry about missing my stop »
« A great idea to announce bus stops this way. It allows us to know where we are and it's all looks quite futuristic »
« I really appreciated the bus stop identification, both visual and audio, especially because it's a new bus route for me »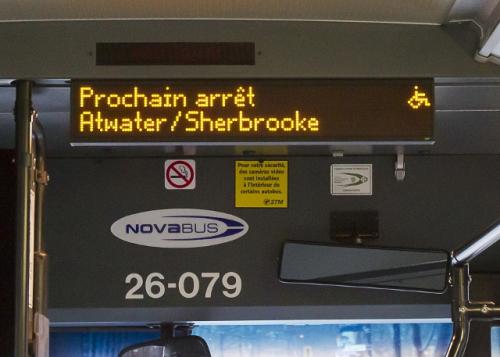 Display screen testing on a bus
In June 2015, this passenger information terminal was installed at the corner of Henri-Bourassa and Lacordaire boulevards to conduct technical testing.
The solution chosen by the STM - a powerful, scalable, high-tech system - has been tested in other major cities, including York, Vancouver, Dubaï, Oslo, Stockholm, Seattle, New York, and Munich. Signed in fall 2012 with the German firm INIT Innovations in Transportation (Eastern Canada) Inc., the contract covers the purchase and implementation of a passenger information and operational support system, including new radio infrastructure and radio equipment for the entire fleet of vehicles.
Top of page