Planibus Schedules
Texte important
Given the current situation, we have removed paper planibus schedules from circulation. To view bus schedules, please use one of our customer information tools.
Website
Complete planned weekly schedule for your stop
Did you know that you can obtain and print the full schedule for your stop?
- Obtain the weekday/Saturday/Sunday schedule for all stops
- Easier to print on a standard sheet of paper
- Follows web accessibility standards
How to get your daily or weekly schedule
Follow these steps to get your daily or weekly schedule. The image below shows the steps in detail.
Go to our home page, stm.info, on the Getting Around tab
Click on the "Schedules and maps" button
Fill in the fields with your bus line and your bus stop;
The window will show the next departures. To print the schedule, click on "Daily schedule" or on "Weekly schedule";
Then click on the "Print" button at the bottom of the page.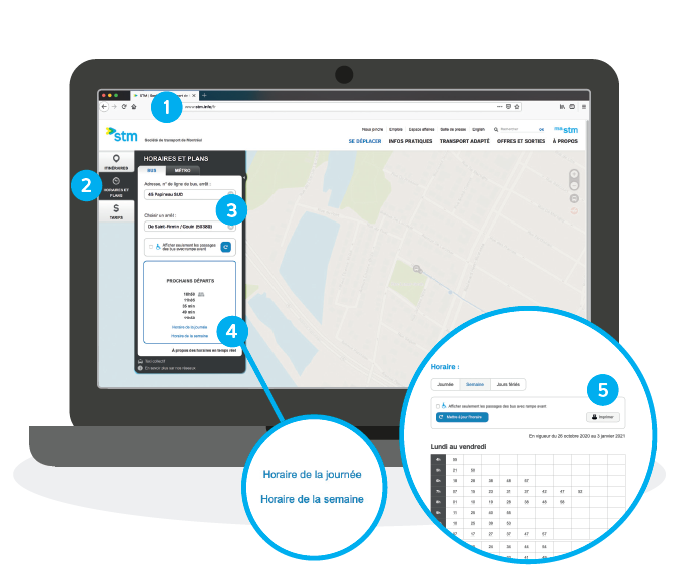 All of our schedules are also available from our Useful info page.
SMS
Dial 52786, and enter the bus line number and the bus stop code in the message to get the next three departure times.
Phone
514-288-6287 (A•U•T•O•B•U•S)
This automated telephone line will provide you the next three departure times and the schedule for the next seven days. You will be asked to provide the five-digit stop code and the bus line number. These are shown on the bus stop sign and on our website.
Applications
In Transit and Chrono, our partner applications
Top of page