iBUS
EN ROUTE TO REAL TIME
iBUS will keep you updated with the latest information at all time. Adjustments to our bus schedules in real time will help you make the best decisions while you are on the bus. Several information tools will also be at your disposal, from bus timetables on our mobile site, to our app for smart phones, along with passenger information terminals.
You will be informed of any service disruptions and other events likely to impact you on your way. Riding the bus will become a much better experience.
Improved punctuality and regularity of bus service
Greater distribution of bus capacity
More precise customer information before trip and while on the move
Better communication about transit system accessibility
Unified view of transit system
Greater safety aboard buses thanks to geolocation
Integration of bus priority system at traffic lights
Another step toward improved universal access
Texte important
Watch for what's new in Spring 2016
Testing will continue on the 11 - Parc-du-Mont-Royal/Ridgewood and on the 14 - Amherst bus lines.
Come back often to keep track of progress with iBUS!
Testing display screens
Testing was underway on the 32 Lacordaire and 144 Avenue des Pins bus lines in December, during which upcoming stops were announced inside the bus. These tests served to verify the sound quality, accuracy of information and performance of the data transmission system. Transit users took part in these test by texting us their comments. Here are a few:
« The display screen is brillant: I never worry about missing my stop »
« A great idea to announce bus stops this way. It allows us to know where we are and it's all looks quite futuristic »
« I really appreciated the bus stop identification, both visual and audio, especially because it's a new bus route for me »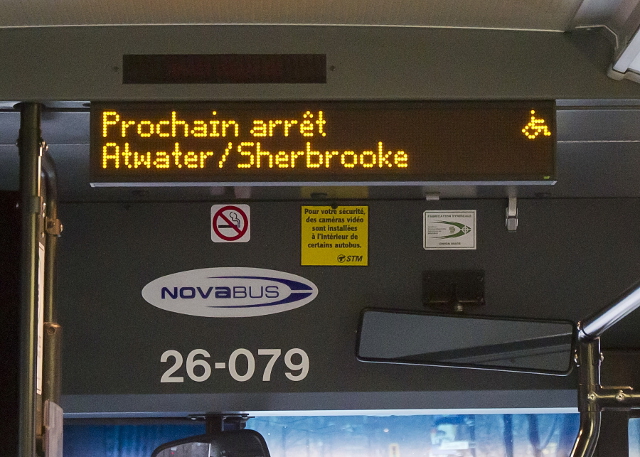 Display screen testing on a bus
Listen to the announcement inside a bus stop
iBUS: gradual deployment in 2016
Visual display screens and audio message devices aboard each bus
26 passenger information terminals at the busiest bus stops and in 64 métro station entryways
Real-time information including schedules on all existing platforms (smart phone apps, SMS, Web and mobile Web, interactive voice response (IVR))
Come back and follow our progress with iBUS !
The installation of equipment
The installation of a new generation of digital radio-communication
The outfitting of a new operational centre for the entire bus network
Demonstration of a passenger information terminal
In June 2015, this passenger information terminal was installed at the corner of Henri-Bourassa and Lacordaire boulevards to conduct technical testing.
The solution chosen by the STM - a powerful, scalable, high-tech system - has been tested in other major cities, including York, Vancouver, Dubaï, Oslo, Stockholm, Seattle, New York, and Munich. Signed in fall 2012 with the German firm INIT Innovations in Transportation (Eastern Canada) Inc., the contract covers the purchase and implementation of a passenger information and operational support system, including new radio infrastructure and radio equipment for the entire fleet of vehicles.
Top of page