iBUS

iBUS: benefits for all
iBUS will keep you updated with the latest information at all time. Adjustments to our bus schedules in real time will help you make the best decisions while you are on the bus. Several information tools will also be at your disposal, from bus timetables on our mobile site, to our apps for smart phones, along with passenger information terminals.
You will be informed of any service disruptions and other events likely to impact you on your way. Riding the bus will become a much better experience.

Improved punctuality and regularity of bus service
 

More precise customer information before trip and while on the move
 

Better communication about transit system accessibility
 

Greater distribution of bus capacity

Greater safety aboard buses thanks to geolocation
 

Unified view of transit system
 



Integration of bus priority system at traffic lights
 

Another step toward improved universal access

We're now on display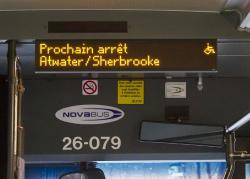 Display screen testing on a busiBUS displays are gradually deployed throughout the city, one area at a time.
Since May 2016, you see and hear the names of upcoming bus stops being announced inside buses serving the Mont-Royal area.
Since July 2016, the displays in the bus serving Frontenac,Legendre and Stinson areas have been activated. In December, the displays in the bus serving the Saint-Denis area have been activated. In January 2017, the displays in the bus serving the Saint-Laurent, Anjou and LaSalle areas have been activated.
Currently underway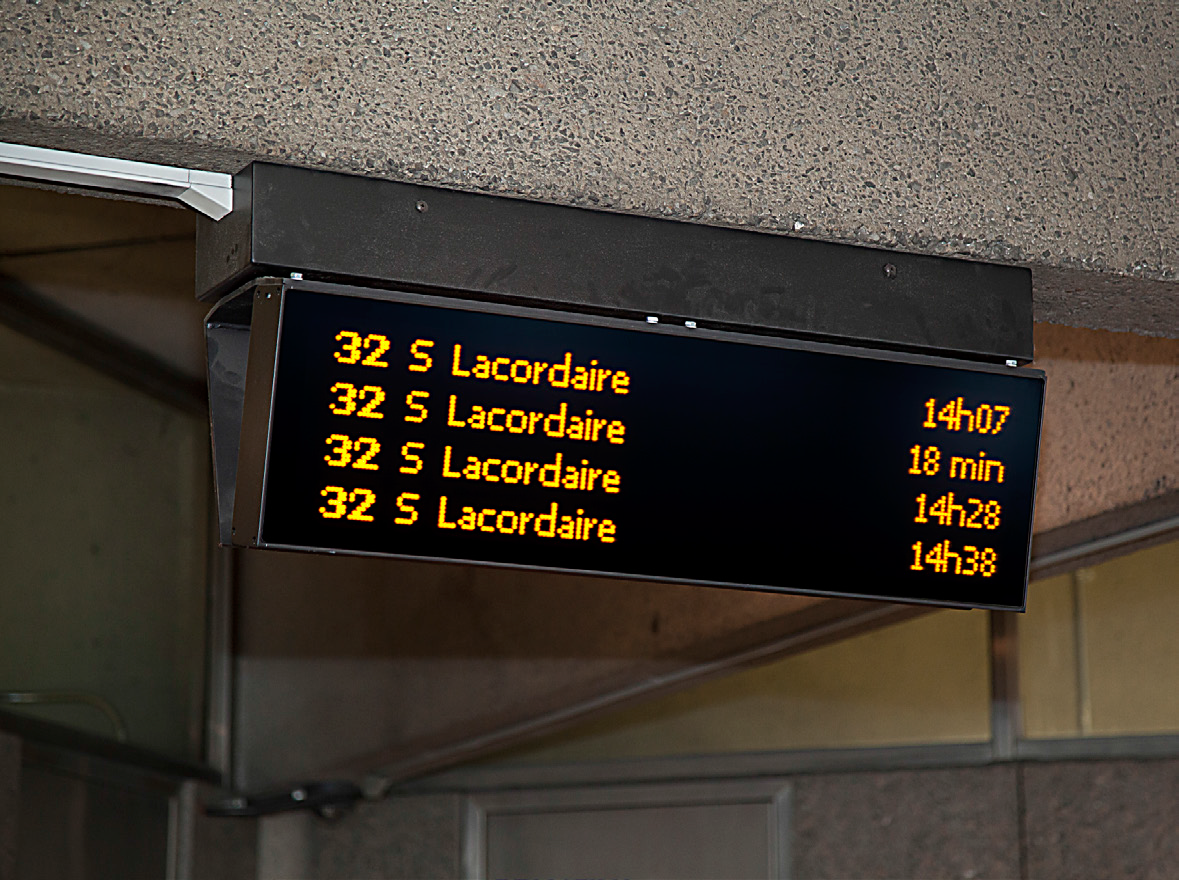 In December 2016, testing have been performed on the new passenger information terminal (BIC) inside the north-side entrance to Cadillac métro station. Information on the southbound 32 - Lacordaire bus line have been displayed. 
- Arrival time of upcoming buses
- Arrivals as scheduled (for example: 14:22)
- Arrivals in real time (for example: in 8 min.)
- Status of traffic conditions for upcoming buses
Intermittent testing will enable us to check the accuracy of displayed information and performance of the data transmission system.

21 Place du Commerce
36 Monk
37 Jolicoeur
58 Wellington
71 Du Centre
78 Laurendeau
101 Saint-Patrick
106 Newman
107 Verdun
108 Bannantyne
109 Shevchenko
110 Centrale
112 Airlie
113 Lapierre
116 Lafleur/Norman
123 Dollard
195 Sherbrooke/Notre-Dame
350 Verdun/LaSalle (night)
354 Ste-Anne-de-Bellevue/Centre-ville (night)
360 Avenue des Pins (night)
406 Express Newman
495 Express Lachine/LaSalle
747 Aéroport P.-E.-Trudeau/Centre-ville

26 Mercier Est
28 Honoré-Beaugrand
33 Langelier
39 Des Grandes-Prairies
40 Henri-Bourassa Est
43 Monselet
44 Armand-Bombardier
48 Perras
49 Maurice-Duplessis
86 Pointe-aux-Trembles
141 Jean-Talon Est
183 Gouin Est
186 Sherbrooke Est
187 René-Lévesque
188 Couture
189 Notre-Dame
192 Robert
355 Pie-lX (night)
362 Hochelaga/Notre-Dame (night)
364 Sherbrooke/Joseph-Renaud (night)
372 Jean-Talon (night)
444 Express Cégep Marie-Victorin
448 Express Maurice-Duplessis
449 Express Rivière-des-Prairies
469 Express Henri-Bourassa
486 Express Sherbrooke
487 Express Bout-de-l'île

16 Graham
18 Décarie
64 Grenet
68 Pierrefonds
70 Bois-Francs
72 Alfred-Nobel
73 Dalton
76 McArthur
115 Paré
117 O'Brien
126 Polyvalente Émile-Legault
164 Dudemaine
170 Keller
174 Cote-Vertu Ouest
177 Thimens
196 Parc industriel Lachine
200 Sainte-Anne-de-Bellevue
201 Saint-Charles/Saint-Jean
202 Dawson
203 Carson
204 Cardinal
205 Gouin
206 Roger-Pilon
207 Jacques-Bizard
208 Brunswick
209 Des Sources
215 Henri-Bourassa
216 Transcanadienne
217 Anse-à-l'Orme
218 Antoine-Faucon
219 Ch. Sainte-Marie
220 Kieran
225 Hymus
376 Pierrefonds/Centre-ville (night)
378 Sauvé/Mtl-Trudeau (night)
382 Pierrefonds/Saint-Charles (night)
401 Express Saint-Charles
407 Express Île-Bizard
409 Express des Sources
419 Express John Abbott
468 Express Pierrefonds-Gouin
475 Express Dollard-des-Ormeaux
485 Express Antoine-Faucon

13 Christophe-Colomb
18 Beaubien
30 Saint-Denis/Saint-Hubert
31 Saint-Denis
46 Casgrain
54 Charland/Chabanel
55 Saint-Laurent
66 The Boulevard
92 Jean-Talon Ouest
93 Jean-Talon
95 Bélanger
99 Villeray
119 Rockland
129 Côte-Sainte-Catherine
160 Barclay
161 Van Horne
166 Quenn-Mary
179 De l'Acadie
361 Saint-Denis (night)
363 Boulevard Saint-Laurent (night)
370 Rosemont (night)
935 Trainbus Blainville-Centre-Ville

11 Parc-du-Mont-Royal/ Ridgewood
14 Amherst
27 Boulevard Saint-Joseph
32 Lacordaire
47 Masson
51 Édouard-Montpetit
97 Avenue-du-Mont-Royal
144 Avenue des Pins
357 Saint-Michel (all-night service)
359 Papineau (all-night service)
368 Avenue-du-Mont-Royal (all-night service)
410 Express Notre-Dame
427 Express Saint-Joseph
430 Express Pointe-aux-Trembles

10 De Lorimier
12 Île-des-Soeurs
15 Sainte-Catherine
22 Notre-Dame
24 Sherbrooke
25 Angus
29 Rachel
34 Sainte-Catherine
61 Wellington
74 Bridge
75 De la Commune
85 Hochelaga
94 d'Iberville
125 Ontario
131 De l'Assomption
150 René-Lévesque
168 Cité-du-Havre
178 Pointe Nord/Île-des-Soeurs
185 Sherbrooke
353 Lacordaire/Maurice-Duplessis (all-night service)
358 Sainte-Catherine (all-night service)
432 Express Lacordaire
715 Vieux-Montréal/Vieux-Port
767 La Ronde/La Plage
769 La Ronde
777 Le Casino

19 Chabanel/Marché Central
41 Quartier Saint-Michel/Ahuntsic
45 Papineau
52 de Liège
53 Boulevard Saint-Laurent
56 Saint-Hubert
67 Saint-Michel
69 Gouin
121 Côte-Vertu
135 De l'Esplanade
139 Pie lX
140 Fleury
146 Christophe-Colomb/Meilleur
171 Henri-Bourassa
180 De Salaberry
193 Jarry
197 Rosemont
365 Avenue du Parc (nuit)
439 Express Pie-lX
440 Express Charleroi
460 Express Métropolitaine
467 Express saint-Michel

57 Pointe-Saint-Charles
63 Girouard
80 Avenue Du Parc
90 Saint-Jacques
100 Crémazie
102 Somerled
103 Monkland
104 Cavendish
105 Sherbrooke
124 Victoria
128 Ville -Saint-Laurent
138 Notre-Dame-de-Grâce
162 Westminster
165 Côte-des-Neiges
175 Griffith/Saint-François
191 Broadway/Provost
211 Bord-du-Lac
213 Parc-industriel-Saint-Laurent
356 Lachine/Mtl-Trudeau/Des Souces (nuit)
369 Côte-des-Neiges (nuit)
371 Décarie (nuit)
380 Henri-Bourassa (nuit)
405 Express Bord-du-Lac
411 Express Lionel-Groulx
420 Express Notre-Dame-de-Grâce
425 Express Anse-à-l'Orme
435 Express Du Parc/Côte-des-Neiges
470 Express Pierrefonds
491 Express Lachine
496 Express Victoria
Have you noticed?
A given vehicle can be operated on several bus lines in a single day. As such, you could experience iBUS in action on one bus line in the morning, and travel aboard another bus on the same line in the evening on which the system is not yet operational.
iBUS: gradual deployment
Visual display screens and audio message devices aboard each bus
26 passenger information terminals at the busiest bus stops and in 64 métro station entryways. These terminals will be activated, one by one, and give you the arrival time of the next bus.
Real-time information including schedules on all existing platforms (smart phone apps, SMS, Web and mobile Web, interactive voice response (IVR))
The installation and the activation of equipment
The installation of a new generation of digital radio-communication
The outfitting of a new operational centre for the entire bus network
Testing was underway on the 32 Lacordaire and 144 Avenue des Pins bus lines in December, during which upcoming stops were announced inside the bus. These tests served to verify the sound quality, accuracy of information and performance of the data transmission system. Transit users took part in these test by texting us their comments. Here are a few:
« The display screen is brillant: I never worry about missing my stop »
« A great idea to announce bus stops this way. It allows us to know where we are and it's all looks quite futuristic »
« I really appreciated the bus stop identification, both visual and audio, especially because it's a new bus route for me »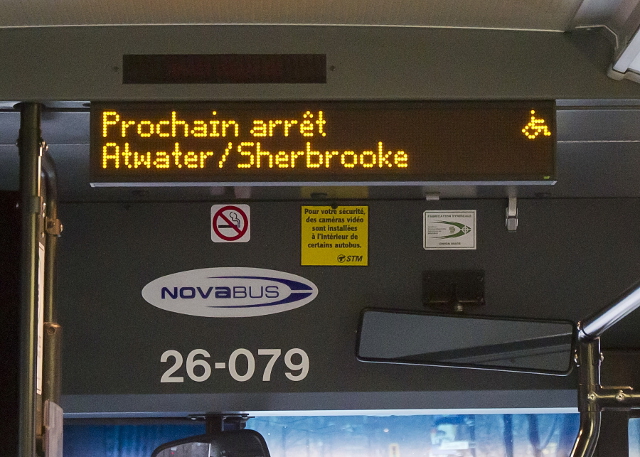 Display screen testing on a bus
In June 2015, this passenger information terminal was installed at the corner of Henri-Bourassa and Lacordaire boulevards to conduct technical testing.
The solution chosen by the STM - a powerful, scalable, high-tech system - has been tested in other major cities, including York, Vancouver, Dubaï, Oslo, Stockholm, Seattle, New York, and Munich. Signed in fall 2012 with the German firm INIT Innovations in Transportation (Eastern Canada) Inc., the contract covers the purchase and implementation of a passenger information and operational support system, including new radio infrastructure and radio equipment for the entire fleet of vehicles.
Come back often to keep track of progress with iBUS!
Top of page