Texte important
New service!
How does the service work?
The Parc Jean-Drapeau taxibus is in service from Monday to Friday, except on legal holidays, between September 3 and June 23. It allows you to get to:
any taxibus stop from Jean-Drapeau metro station;
or
the Jean-Drapeau metro station from any taxibus stop.
How to use the service?
You must reserve your trip prior to each use by calling 514 273-6331 or online (in French).
From April 1 to November 30, you must reserve at least 40 minutes prior to your trip.
From December 1 to March 31, you must reserve at least 60 minutes prior to your trip.
How much does the service cost?
Fares for Transport adapté and other taxi services apply. Monthly TRAM passes valid within the appropriate fare zone are also accepted. Cash fare payment is not accepted.
For customers transferring to an STM bus or métro:
You can pay your fare directly at the transfer point, where bus and métro fares apply. Customers are invited to validate their fare card or pay in cash at the transfer point.
Fare payment in cash is not accepted aboard taxis.
Schedules
From Monday to Friday
Seasonal service between September 3 and June 23.
From the station
6:30 a.m.
7:00 a.m.
7:30 a.m.
8:00 a.m.
8:30 a.m.
9:00 a.m.
9:30 a.m.
10:00 a.m.
11:00 a.m.
12:00 p.m.
1:00 p.m.
2:00 p.m.
3:00 p.m.
3:30 p.m.
4:00 p.m.
4:30 p.m.
5:00 p.m.
5:30 p.m.
6:00 p.m.
6:30 p.m.
7:00 p.m.
To the station
6:45 a.m.
7:15 a.m.
7:45 a.m.
8:15 a.m.
8:45 a.m.
9:15 a.m.
9:45 a.m.
10:30 a.m.
11:30 a.m.
12:30 p.m.
1:30 p.m.
2:30 p.m.
3:15 p.m.
3:45 p.m.
4:15 p.m.
4:45 p.m.
5:15 p.m.
5:45 p.m.
6:15 p.m.
6:45 p.m.
7:15 p.m.
Taxibus stops
Station Jean-Drapeau (PJD-101)
Bassin olympique – Quartier des athlètes (PJD-102)
Pavillon des services (PJD-103)
Pavillon de la Tunisie (PJD-104)
Paddocks (PJD-105)
Pavillon du Canada (PJD-106)
La Ronde - Bureaux (PJD-107)
Musée Stewart (PJD-108)
Texte important
The Jean-Drapeau station stop is located in parking lot P6 of Jean-Drapeau Park, and is accessible from the bus loop. Consult the following map for more details.
Area served by the taxibus service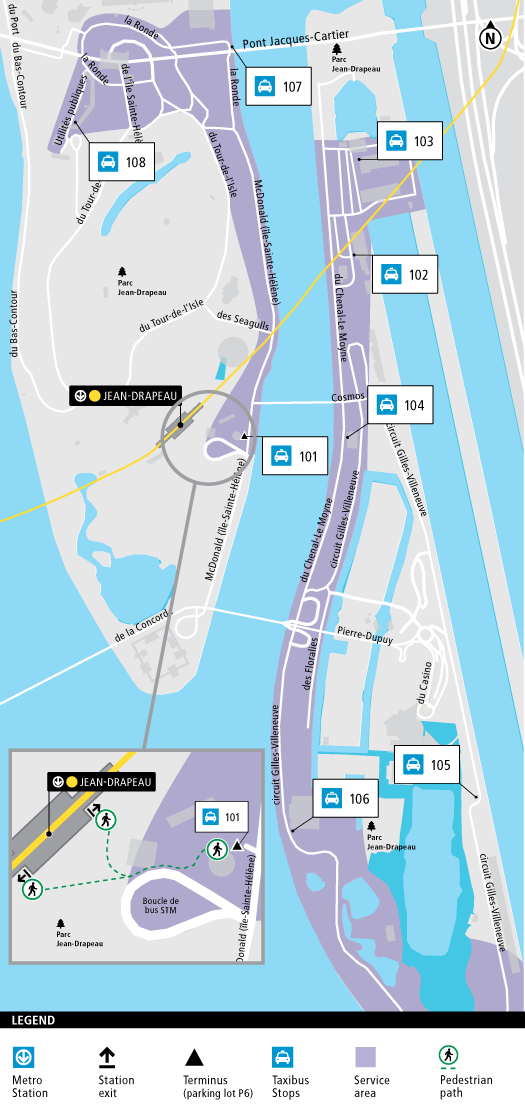 View or print the Parc Jean-Drapeau taxibus service leaflet.
Open the Parc Jean-Drapeau taxibus map in your browser.
Top of page