The Société de transport de Montréal is undertaking its biggest ever recruitment campaign to hire several hundred employees by 2020.
Montréal, October 26, 2018 – With the popularity of public transit on a high and development projects abounding, the Société de transport de Montréal (STM) is undertaking its biggest ever recruitment campaign this week to hire several hundred employees by 2020. These hires will play a key role in major mobility projects and the daily running of the bus and métro networks for the STM, Quebec's 15th largest company and the second largest transit authority in Canada.
A major publicity campaign created in collaboration with Publicis will be rolled out over the next few days in an effort to recruit these candidates, with the STM also relying on several targeted recruitment efforts.
Supporting growth
Over the next three years, the STM will spend $3.5 billion on major projects, which will change the face of mobility in Montréal, including the extension of the Blue line, the electrification of the surface network and the construction of new transportation infrastructures. The driver behind these major projects and daily operations of the STM is a group of almost 10,000 experienced and passionate employees from various backgrounds, who represent the diversity of our customers. For the STM to ensure the growth of the Montréal transit network and compensate for expected retirements, numerous positions will need to be filled across all company departments.
To achieve this, the STM launched an extensive campaign to establish its employer branding in November 2017 — the first step towards being recognized as an employer of choice. Now, the STM begins the second phase of its plan to set itself apart in a context of full employment and attracts the best talent who will be able to contribute to the development of Montréal's mobility.
Highlight employees' work
With the campaign launched this week, the STM aims to attract talent through talent by emphasizing the key role of various employees to provide information on the jobs available and demystify them. Five advertisements highlight the work of employees in targeted departments (operations, engineering, information technology, management and administration) and offer a glimpse behind the scenes of the STM. Adapted into various formats, this content can be read, viewed or heard on the STM's outdoor network and on the Internet, television and social media.
A microsite, available at stmemplois.com, will allow interested candidates to view the list of available positions and upload their application immediately. The STM will also encourage opportunities to meet with potential candidates in the coming months.
Visuals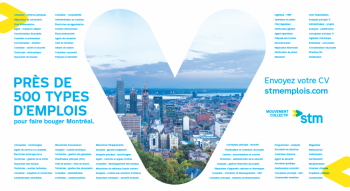 -30-
Philippe Déry
Public Affairs
STM
medias@stm.info