Implementation of Extra Connecte, marking the beginning of the gradual delivery of paratransit's real-time service via the new control room
In anticipation of the start of September, Philippe Schnobb, Chairman of the Board of Directors of the Société de transport de Montréal (STM), Laurence Parent, STM Board paratransit customer representative, and Eric Alan Caldwell, executive committee member for urban affairs, transportation and Montréal's public consultation office, announced today the implementation of Extra Connecte, marking the beginning of the gradual delivery of paratransit's real-time service via the new control room.
"The implementation of EXTRA Connecte, a $24 million investment, will contribute significantly to improving the customer experience, while ensuring the continuity of this growing service. The STM will complete the delivery of the real-time trip management system in 2019 by connecting not only the minibuses but also the taxi service providers. When fully implemented, this tool will notify users of their vehicle's imminent arrival, while optimizing our use of financial resources and vehicles," says Mr. Schnobb.
"Paratransit services are essential for our customers. They enable people living with physical or sensorial difficulties to be independent, participate in activities outside their homes and get on with their lives. These services are a necessary means for social inclusion, and we support all initiatives encouraging their increased use," says Ms. Parent.
Real-time management is already available for all STM minibuses and Taxi Coop de l'Est taxis. By the end of 2018, more than half of the taxis providing these trips will be connected. Additionally, start-up of the new control room will mean more efficient service delivery, as it will offer more punctual service and accurate information. Imminent arrival calls to customers a few minutes before their transportation arrives will also be available towards the end of 2019.
"Mobility is at the heart of our priorities, and the same goes for all Montrealers. Attractive public transit relies on quality service. We believe that offering optimal traveling conditions in terms of time, comfort, accessibility, safety and cost is essential. I am therefore very pleased to see that the quality of transit rides for people with reduced mobility will be improved following the implementation of EXTRA Connecte, a service that will have a real, positive, and direct impact on the quality of life of its users," says Mr. Caldwell.
"These new improvements add to those already made since 2017, enabling our customers to obtain personalized information about their trips, receive day-before reminders by text message, email or telephone for trips the following day, and trip cancellation notifications in the event of incidents beyond the STM's control, such as broken water mains, fires, etc.," adds Mr. Schnobb.
The STM has provided door-to-door paratransit service for people with disabilities since 1980. Reliable, safe and courteous, this specialized service contributes to the social, professional and economic inclusion of people with functional limitations. Each year, more than 31,600 paratransit customers travel on and around the Island of Montréal, with 12% using the STM's 86 minibuses and 88% using the 14 standard and wheelchair-accessible taxi service providers.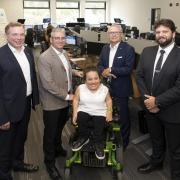 Texte important
From left to right: M. Philippe Schnobb, président du conseil d'administration de la STM, M. Luc Tremblay, directeur général de la STM, Mme Laurence Parent, représentante des clients du Transport adapté au conseil d'administration de la STM, M. Mario Gagnon, directeur du Transport adapté, et M. Eric Alan Caldwell, responsable de l'urbanisme, du transport et de l'Office de consultation publique de Montréal au sein du comité exécutif
- 30 -
Isabelle A. Tremblay
Affaires publiques – STM
medias@stm.info