STM announces several improvements to bus service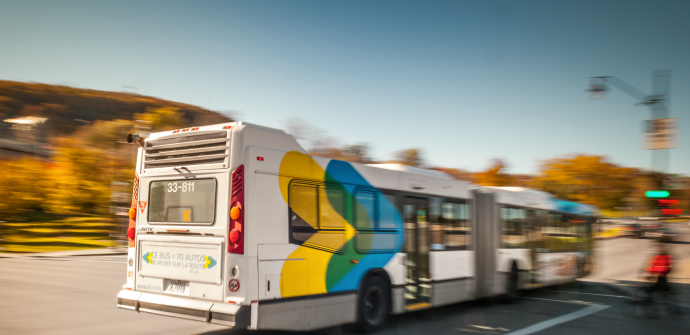 STM annouces improvements to bus lines 55, 178 and 711, as well as the roll-out of new bus priority measures.
Montréal, May 3, 2017 – With its ongoing concern for perfecting bus service to improve the experience for customers, Société de transport de Montréal (STM) is announcing that additional bus service was approved by the board of directors at their May 3, 2017 meeting. The STM wishes to inform transit users that they will benefit from improved service on three bus lines, starting next fall, as well as the continued roll-out of bus priority measures. « These improvements took customer comments into account and provide tangible examples of our commitment to improving service and customer experience », emphasized STM chairman, Philippe Schnobb.
Bus route extension for the 55 – Boulevard Saint-Laurent
STM is extending the route for the 55 Boulevard Saint-Laurent to boulevard Henri-Bourassa starting next August 28. This change will eliminate the need for transfers between the 55 and 53 bus lines, in addition to providing a direct bus link along the entire length of boulevard Saint-Laurent and a direct connection with Henri-Bourassa métro station. Access to Ahuntsic-Cartierville borough and, specifically, the Chabanel district will also be made easier. In all, some 11,000 hours of bus service will be added.    
Improvements for the 178 – Pointe-Nord / Île-des-Sœurs
Several improvements will enhance service on this bus line starting August 28, including extending the route along Place du Commerce, chemin du Golf, boulevard Marguerite-Bourgeoys and boulevard de l'Île-des-Sœurs, extending operating hours from 6 am to 9 pm, instead of 6:30 pm only, and improving the frequency of service during peak periods. As such, Ile-des-Sœurs customers will see an improved transit experience thanks to better access to service, simplified routes and enhanced level of service to and from downtown, as well as better service in the evening. These measures represent some 7,600 hours of added service.
A new 711 – Parc-du-Mont-Royal / Oratoire bus line and route for the 11 – Parc-du-Mont-Royal / Ridgewood
The current route for the 11 bus line will remain the same, while the route for the 711 line, in operation summers only, will be modified in an effort to improve service to Mount-Royal Park and access to St. Joseph's Oratory, for Montrealers and tourists alike. The 711 bus will start from Mont-Royal métro statio and end its route at Snowdon station. Buses will travel along boulevard Saint-Joseph to avoid recurring traffic congestion on avenue Mont-Royal while providing a reliable alternative to reaching the park. Part of the bus route will be along Côte-Sainte-Catherine, which should help improve access to the park by bus, particularly for Outremont residents.
Work gets underway to implement four new reserved lanes this summer
The STM will soon begin work to establish four new reserved lanes, in coming months, in the Galeries-d'Anjou, Henri-Bourassa, Wellington and Notre-Dame Est corridors. Wellington et Notre-Dame Est. More details will soon become available.
-30-
Amélie Régis
Affaires publiques
STM 
514 350-0800 # 85508 
amelie.regis@stm.info