A Sustainable Reclamation Plan for MR-63 cars
Texte important
Latest update!
313 MR-63 métro cars have been recycled.
Did you know?
The withdrawal of MR-63 railcars is closely linked to the arrival of AZUR métro cars. Before disposing of a train set, we must ensure we have enough trains to provide service. Then, we choose which train sets to remove from service based on when they are due for their annual maintenance.
Seven finalist projects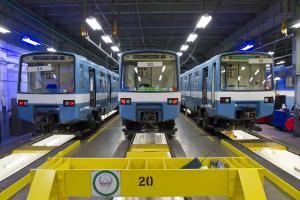 Following the call for proposals launched in March 2016 to give a second life to the MR-63 métro cars, there are the finalist projects from among the some thirty submissions received. All submissions were evaluated according to the same criteria: image and heritage; environment and sustainability; quality of concept; guarantee of project delivery and quality of proposal; feasibility and logistics.
Projects currently underway
Over the coming months, certain conditions will have to be met by promoters in order for them to receive final approval for their project. These include land-use approval, if applicable, plans for handling and transportation, taking possession, respect for the public and collective character of the project.
As a first step, the majority of finalists signed the sales contract and are moving forward with work to complete their project.
A first batch of materials, in this case a group of 16 doors and their opening-closing mechanism, was delivered to artist Michel de Broin, who is creating a sculpture for the Quartier des spectacles. His artwork installation, entitled Seuils, will be displayed this fall.
Signature large-scale projects
MR-63 project: 8 cars integrated into a multi-disciplinary building in the Quartier de l'innovation
ÆDIFICA project: a dozen of cars integrated into a private and public multifunctional complex
Projects for diverse purposes
Collège Montmorency: a car for fire prevention training
FAB LAB Polytechnique Montréal: a car for a coffee and work spot
Jardins de Métis: a car for a display featuring its link with Montréal
Artistic projects
Le TAZ: a car and some bench seats for an installation
Michel De Broin: 16 doors for the work of art, "Seuils"
The next steps
Over the coming months, certain conditions will have to be met by the submitters in order for them to receive final approval for their project. These include land approval, if applicable, plan for handling and transportation, taking possession, respect for the public and collective character of the project
Selection process
The selection committee will start by reviewing proposals based on the evaluation criteria. The results of their analysis will be presented to STM executive officers who, in turn, will submit a recommendation to STM's board of directors. The board will make a final determination and its decisions in this matter are final. The STM reserves the right to not select any project if none adequately meet all evaluation criteria.
Selection committee
The selection committee consists of:
One STM representative for each of these divisions: sustainable development, environment, architecture, major projects, métro rolling stock, marketing, arts and heritage;
One external member representing the design and architecture community;
One external member representing the arts and heritage assets community;
One external member representing the business community.

Evaluation criteria
We remind you that, first and foremost, Bidder bears full responsibility for all risks related to their project, thereby excluding the STM of any and all liability.
Below is a list of the criteria used to evaluate project proposals, regardless of whether said projects are temporary or permanent:
Image and heritage: the project must have a positive impact on the STM's corporate image, as well as public scope and reach, and provide a collective experience for all.
Environment and sustainability: the project must keep any negative impact on environment and community to a minimum, show that it complies with any objectives set for the deployment zone, and include a plan for the final disposal of MR-63 cars.
Quality of concept: the project must be achievable (demonstrate its feasibility) and fully detailed, with objectives and target market clearly and precisely identified in project presentation.
Quality of proposal and guarantees for delivering on project: the document must reflect the Bidder's clear understanding of all parameters, solid framework for the project, as well as financial and technical ability to carry out the project.
Feasibility and logistics: the project's time frame and deployment must take into consideration the availability of MR-63 cars.  
Do you know the story of the MR-63 cars?
Why a métro running on tires in Montréal?
It's been said that it was the mayor of Montréal, Jean Drapeau, who chose to have a métro running on tires built in Montréal. That's not exactly true: Drapeau wanted a monorail, while the executive committee chairman, Lucien Saulnier, was set on getting a métro. The two went to Paris together to assess the two transportation modes, and the métro easily won over the other. The Régie autonome des transports parisiens (RATP) had been operating rubber-tired cars in the Paris Métro since the 1950s, specifically on Line 1, their network's most heavily-used line. If a métro running on rubber tires could handle the busiest line in the Paris Métro, it could certainly be used in Montréal's brand new system!
Photo: RATP Archives

French concept, Québec design   
Although based on the French system, the concept for Montréal's first métro cars was from Québec, by the design firm of Jacques Guillon. He had insisted that the cars be built here, and not in France as some had initially expected. He then altered the basic design of the Paris Métro cars, by rounding out their silhouette, which added a few more centimetres of space for passengers. From the outset, the cars were to be made of aluminium, but in the end, they had a steel construction. As the Montréal system is entirely underground, the cars were not designed to withstand outdoor weather.
Photo: Jacques Guillon Archives
Blue or red for the métro? 
The colour of the métro cars was always a little contentious. For designer Jacques Guillon, the cars had to be blue, the colour of the Québec flag and, for pragmatic reasons, a colour that can easily be cleaned. For mayor Drapeau, on the other hand, it had to be red, the City of Montréal's colour! In that regard, though, the designer stood his ground and they were painted blue with a white stripe, like the Paris Métro cars at the time. But which shade of blue? Some say it was the colour of a dress worn by the mayor's wife, others say it was the colour of a tie worn by Lucien Saulnier… who knows? In the end, no one wants to change the colour of our métro!
Photo: Ville de Montréal Archives
A full-scale mock-up   
After building a toy-size model, which is currently under the stewardship of the Musée du Québec, the designers started building a full-scale mock-up of Montréal's future métro car. They settled in a Commission de transport workshop and, in no time, the wood structure began to take shape. It was a hit at the Exposition française held at the Palais du Commerce in 1963, on the site of today's Grande Bibliothèque. As you can see on the front of the mock-up, the Orange line 2 was initially supposed to end at Crémazie boulevard. Also note the vehicle's headlights, later modified, and the arms of the City of Montréal, that were dropped along the way.
Photo: Ville de Montréal Archives
What does MR-63 mean?   
MR-63 refers to matériel roulant conçu en 1963, meaning rolling stock designed in 1963. In their case, it is all the more accurate as the contract to produce the cars was also awarded in 1963. For the MR-73 cars, it gets a little more complicated: although designed in 1973, a builder was only found for them the next year, in 1974. Notice how Montréal did not follow in Paris' tracks (literally), in their way of labelling train cars, with « MP » for matériel pneumatique (rolling stock on rubber tires) and « MF » for matériel fer sur fer  (railcars with steel wheels on steel tracks). However, that changed a few years ago, when our new métro car design was nicknamed MPM-10 for matériel sur pneumatiques de Montréal conçu en 2010, for Montréal's 2010 métro car on tires.
Photo: Ville de Montréal Archives

 
More expensive than expected  
In March 1963, the City of Montréal issued a call for tenders for the supply of 279 MR-63 cars, or 31 nine-car trainsets. While the city expected to pay some twenty million dollars, it quickly lost any illusions: the bids by Canadian Vickers and Montreal Locomotive Works (MLW) are both in excess of $40 million! Back to the drawing board. Luckily, the tunnels cost much less to build than originally thought, making it possible to move up construction on additional sections and even add a line below the river… So more cars were needed to serve this expanded network, 369 to be exact. This time, the bids were more reasonable and Canadian Vickers was awarded the contract, for $ 45,513,918.
Photo: Ville de Montréal Archives
Canadian Vickers
That Canadian Vickers was chosen to build the MR-63 cars came as a surprise to many. True, the company was specialized in building and refurbishing naval ships and did not have the other bidder's experience, Montreal Locomotive Works (MLW). However, Vickers had the support of CIMT-Lorraine, the French reference in terms of rubber-tired métros and relied on many subcontractors to produce the parts needed to operate the cars. For this contract, it also set up a new workshop at the corner of Notre-Dame and Viau. History has shown that, after all, the shipbuilder made very good métro cars, only borrowing their… foghorn! 
Photo: Ville de Montréal Archives
336 or 369 MR-63 cars?
Incredibly, Vickers was able to deliver 369 MR-63 cars between 1965 and 1967. Yet the STM's documents show that only 336 of these cars are still in operation. So where are those 33 missing cars? To begin with, 24 cars were destroyed in the December 8, 1971 fire in the tail tracks behind Henri-Bourassa station (photo). Then, nine other cars were also completely burned on January 9, 1974, in a fire that broke out between Laurier and Rosemont stations. As these cars were never replaced, the number of MR-63s went from 369 to 336.
Photo: STM Archives
From six-digit numbers to five
Initially, a six-digit number was assigned to each MR-63 car. Thus, the identification numbers for motor cars started at 81-1501, while those of trailer cars started at 80-0001.
For example, the cars making up the very first three-car unit were numbered 81-1501, 80-0001 and 81-1502, while those making up the 123rd and final unit were numbered 81-1745, 80-0123 and 81-1746. Later, when it was decided that MR-73 cars would be assigned numbers starting with 78 or 79, the numbering system for the MR-63s was simplified by dropping the first number after the hyphen. This is why motor cars are now numbered from 81-501 to 81-746, and trailer cars from 80-001 to 80-123.
Photo: STM Archives
Unveiling the very first cars   
August 24, 1965 was a very big day at the Canadian Vickers' workshop on Notre-Dame. The first three cars for the Montréal métro are unveiled with pomp and ceremony, attended by Mayor Drapeau and his wife, the chairman of the city's executive committee, Lucien Saulnier, the métro's chief engineer, Lucien L'Allier, and Cardinal Paul-Émile Léger, whose red robes contrasted sharply with the new train's blue and white livery. Officials and dignitaries stood aboard car 81-1502 (81-502 today) for the official photo, seen here, often mistaken for the métro's inaugural photo. Far from it! Another year went by before the public was able to board the MR-63 cars, on October 14, 1966.
Photo: Ville de Montréal Archives
Not everyone can be a train operator!  
It may be simpler than flying a plane, but operating a métro is still relatively complex. The story goes that Cardinal Léger, who was handed the controls of a train during a visit, was jolted when the train came to a sudden stop. The reason? In a moment of joy, he raised his arms towards heaven, releasing the train controls for a little too long and setting off the emergency brakes! Québec Premier Robert Bourassa experienced a similar mishap when the Green line extension was inaugurated in 1976 (photo). Programmed to cover a precise distance, his train stopped mid-platform at Joliette station… because the train had left Préfontaine from the middle of the platform instead of the leading edge!
Photo: STM Archives
Do you recognize him?  
If you look closely at the cover page of the souvenir book issued for the inauguration of the Montréal Métro in 1966, and again at the picture of Premier Bourassa at the controls of an MR-63 ten years later, you'll notice the same métro employee is standing in the driver's cab! He is Marcel Laramée who, in his career, was a tramway motorman, bus driver, inspector, traffic regulator, train supervisor and superintendant. Mr. Laramée confirms that the 1966 photo was carefully staged: the train was stopped a third of the distance from the front edge of the platform, and the people, all extras, were wearing fall clothes in a variety of colours…. despite the picture being taken in July!
Photos: STM Archives
Two very special trains   
In addition to the 369 MR-63 cars for passenger service, Canadian Vickers delivered five other cars on tires, divided into two very special trains. The collection train (top photo) was used in the métro until the early 2000s; designed to collect fare revenues and trash, it was finally disposed of, as other service vehicle could carry out that task. In some stations, you can still see the letter C marking the exact location where that three-car train unit had to stop… As for the other one, the dust collector train (bottom photo), it still runs at night removing any dust from the tracks. On that train, two modified motor cars frame a huge vacuum cleaner, 1500 times the capacity of your home appliance!
Photos: STM Archives
It's really warm in the métro!
The French engineers had equipped the MR-63 cars with a heating system, concerned about our rigorous winters. But it's actually the reverse that happened: by releasing more heat than anticipated and having an inadequate ventilation system, the cars became rolling saunas! It was so hot inside them that in July 1967, an operator fainted and his train hit the wall at the end of the tunnel on the Yellow line (photo). The solution consisted of installing more powerful ventilation fans, replace certain windows by metallic screens and add air conditioning inside the driver's cab, which required the removal of a passenger seat on each motor car. The ceiling also had to be raised at Place-des-Arts station because with their new overhead air intakes, the train cars could no longer squeeze through! 
Photo: STM Archives
Backlit ads   
If you compare the inside of today's MR-63 car to the original one, a big difference is immediately apparent: in the beginning, ads were placed directly on the overhead light panels, like we see in buses today. The métro system map was also installed above each set of doors, which explained its strange horizontal format. Moving the ads and system map to their current location between the windows, just above the single seats, only came about in the mid-1970s. Indeed, following the 1971 and 1974 fires, authorities determined that the ads placed directly on light panels had contributed to spreading the flames inside the cars.
Photo: Ville de Montréal Archives
MR-63 trains that sing dou-dou-dou!  
In an effort to reduce the heat released when trains departed a station, the decision was made to install a new electronic modulating system called a 'chopper circuit' on the new MR-73 cars. For testing purposes, two MR-63 trains were equipped with the system: units 10, 11 and 12 got a Hitachi system, while units 40, 41 and 42 got a Jeumont system. In the end, the latter with its now famous dou-dou-dou was chosen for all MR-73 cars. The Hitachi train was converted back to normal, but not the Jeumont train, which quickly became inoperative. The solution: the Jeumont train's units were separated and placed between two normal train units. For this reason, there are a few MR-63 trains that also produce the dou-dou-dou!
Photo: STM Archives
Santa's train   
If you've ever seen Santa Claus at the controls of a métro train, you weren't dreaming! From the early 70s to the mid-90s, Plaza Alexis-Nihon and Place Bonaventure took turns announcing Santa's arrival by métro, no less! Backed by a huge advertising campaign, an entire train was set aside and passengers were encouraged to exit the train at the right station. Increasingly, we saw MR-63 cars dressed up in Christmas colours and driven by Santa himself! In a way, it set the stage for all the dressed up cars we've seen in the métro since 1996. The first two ad campaigns in the series were Levi's Silver Tab jeans and the Québec federation of milk producers. 
Photo: STM Archives
The official car for the 1976 Games  
Stations from Préfontaine to Honoré-Beaugrand on the Green line opened their doors in June 1976, just in time for the summer Olympics the next month. But the new MR-73 cars from Bombardier are not ready in time, because of a labour dispute at the plant in La Pocatière. Thus, the MR-63 cars came to the rescue on the newly extended line, transporting crowds of visitors and athletes during the entire Games. Regrettably, history has forgotten about this feat and many people today still believe the MR-73 cars were used during the '76 Olympics… when in fact they were still on the assembly line in La Pocatière!
Photo: STM Archives
Auto-pilot, single operator    
Although less technologically advanced than the MR-73, the older MR-63s were the first to feature an auto-pilot. Initially tested on the Yellow line in August 1975, the system was deployed on the Green line starting in November 1976 (photo), as only MR-63 métro cars were operating on that line. The auto-pilot system was then deployed on the Orange line starting in 1980, followed by the Blue line when it opened in 1986. It was at that time that trains began running with a single operator at the controls, a change in operational procedures that was implemented on the Orange line in 1989 and later on the Green line in 1993. An exception persists to this day, with two operators still driving the métro manually on the Yellow line, because of the line's particular layout.
Photo: STM Archives
From one line to another… and back
The arrival of the MR-63 cars from 1976 on also signalled the gradual withdrawal of the MR-63s from the Green line. Indeed, it was the longest line at the time, and it featured a brand new maintenance shop next to Honoré-Beaugrand station, so it made sense for it to have the newer rolling stock. The MR-63s are moved to the Orange and Yellow lines, where, eventually, they were also replaced by MR-73s. However, in the early 1980s, expansion of the CTCUM's Youville maintenance shops and, to a lesser degree, extension of the Orange line to Côte-Vertu, had the opposite effect: the MR-73 cars are transferred back to the Orange line and the MR-63 returned to the Green line. They were also later redeployed on the Yellow line in the mid-2000s. 
Photo: STM Archives
Sacrificing métro cars for a good cause    
Following the fire between Laurier and Rosemont stations in 1974, the CTCUM's fire prevention department created their own school, where fires in the métro could be simulated, for training purposes. In 1979, the school is installed at the end of the tunnel north of Henri-Bourassa station, right where the métro's other major fire happened in 1971. Three MR-63 cars that were salvaged from the 1974 fire are used to train thousands of métro employees and firefighters throughout the region. Plans to extend the line into Laval forced the school to relocate: after a brief stint at the Henri-Bourassa garage, it settled permanently below Parc Jeanne-Sauvé, where the only remaining serviceable car from the 1974 fire is lowered to the underground training centre, along with two cars from the old collection train.
Photo: STM Archives
The first woman at the controls  
In 1977, Francine Maltais became the first woman to drive a bus in Montréal. But as métro operators were generally former bus drivers, it was only a matter of time before a woman applied for the job. That honour was claimed by Lisette Renaud, hired as a bus driver in 1980 and trained as an MR-63 métro operator the very next year. If that turned out to be an excellent career move for her, a number of customers did not share that view: when seeing a woman at the controls, many refused even to board the train, preferring to wait for the next one! Luckily, reactions of that kind were few and quickly disappeared…
Photo: STM Archives
Refurbished for a longer life    
From 1991 to 1993, all 336 MR-63 cars undergo a complete overhaul by a division of Canadian National railway (CN), later renamed AMF. The $60 M refurbishing operation extended the métro cars' lifespan by some twenty years or so. One by one, they are moved by trailer truck from the STCUM's Youville shops to CN's workshops in Pointe-Saint-Charles, and back again. The interior and exterior look of the cars was slightly updated at that time: the older sectional floor was replaced by a one-piece floor covering, the black leatherette seats make way to white fibreglass seats, and the cars' all-white front exterior is painted blue with a simple white line, like the MR-73.
Photo: STM Archives
The « pivot affair »  
In November 1993, when refurbishment of the MR-63 cars is about to wrap up, the STCUM temporarily withdraws more than 300 of them from service because of a technical issue. Cracks were detected on a pivot, connecting car body and bogie. Not wishing to take any risks, the STCUM chose to remove each of the renovated MR-63 cars from service and inspect them one by one, which took nearly two weeks (photo). In the meantime, transit users had to cool their heels, as métro service was provided by a limited number of trains. So, for a very short period of time, the MR-63 cars let the MR-73s completely take over the Green line….
Photo: STM Archives
A métro for…. Just for Laughs
With the Montréal Métro being entirely underground, it's safe to say that the last place you ever expect to find a métro car is in the street…. In 2008, Just for Laugh festival regulars were more than a little surprised to find a real métro car on rue Ontario, transformed into an ice cream stand! That unusual experience was repeated the following year, this time with the métro car turned into a « transportation cocktail bar ». It was good old car 81-579, a motor car from the ancient Jeumont train. That train's unit 40 was finally scrapped, for lack of spare parts, bringing the number of MR-63 cars from 336 to 333.
Photo: STM Archives
Fewer seats, more room    
Faced with constantly increasing ridership levels, in the early 2000s, the STM undertook to redesign the interior layout of MR-63 and MR-73 cars, by cutting back on seats so that the cars could hold more passengers. In the MR-73s, the central aisle was widened when double seats were replaced by single ones, bringing the number of seats from 40 to 34. Unfortunately, transforming double seats into single ones was not possible on the MR-63 cars, because the double seats in fact housed the door opening mechanism. It was instead decided to remove the single seats at each end of the cars, leaving each car with 32 seats.
Photo: STM Archives
At October, 2015.
Millions of people like you ride the métro each day. On your way to work, to the movies or a show, to cheer the Montréal Canadiens hockey team or simply to meet with a friend at a restaurant, no matter, our métro is a part of your daily life.
From the very beginning, MR-63 cars have been an integral part of highly successful events in Montréal, from Expo 67 to the 1976 Olympics, two major events in the city's history that attracted millions of visitors from Montréal and around the world. And still, today, from the MONTRÉAL EN LUMIÈRE festival in winter to the International Jazz Festival in summer, our métro is always there to get you there!
Now, our MR-63 métro cars have reached the end of their service life. Did you know that each one has travelled some 4,000,000 kilometres1? Yes, and as such, we now have to let them go. No need to worry, though. Their withdrawal from service will be gradual, as the new AZUR métro cars are delivered, and the same level of métro service will be maintained throughout for customers.
For the STM, the whole project involves:
Disposing of the MR-63 métro cars
Managing our stock of MR-63 spare parts
Optimizing any earnings from this project
Abiding by principles of sustainability and sound environmental management
One of the six priorities identified in the STM's 2020 Strategic Plan makes sustainable development central to all corporate decisions. In its 2020 Sustainable Development Plan, the STM officially committed to continuously improve upon the environmental, social and economic performance of its business processes and activities.
Indeed, the STM is aiming to divert 75% of residual materials from final disposal and to include sustainability criteria in 90% of all purchase or disposal contracts by 2020. It is therefore essential to act upon principles of sustainability in the process of permanently eliminating MR-63 rolling stock.
Did you know that?
The term MR-63 refers to matériel roulant, meaning rolling stock, from 1963
 A train consists of one, two or three units
A unit, in turn, consists of three métro cars, two motor and one trailer
A motor car has four electric traction motors and a driving cab
A trailer car has no traction of its own, but it holds auxiliary equipment, like compressors, batteries and more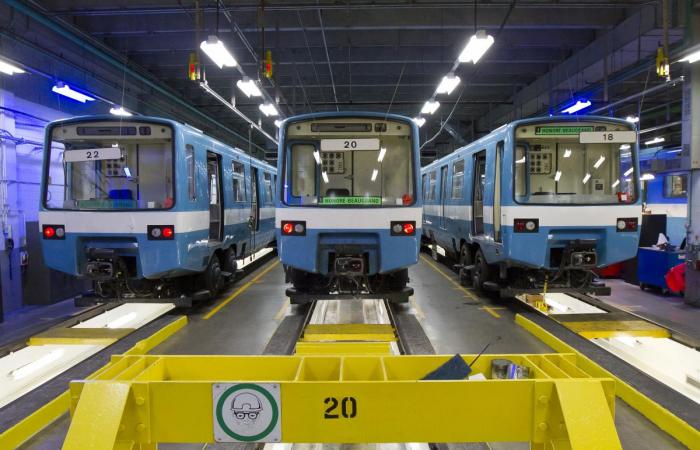 For the STM, it is important to properly plan for the dismantlement and reclamation of these cars by including environmental and social considerations, particularly the 3R-RD principle.
So we undertook a multi-step process to determine our best options:
We consulted with the STM's internal and external stakeholders
We consulted with experts in sustainability issues
We carried out a benchmarking study with other companies and transit operators around the world to learn about best practices and services available on the market
Lastly, we issued a call for proposals
And from an historical conservation perspective, we also:
Approached a number of museums
 Listened to comments and suggestions from the public
3R-RD refers to the progressive order in which the management of residual materials and hazardous waste materials is preferably carried out: reduction, reuse, recycling, reclamation and, lastly, disposal. This strategy allows for the recovery of some residual materials instead of outright final disposal of them all.

REDUCTION AT SOURCE
The first step calls for avoiding the production of residual materials from the initial design, through manufacturing, distribution and consumption of a given product. However, as MR-63 cars were built from 1963 to 1967, this principle cannot apply to today's disposal process.
REUSE / REPURPOSE
Reusing means giving an object the opportunity to be used again, without significantly modifying its appearance or properties. A few options were considered, such as:   
Selling them to other public transit companies
We got in touch with transit authorities in four cities, namely Mexico City, Santiago, Marseille and Lyon, as they also operate their metro system with rubber tires, and offered to sell them our MR-63 cars.

But, because our cars are at the end of their service life, especially in terms of their technology, all responses were negative. Other properties, like their non-standard gauge and the fact they were never designed for outdoor operations, also limited their potential for reuse.
 Issuing a request for proposals 
This step was intended to attract the attention of business enterprises specialized in recycling that are capable of handling the disposal of MR-63 métro cars or of any other company interested in acquiring one or more cars and repurposing them as part of a special project.
Reusing compatible spare parts on MR-73 cars
We conducted a study that enabled us to confirm that some spare parts for MR-63 rolling stock can be reused for MR-73 maintenance and repairs.
These cars have been a part of daily life for most Montrealers for the past 50 years. They made public transit history. For this reason, we approached Exporail, the Canadian Railway Museum in Saint-Constant, to ensure one car was added to their collection.
RECYCLING
This process aims to transform residual materials in such a way as to reintroduce them into the production cycle of an altogether new product.
In light of the sheer number of MR-63 cars, recycling is indispensable to successfully maximize the reclamation of materials and reduce our environmental footprint.
We issued a call for tenders to obtain the services of a company that can see to the collection, transportation, dismantling, and reclamation (through recycling) of residual materials from MR-63 cars according to the 3R-RD principle.
Bidders will be evaluated by a selection committee that will base its decision on specific criteria, including sustainability, ability to deliver, previous related experience and cost.
RECLAIMING
One such process involves the recovery of energy produced by the chemical transformation of residual materials (e.g. combustion of residual materials to produce energy). Some hard-to-recycle métro car components could serve to feed cement factory furnaces.
FINAL DISPOSAL
As a last resort, any and all residuals that cannot be recycled will be sent to a landfill site for final disposal.
Working together, the STM's engineering department and the Centre de transfert technologique en écologie industrielle (CTTÉI) identified the nature of MR-63 components and their weight, in order to draw up a complete list of all materials and ensure the final disposal of MR-63 cars was responsibly handled. Their estimates gave guidance and shape to our dismantling and reclamation process.
Impressive numbers
The combined weight of our fleet of MR-63 cars is estimated at over 7,200 metric tons! Below is a chart illustrating the main materials found in our MR-63 métro cars.
Metals
(parts made of steel, copper, stainless steel, aluminium, etc.) 

Other materials

Wood (underneath floorings and brake shoes):  1.1%
Composite materials (interior panels, floors, etc.):  0.8%
Other materials (electronic components, polycarbonates, lubricants, etc.):  1.9%
Rubber (tires, suspension, seals):  3.8%
To find out more about our options for these cars, we looked into what other transit authorities had done when they were faced with the disposal of a large quantity of métro railcars.
Paris hired a recycling firm to dispose of its older rolling stock, paying careful attention to how hazardous residual materials were handled and processed.
London reused some cars to create an artists' village but, as with Paris, most of the cars were recycled.
Buenos Aires donated two cars to a rail club, converted two others into diesel-electric buses and restored yet another two for tourist lines. As for the rest of their fleet, they are still looking for an ideal solution.
New York, on the other hand, sank a few thousand such cars offshore after carefully removing all trace of hazardous residual materials. Contrary to the Big Apple, the STM chose not to use its métro cars to create artificial reefs in surrounding waters. Indeed, our cars were designed for indoor use, inside tunnels, sheltered from the weather, and by their very nature would quickly disintegrate after being submerged. Skeptical? Read this related article to find out more.
Top of page