New AZUR métro cars
The new AZUR métro cars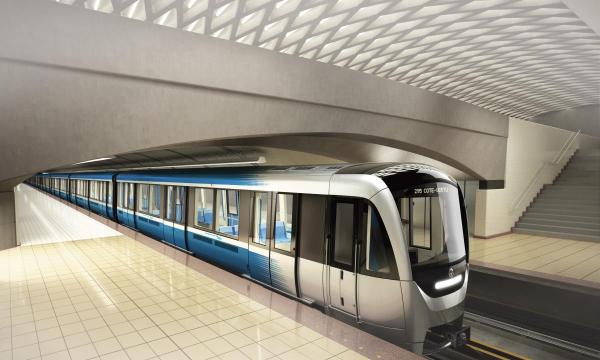 The gradual replacement of the MR-63 cars, which have been running since the métro opened in 1966, will mark a major change in the history of Montréal's public transit system. For users, the new 21st century rolling stock, scheduled to enter service in fall 2014, will mean:
Better service
Increased capacity
Greater comfort
Increased reliability
As in other major cities, including Munich, Berlin, Bangkok, Shanghai, Mexico City, Delhi, and Madrid, the new nine-car "boa" trains will allow passengers to move about freely from one end to the other.
The transition from our forty-eight-year-old vehicles to new state-of-the-art cars requires a phenomenal amount of preparation. Our expertise and know-how in the fields of engineering, public transit operation, and infrastructure management will be put to good use. This project will also impact the work of many employees, including drivers and maintenance workers.
Texte important
Remember:
On October 22, 2010, STM signed a contract with the Bombardier-Alstom Consortium (BAC) to purchase 468 métro cars. This project, which will be spread out over several years, calls for a $2.4G investment, financed jointly by Quebec's Ministère des transports (75%) and the Montréal agglomeration (25%).
Texte important
We considered your needs while taking into account our operational requirements
With its modern design and new interior layout, the new car is the result of numerous consultations held at key steps in the manufacturing process. During these consultations, users tested various components such as seats, support poles, grab bars, and interphones to determine the best choices. Employees were also consulted about the new car's maintenance and ergonomics.
Texte important
30,000 people helped design the external appearance of the new train.
You also helped us name it!
The name AZUR was chosen from among the 6,000 names submitted by our employees and the public.
In summer 2012, a full-scale model of the new car was placed on public display at the Berri-UQAM station, allowing thousands of regular and occasional users to consider its merits and provide feedback to STM experts. The public also had an opportunity to visit the model car parked on McGill College Avenue during the Go Green – Ride and Save event.
Texte important
Excellent opportunities for Montrealers to discover the benefits of their collective heritage.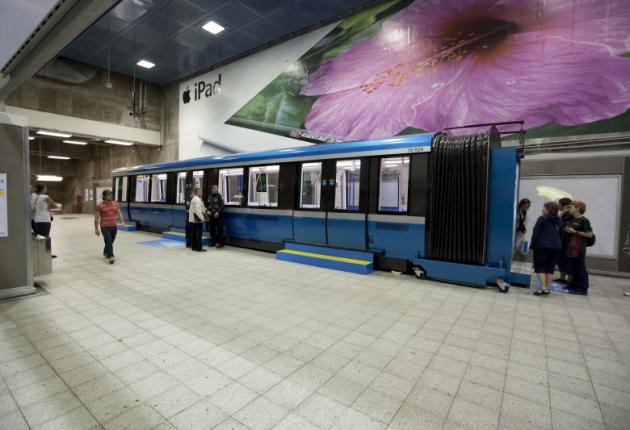 How AZUR will benefit you
Freedom of movement: nine-car trains allow passengers to move freely from one end to the other
Increased capacity: each train can accommodate up to 8% more passengers.
Ventilation system adjusts automatically to number of passengers in each car
27% wider doors: easier to embark and disembark, obstruction sensors
Designed to ensure universal accessibility: more and better-positioned hand grips, colours and contrasts chosen for better visibility
Optimal ergonomic positioning of seats
Layout of end cars: 22 fixed seats, 2 flip-up seats, 2 spaces reserved for wheel chairs, ischiatic supports
Layout of middle cars: 28 fixed seats, 4 flip-up seats.
Top-of-the-line public address system, acoustic environment to minimize background noise
Panoramic windows with anti-grafitti and anti-scratchitti protective coatings
Innovative lighting: indirect lighting to create a more comfortable environment
Pneumatic suspension system: smoother ride, less vibration
Heightened sense of security: 3 times more intercoms, impossible to fall between cars, 4 continuous surveillance cameras
High-tech information systems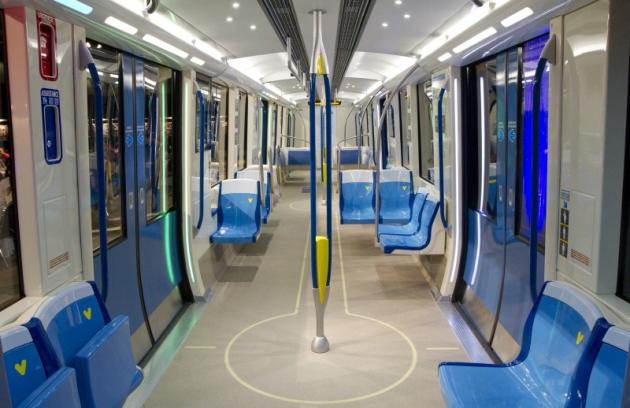 Accessibility, features, and the environment
Another step toward universal accessibility
AZUR has been designed to meet the standards of universal accessibility. Platforms at the front of trains in stations equipped with elevators have been adapted to allow clients in wheel chairs to board trains without assistance. The height of platforms has been harmonized with that of the new trains next to the second and third doors in the front cars.
Texte important
Currently, passengers in wheel chairs require assistance from STM employees to board trains.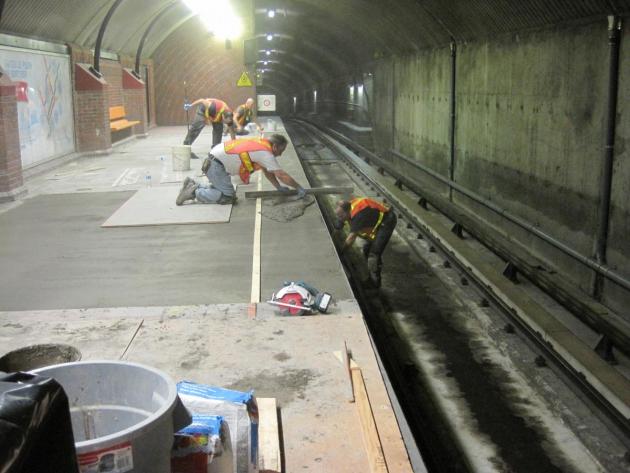 The train's exterior design: a bold, distinctive look
 
Vitality: a streamlined profile evoking strength and balance, exciting colours with a metallic finish

Modernity: new technology successfully used in other major cities, a concept tested and approved by Montrealers

Ease of movement: open-concept "boa" cars, increased capacity, panoramic windows.

Timelessness: in line with the principles of sustainable development, designed to serve for the next four decades; a classic design anchored in daily realities, primarily blue, a colour beloved by Montrealers

Environmental aspects
Cars manufactured with 60% Canadian content, equipment 92.5% recyclable at the end of its useful life, 100% powered by hydroelectricity (green energy source), paper advertising eliminated inside trains
In the service shops, preparing for AZUR
Designed to work with the existing nine-car trains, the STM's service shops are undergoing major changes to accommodate the new boa trains, where passengers will be able to walk from one car to another. Demolition and construction work is well advanced. The new shop, highly specialized in  the maintenance of modern metro cars, is extremely complex.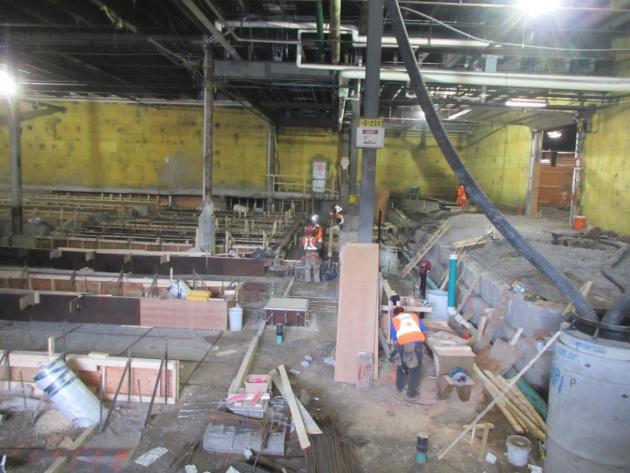 A prototype train should be delivered in spring 2014. It will be tested at night on one line of the metro system.
Top of page