The STM announces the implementation of bus, taxi and carpool priority measures on Sherbrooke Street East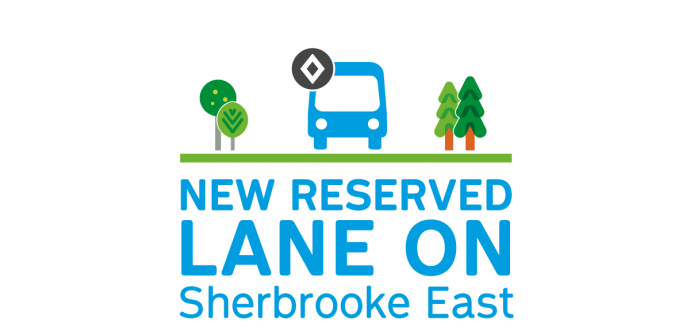 Implementation of a reserved lane for buses, taxis and carpools on Sherbrooke Street East, between Haig and Parthenais, starting October 29 2018
Montréal, October 22, 2018 –– The Société de transport de Montréal (STM) is announcing the implementation of a reserved lane for buses, taxis and carpools on Sherbrooke Street East, between Haig and Parthenais. This reserved lane will be operational from October 29 2018.
Totalling 11.2 km in length (both directions), the reserved lane will be operational from 6:30 to 9:30 a.m. westbound and from 3:30 to 6:30 p.m. eastbound from Monday to Friday. Most sections of this new reserved lane will be open to carpools (two or more people). Other BPMs will also be implemented on Sherbrooke Street in 2018, with the addition of priority traffic lights (white candlestick lights) for buses, which will operate during off-peak periods. Buses will be given priority when crossing intersections where these signals are installed. A second phase of work will see these traffic lights upgraded with smart technology to respond to real-time requests for priority sent by buses to improve travel times.
These measures will benefit approximately 29,600 daily trips, including 9,000 mostly during peak periods, on the 24 Sherbrooke, 185 Sherbrooke and 432 Express Lacordaire lines.
"Following the implementation of priority traffic lights and westbound and eastbound reserved lanes on Sherbrooke Street East, it is now time for users of the section of road between the Jacques-Cartier Bridge on-ramp and the Louis-H.-Lafontaine Tunnel to benefit from bus priority measures," says Philippe Schnobb, Chairman of the STM Board of Directors.
BPM's are installations on the road system that ensure priority is given to public transit, thereby improving the reliability and on-time delivery of service. They include reserved lanes and bus priority traffic signals. Implementation work is made possible through funding from the ministère des Transports, de la Mobilité durable et de l'Électrification des transports.
–30–
Isabelle A. Tremblay
Affaires publiques
Société de transport de Montréal (STM)
medias@stm.info