STM introduces its new employer branding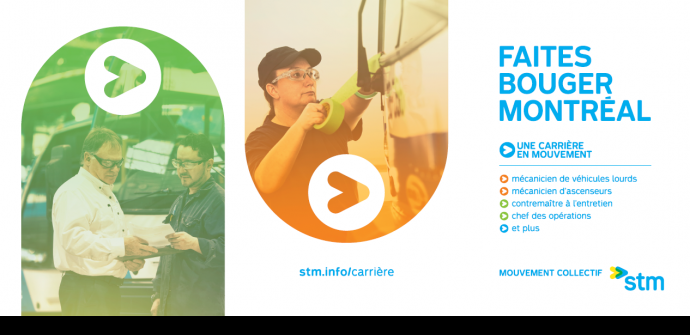 A new recruitment campaign by the STM will allow the public to discover the company's new employer brand.
In November, the Société de transport de Montréal (STM) will launch a major recruitment campaign to introduce the public to its new corporate branding, with its signature line, Une carrière en movement (a career on the move).  
Over a four-week period, the multi-platform offensive will aim to staff positions in a number of company sectors, including information technology, engineering, procurement, specialized trades and managing operations. The campaign will cover poster ads in buses and the métro, radio and television promos, digital purchasing and social media.
Its new employer branding is based on four pillars that illustrate the main reasons for its appeal: the possibility of being part of innovative projects from the beginning, putting one's talents to contribution, working in a rich and diversified environment and getting Montréal on the move. Summed up by its signature Une carrière en movement. This positioning, inspired by the promise of STM's corporate brand, Society in Motion, offers current employees and potential candidates a clear and simple promise.
The approach taken by the company also aims for two complementary targets: recruiting future candidates, but also recognizing and engaging its current employees by showing appreciation for their work. STM also wants to position itself as an employer of choice in light of the major challenges with recruitment it expects to face as it nears 2019, when a significant number of employees will become eligible for retirement.
It should be noted that STM ranks 14th among Québec companies in terms of workforce size.
Strong visual signature
The visual universe of the employer brand has its own language, inspired by the STM brand. The chevron in a circle is strong and omnipresent in all visual ads. STM's logo consists of two chevrons together expressing the commitment of STM, its employees and even its customers. The pictograms, small coloured circles, feature illustrations of each job category and a colour filter lets you visually distinguish between the different employment categories. As for the pictures, they represent actual employees at work.
Campaign material
TV ad
https://www.youtube.com/watch?v=eOjatW5-iZA
Visuals
Click on the thumbnails to view in high-resolution.
Texte important
Credit
STM worked with Templar Branding Inc to lay the basis of the strategic review and language for the employer branding. Design and execution are performed in-house.