964 Trainbus Bois-Franc / Côte-Vertu
From exo train station to Côte-Vertu métro station
Trainbus 964 is a free temporary shuttle service set up to compensate the closure of exo6 Deux-Montagnes train line between Bois-Franc and Centrale train stations. This shuttle provides a direct link between Bois-Franc train station and Côte-Vertu métro station.
For information on all mitigation measures, visit Mobilité Montréal
Mode transfer times
The 964 is synchronized with train arrivals and departures. However, make sure you leave enough time to transfer between your different modes of transportation, morning and afternoon.
Texte important
Due to the COVID-19 situation, we are asking customers to follow the applicable prevention measures. More information here
Schedules
The 964 is in service during the week. The schedule is synchronized with the trains arrival and departure.
Route
Line 964 Trainbus Bois-Franc / Côte-Vertu serve exo's Bois-Franc train station, with service at Côte-Vertu métro station. The shuttle's travel time is about 15 minutes.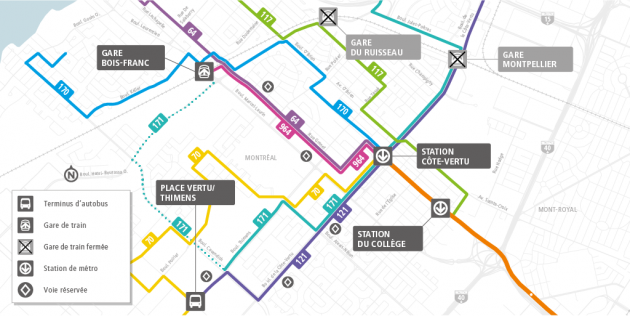 What if the shuttle doesn't go near my location?
Use the trip planner to find the best option.
Fare
And there's more!
Do you use public transit occasionally? Here are a few fare cards to suit your needs.
Top of page