EXTRA Project
Transport adapté is modernizing its ways
Transport adapté minibuses and vehicles of some of our taxi partners are now equipped with tablets with a communication and navigational aid system. This means we can track these Transport adapté vehicles throughout the system in real time.
This connection technology offers numerous advantages that will allow the Transport adapté team to handle the growing demand and improve on-time delivery of service.
Here are a few examples:
Trip reservations can be optimized to offer better customer service.
Faster and more efficient actions throughout our system thanks to information on exact vehicle position at all times.
We will be able to provide more accurate information on your vehicle's arrival time when you call to report a delay.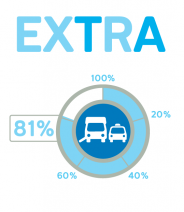 Currently, 81% of our fleet is connected in real time thanks to the EXTRA Connecte project. Over the next year, the various taxi companies ensuring paratransit service will also be connected.
When 100% of our vehicles are connected in real time, we will be able to inform you of your vehicle's imminent arrival. This feature will be available by the end of 2019 once the system is fully debugged.
Do you enjoy our reminders for your rides?
Since fall 2017, thanks to EXTRA Connecte, you can receive reminders for your rides the next day. You could also receive another type of reminder, following a late cancellation.
In exceptional situations, you could also be notified if a trip must be cancelled for reasons beyond our control, like a broken water main.
Did you know that you can receive confirmation for your rides by email or text message?
It's convenient, as you can refer to it without having to write it down.
Do you have questions or want to change the way you receive your reminders?
Write us at extra@stm.info or call customer service at
514-280-8211 (option 4)
Top of page