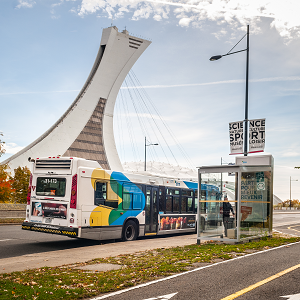 Outdoor area near the entrance to the Olympic Park Sports Center and the Biodome


Pie-IX, Viau
---

Pick-up and drop-of places 1
 
Olympic Stadium
Biodôme
Botanical Garden
Rio Tinto Alcan Planétarium
Saputo Stadium
îlots76
15% discount
Îlots76 is located outdoors near the entrances of the Biodome and the Olympic Park Sports Centre. It has a free relaxation area where visitors can take a break between activities and grab a quick bite or a frozen treat. For a fee, families can also enjoy a play zone filled with inflatable games, including one shaped like the Olympic Stadium!
15% off one admission to Îlots76, valid Monday to Friday before 4 p.m. The offer is valid from July 13 to September 29, 2021. The discount will be applied to the ticket, not the entire transaction, upon presenting a valid STM fare or OPUS card.
The STM is in no way responsible for offers made by its partners, as it is only acting as a middle-man between its transit users and commercial partners for the purpose of promoting their products and services.
  Voir toutes les offres
Pick-up and drop-off locations may be temporarily blocked by construction work or detours. Our Transport adapté customer service agents will let you know when you book your reservation if this is the case..
Top of page