The Défi STM surpasses its goal!
Participants travelled a total of 39,000 kilometres, a distance equivalent to 580 times the length of the Société de Transport de Montréal's métro network.
Over $22,000 donated to four charitable organizations
The generosity of Montrealers will benefit four charitable organizations supported by the STM generosity campaign : Centraide of Greater Montreal, Canadian Red Cross, PartenaireSanté Québec and Réchaud-bus.
A winning trio...
1. Move more
2. Rediscovering our city
3. Using public transit
When participants registered, they agreed to travel 66 kilometres, a distance equal to the total length of the Montréal métro.

Need of a change of scenery?
These routes, easily accessible by bus and métro, designed to motivate participants, should inspire you too.
---
Follow the métro lines...
From Saint-Michel to Snowdon (12.0 km).
From Papineau to Jean-Drapeau (4.0 km).
From Du Collège to Henri-Bourassa (26.5 km).
From Honoré-Beaugrand to Angrignon (23.5 km).
If you follow the métro lines, you'll notice the routes are dotted with several dozens of these blue fire hydrants.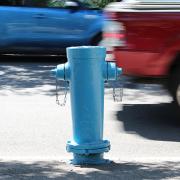 What do they do?
These blue fire hydrants are actually called "fire mains." If there is ever a fire in the métro, they allow us to increase the water flow to extinguish it. For this to work, the blue fire main is connected to a fire truck on the surface, which is then connected to a typical red fire hydrant. The fire department can then use the truck to pump water from the red hydrant to the blue one and underground from there.
---
Discover our beautiful neighbourhoods...
A challenge that is Sooo Montréal!
Top of page