Montréal has many city parks and green spaces and a few a close to métro stations. Take advantage of that! A picnic basket and tablecloth, a blanket and a good book are often all you need for a change of scenery after leaving the métro.
Mount-Royal Park
Mont-Royal  

 11  

 navette Montagne
© Tourisme Montréal, Pierre-Luc Dufour Montréal's iconic Mount-Royal Park, inaugurated in 1876, is always a perfect excuse for spending a beautiful day away from the daily crowds… right in the middle of the city! Musical performances, rallies for families, nature hikes and cultural events: there is always so much to see and do, especially on weekends.
Read more about the terrific program of activities prepared by Les Amis de la montagne, a group dedicated to the protection and promotion of Mount Royal. Unless you prefer to simply relax and unwind. In any case, it's the perfect location!
To go up the mountain side, our 11 Parc-de-Mont-Royal / Ridgewood and 711 - Parc-du-Mont-Royal / Oratoire bus lines are undoubtedly your best options. You can board a bus on either one of these lines at Mont-Royal métro station. The 711 line, operating during the summer season until August 27 inclusively, also features a stop at Snowdon station.
Parc La Fontaine
 Sherbrooke, Mont-Royal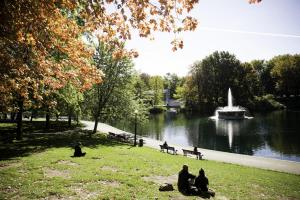 © Susan Moss Photography The park has been a part of Montréal's history for a long time and has gained an outstanding reputation. Long ago, the field was used for military maneuvers; today, it features major public artworks, a number of fields for practicing various sports and venues for children's theater productions and other performances. Add a few bodies of water and you'll quickly why the park is so popular in summer! 
Parc Maisonneuve
 Pie-IX, Viau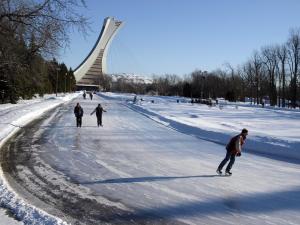 © Ville de Montréal, Alain Chagnon With Olympic Park and Space for Life for neighbours, Parc Maisonneuve is part of a vast tourist showplace. Featuring several jogging paths, it has numerous locations where you can enjoy either sun or shade. Twice the size of Parc Lafontaine, Parc Maisonneuve is both a very lively and very quiet location, in the heart of a vibrant Montréal neighbourhood, a short distance from Pie-IX and Viau métro stations, on the Green line.
Parc Angrignon
 Angrignon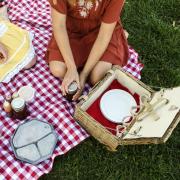 © TM - Madore - Daphné Caron Parc Angrignon is reminiscent of an English garden. Its majestic willows and pond only add to its calm, restful atmosphere. With nearly 10 km of pathways, it's also a perfect location to spread out a tablecloth and enjoy a picnic. A must for your summer list, just outside its namesake métro station!
Parc Jarry
 De Castelnau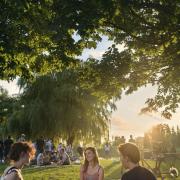 © TM - Madore - Daphné Caron Best known as a meeting ground for sports, Parc Jarry is for both active people and those wanting to relax. Located next to IGA Stadium where Rogers Cup tennis competitions are held, the park also has baseball fields, and large grassy areas where you can rest after a game. Did you know? The park celebrated its 90th anniversary in 2015. De Castelnau métro station is a short walking distance from the park, at the corner of boulevard Saint-Laurent and rue Gary-Carter. 
Saint-Michel Environmental Complex
 D'Iberville +  
 94  ou 
 Jarry +  
 193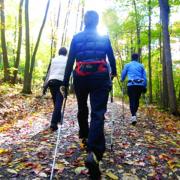 © Chinook Aventure The days of the old Miron quarry are long over. This vast tract of land is on its way to becoming the largest park in Montréal! To date, some 48 hectares are accessible, while a total of 192 are foreseen by 2020. Discover this area by starting at the TOHU, on rue Jarry Est, near the intersection with rue D'Iberville. To get there, you can exit at Jarry métro station and catch the 193 Jarry Est bus line that takes you directly to the TOHU, or at D'Iberville station, where you can board the 94 D'Iberville Nord bus line.
Top of page