Skiing, sledding and winter fun in the city
From a walk in a wooded trail to cross-country skiing, Montréal is the perfect place for a change of scenery. With only a round-trip fare, discover parks with marked trails, snow-covered hills and paths far from city traffic. Short of listing all the spots where you can enjoy winter in Montréal, here are our favourite, easy-to-access locations.
For cross-country skiing: check the trail conditions in the City of Montréal's borough parks and major nature parks. Some places need reservations in advance.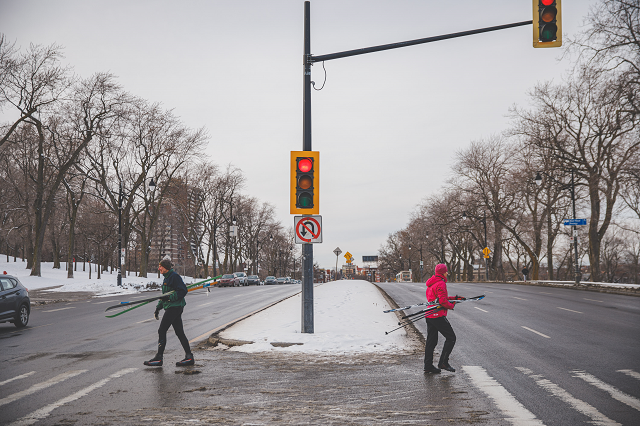 ---
Parc nature de l'île-de-la-Visitation
At any time of year, the Des Prairies River is always in sight at the Parc nature de l'île-de-la-Visitation in the north of the Island. The park feels like far away from home, despite being easily accessible.
---
Parc Jean-Drapeau
---
Jarry Park
No matter the season, Jarry Park is perfect for outdoor enthusiasts. With two métro stations and many frequently running bus lines nearby, it is a great place to visit year-round. At Jarry Park, Villeray quickly goes from borough to winter resort. Come and see it for yourself!
---
Mount Royal Park
Did you know that Mount Royal is open all winter? It might be easy to find, but spending some time there is even easier thanks to our frequently running bus line. Montréal is beautiful in the winter, especially from above!
Pick-up and drop-off locations may be temporarily blocked by construction work or detours. Our Transport adapté customer service agents will let you know when you book your reservation if this is the case.
Top of page